Marietta Maintains Scoring Average With Nearly Perfect Game Against Big Reds
Marietta was practically perfect in every aspect of the game Friday night as the Tigers maintained their prolific scoring pace with a 49-13 victory over the visiting Big Reds of Parkersburg.
The Tigers came into the game averaging over 45 points per 48 minute game and topped that with a seven touchdown night that featured five scoring passes by senior quarterback Trent Dawson. Dawson was just about as perfect as you can get as he completed 26 of 29 passes for 314 yards with only one interception. It marked his second straight game with over 300 yards passing as the Tigers upped their overall record to 4-1.
Marietta amassed 401 yards in total offense, just about their season average, converted all three red zone scoring chances and were 2-fot-2 on fourth down conversions. The home team punted just one time. The only poor aspect of their game was eight penalties.
Isaac Danford caught four TD passes on the night for the Tigers and wound up with 11 receptions for 146 yards.
Meanwhile, PHS dropped to 1-4 heading into a bye week. The Big Reds had just 22 rushes for 54 yards and wound up with 199 yards in total offense although they did complete 215 of 19 passes. However, two of those passes were intercepted with one being returned for a touchdown late in the game. Easton Martin ran for 83 yards on 12 attempts for PHS.
Marietta started the game with a 12-play, 65 yard drive that ate nearly six minutes off the clock. Mixing the run with the pass the Tigers scored on a five yard toss from Dawson to Danford.
The Big Reds first possession saw them move to the Marietta 30 yard line but Danford came up with an interception at the Tiger 15 yard line.
After an exchange of punts, Marietta put together an even more impressive drive, going 58 yards in 13 plays and again taking 5:58 off the clock with Danford again catching a five yard touchdown pass.
A fumble recovery gave Marietta the ball back near midfield with 2:43 left in the half and it took just five plays for Dawson to again find Danford, this time from seven yards away for a 21-0 lead.
PHS got on the board with 7.4 seconds left in the half as a 33 yard kickoff return by Rylan Hamilton set up a two-play scoring drive that covered 57 yards. After Hamilton caught a 15 yard pass from Ethan Airhart on the next play after the kickoff, the Big Reds' Bradley Craig threw a pass to the goal line which was deflected by Danford but into the hands of Hamilton who fell into the end zone to complete a 42 yard play. Christian Axman's kick made it 21-7 at the intermission.
Late in the third quarter Marietta capped a nine play, 61 yard drive with a 23 yard pass to Travis Moore. This time it was Hamilton who tipped the ball and Moore who caught it with one hand in the end zone for a touchdown with 1:04 left in the quarter.
PHS came back thanks to another kickoff return by Hamilton, this one covering 50 yards to the Marietta 35. Five plays later Airhart hit Karson Snyder for the touchdown from 10 yards out with 11:30 left to play. The extra point kick was blocked and the Big Reds trailed 28-13.
The quick-striking Tigers put the game out of reach with a 46 yard pass to Moore that led to a 32 yard scoring run by Dominic Vanfossen with 10:19 remaining and a 35 yard pass to Danford with 3:11 ran the score to 42-13. The Tigers' final score came on a 42 yard interception return by Bailey Wright.
Score by Quarters                      1 2 3 4 - Total
Parkersburg Big Reds,,,           0 7 0 6 - 13
Marietta Tigers                       7 14 7 21 - 49
Qtr Time Scoring play
1st 06:07 MAR - Isaac Danford 5 yd pass from Trent Dawson (Austyn Chen kick), 12-65 5:53
2nd 04:41 MAR - Isaac Danford 5 yd pass from Trent Dawson (Austyn Chen kick), 13-58 5:53
00:36 MAR - Isaac Danford 7 yd pass from Trent Dawson (Austyn Chen kick), 5-52 2:07
00:07 PHS - Rylan Hamilton 42 yd pass from Bradley Craig (Christian Axman kick), 2-57 0:19
3rd 01:04 MAR - Travis Moore 23 yd pass from Trent Dawson (Austyn Chen kick), 9-61 4:24
4th 11:30 PHS - Karson Snyder 10 yd pass from Ethan Airhart (Christian Axman kick blockd), 5-35 1:15
10:19 MAR - Dom. Vanfossen 32 yd run (Austyn Chen kick), 2-67 1:04
03:11 MAR - Isaac Danford 35 yd pass from Trent Dawson (Austyn Chen kick), 6-44 3:46
02:54 MAR - Bailey Wright 42 yd interception return (Austyn Chen kick)
..................................................PHS           MAR
FIRST DOWNS                                10                18
RUSHES-YARDS (NET)                 22-54          24-87
PASSING YDS (NET)                      145             314
Passes Att-Comp-Int                        19-15-2       29-26-1
TOTAL OFFENSE PLAYS-YARDS 41-199      53-401
Fumble Returns-Yards                      0-0             0-0
Punt Returns-Yards                          1-14            3-45
Kickoff Returns-Yards                      6-180          2-29
Interception Returns-Yards              1-0              2-51
Punts (Number-Avg)                         3-35.0         1-43.0
Fumbles-Lost                                    1-1              0-0
Penalties-Yards                                  3-39            8-64
Possession Time                                17:54         27:12
Third-Down Conversions                  3 of 7          6 of 10
Fourth-Down Conversions                0 of 1          2 of 2
Red-Zone Scores-Chances                 1-1              3-3
Sacks By: Number-Yards                  1-4              1-6
RUSHING: Parkersburg Big Reds-Easton Martin 12-83; Rylan Hamilton 3-12; Bradley Craig 3-minus 8; Ethan Airhart 3-minus 10; Karson Snyder 1-minus 23. Marietta Tigers-Dom. Vanfossen 18-70; Isaac  Danford 4-24; Trent Dawson 2-minus 7.
PASSING: Parkersburg Big Reds-Ethan Airhart 14-18-2-103; Bradley Craig 1-1-0-42. Marietta
Tigers-Trent Dawson 26-29-1-314.
RECEIVING: Parkersburg Big Reds-Brenton Strange 6-43; Karson Snyder 3-25; Rylan Hamilton 2-57; Bradley Craig 2-7; Easton Martin 1-8; Tyler Lawrentz 1-5. Marietta Tigers-Travis Moore 11-146; Isaac Danford 5-82; Dom. Vanfossen 4-37; Jermaine Burke 3-21; Bailey Wright 2-26; Matthew Bertram 1-2.
INTERCEPTIONS: Parkersburg Big Reds-Bradley Craig 1-0. Marietta Tigers-Bailey Wright 1-42; Isaac Danford 1-9.
FUMBLES: Parkersburg Big Reds-Ethan Airhart 1-1. Marietta Tigers-None.
Parkersburg Big Reds (1-4) vs. Marietta Tigers (4-1)
SACKS (UA-A): Parkersburg Big Reds-Davey McNemar 1-0. Marietta Tigers-None.
TACKLES (UA-A): Parkersburg Big Reds-Brenton Strange 5-5; Tyler Lawrentz 6-3; Tyler Moler 2-5; Easton Martin 4-2; Wyatt Strobl 3-3; Jake Johnson 3-3; Bradley Craig 3-2; Davey McNemar 4-0; Shane Miller 1-2; Isaac Edman 1-2; Max Turner 0-3; Jacob Woodyard 1-0; Rylan Hamilton 1-0; 14 1-0.
Jayvees Lose to Marietta, 6-2
With the final score being a baseball-like 6-2 you would expect a football game to be a defensive struggle and you would be right in the case of Marietta's victory over host Parkersburg in a junior varsity matchup Monday night at Stadium Field.
Marietta won the game despite finished with minus seven yards rushing on 24 attempts, collected just eight first downs and only 123 yards in total offense.
But PHS fared worse with three turnovers, just six first downs and only 114 yards in total offense.
But the Big Reds jayvees still held a 2-0 lead with just over five minutes left to play before Marietta took advantage of a 34 yard pass completion to Tanner Stack that set up a one yard quarterback sneak for a touchdown by Corbin Alkire with 5:09 left in the game.
Alkire and Stack were the only effective Marietta offensive weapons as Alkire completed 12 of 29 passes for 130 yards with Stack catching seven of the passes for 81 yards.
Thirteen times in the game the PHS defense held Marietta to minus yardage as Jace Turner, Brandon Braham, Jacob Woodyard and Brandon Hines led the way.
The first half saw PHS fail to get into Marietta territory while the only Tiger threat came as the second quarter came to an end with the Tigers completing a pass to the PHS one yard line.
In the third quarter the Big Reds took advantage of good field position to move the ball to the Marietta eight yard line. The big play was a 26 yard scramble by quarterback Jake Johnson. But the threat ended with two sacks and two incomplete passes.
PHS got the ball back three plays later on an interception by Hines at the Marietta 17 but three plays later the Big Reds returned the favor by throwing an interception of their own.
Starting from their own five, the Tigers got a first down but a sack by Turner put Marietta back in the shadow of their own goal line and on fourth down the snap from center on a punt attempt wound up rolling out of the end zone for a safety with 9:46 remaining in the game.
A 59 yard boot on the ensuing free kick got Marietta out of trouble and after PHS failed to convert a first down and had to punt, the Tigers got the ball to start on the PHS 47.
On the first play following the punt, Alkire hit Stack with a 34 yard completion to the 13 yard line. It took seven plays but Marietta finally punched the ball into the end zone for the touchdown with 5:09 remaining.
The next PHS possession saw no less than five penalties before an interception gave the Tigers back the ball on the Big Red 17.
PHS held and got the ball back on that same 17 yard line. A pass from Jacob Bock to Braham on the first play raised some hope before four straight incomplete passes ended things for the home team.
Junior Varsity Football
Marietta JV                   0        0        0        6        -        6       
Parkersburg JV (1-3)   0        0        0        2        -        2
P – Safety, Marietta snaps ball out of end zone on punt attempt, 9:46 4th
M – Corbin Alkire 1 run (pass failed) 5:09 4th
Team Statistics
First Downs – Marietta 8, PHS 6
Rushing – Marietta 24-(-7), PHS 25-58
Passing – Marietta 12 of 29 (1 interception) 130 yards, PHS 5 of 23 (3 interceptions) 56 yards
Total Offense – Marietta 53-123, PHS 48-114
Punts – Marietta 4-31.3, PHS 4-23.8
Fumbles – Marietta 0-0, PHS 1-0
Penalties – Marietta 5-25, PHS 12-88
Individual Leaders
Rushing – Marietta: Brady Vincent 10-16; PHS: Jake Johnson 6-25, Anthony Craig 6-32.
Passing – Marietta: Corbin Alkire 12-29-1 for 130; PHS: Jake Johnson 3-9-2 for 15, Jacob Bock 2-13-1 for 41.
Receiving – Marietta: Tanner Stack 7-81; PHS: Cole Hanshaw 2-28, Brandon Braham 2-22.
Defense – PHS: Brandon Braham6 tackles, Brandon Hines 5 tackles (1 int), Jace Turner 5 tackles, Jacob Woodyard 5 tackles.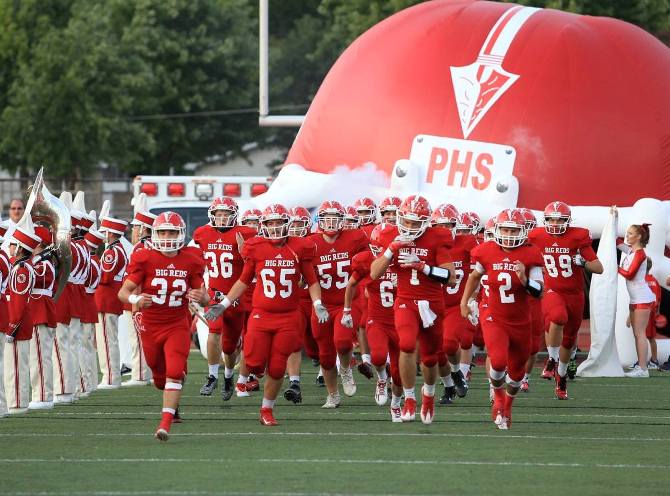 Craig Lifts Frosh Over Marietta
MARIETTA – Anthony Craig returned the opening kickoff 8 0yards for a touchdown then added another score in the third quarter on a 61 yard run as he led Parkersburg to a 20-0 freshman win over host Marietta on Sept. 22 .
Jacob Bock passes to Kyle Moore for the other touchdown for the 3-1 Big Red ninth graders.
9th Grade Football
Parkersburg (3-1)           6        8        6        0        -        20
Marietta                         0        0        0        0        -        0       
P – Anthony Craig 80 kickoff return (run failed)
P – Kyle Moore 4 pass from Jacob Bock (Bock run)
P – Craig 61 run (pass failed)
PHS Statistics – Rushing 17-155, passing Bock 6 of 8 for 71 yards, receiving (J.D. Martin (4-65); tackles: C.J. Wade 6, Shane Suttles 6, Braedon Mason 5.
Next Game – Sept. 28 at Bridgeport (7:30)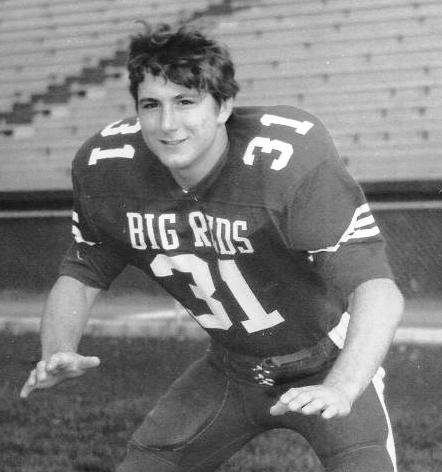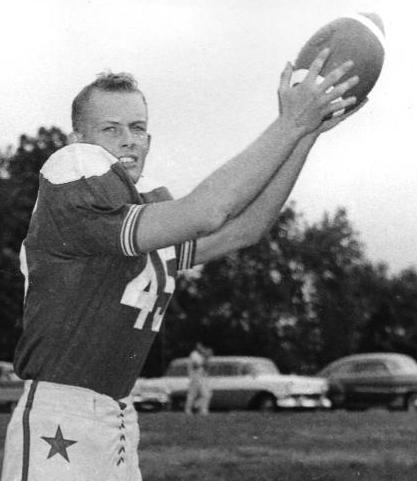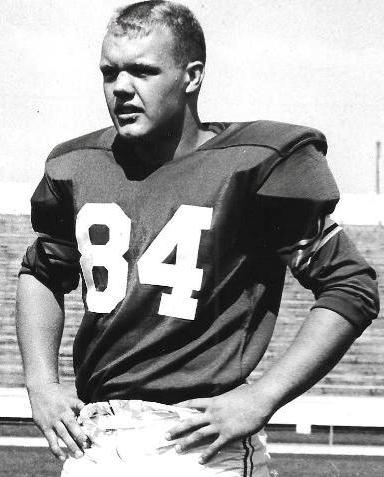 ...........Dennis Rexroad ...............................Howard Cunningham ................................Jimmy Scott
Rexroad, Cunningham, Scott Enter Hall
The three latest members of the Parkersburg High School Football Hall of Fame prove you don't have to be a quarterback or running back to get your share of the glory and headlines.

A defensive end, a two-way end and a tackle that all earned all-state honors for the Big Reds are the newest Hall of Famers as Dennis Rexroad, Howard Cunningham and Jim Scott have been selected as part of the class of 2016.
They were inducted Friday night at Stadium Field prior to the Huntington game.

The 1976 PHS football team is considered to be one of the best ever despite losing two regular season games. It was considered one of the best because of the way the players were able to bounce back from those two losses in the middle of the season and go on to put on the most dominating performance in the history of the West Virginia High School football playoffs.

For their efforts the Big Reds landed an unheard-of five players on the all-state first team – a feat that had never been achieved before and has never been topped since. Of those five first team all-staters in 1976, four are already in the Hall of Fame and now Rexroad completes the sweep.

A 145 pound state wrestling champion, Rexroad had 126 tackles from his end position during his senior season. That defense had six shutouts going into the playoffs. PHS did not even get a spot in the four-team playoffs until Beckley lost to Oak Hill in a make-up game on the last Saturday of the season. But once in the playoffs the team proceeded to knock off the number one and then number two ranked teams in the state. Both those teams were averaging 32 points per game. Top-rated Martinsburg hosted the Big Reds and were dominated in a 38-0 PHS victory over the future NFL star Fulton Walker-led Bulldogs. Then came DuPont and the final score was 30-0 in favor of the Big Reds, who shut down the explosive Panthers, holding them to 91 total yards after limiting Martinsburg to 92 total yards the week before.

Pressed into action on the offensive side of the ball as a running back in the championship game, Rexroad responded with a game-high 119 yards on 20 carries with a touchdown and a two-point conversion.

During his three-year career as a starter, Rexroad helped the Big Reds shut out 18 of 34 opponents. He was named Fellowship of Christian Athletes National High School Athlete of the Year as a senior. Now a successful businessman in Knoxville, Tenn., he graduated from Virginia Tech. He and his wife of 29 years, Laura, raised two sons and two daughters. He gives a special thanks to his mother, Betsy, whose efforts were "Hall of Fame worthy."

Coach Russ Parsons called Cunningham, "The finest end, pound for pound, I have ever coached. No one could turn his end."

And as proof of that fact, the 137 pounder was named all-state in 1959 and 1960.
Cunningham started for the Little Reds as a ninth grader and became a varsity starter who played both ways and on special teams as a sophomore. He held the Big Reds to a state championship in 1958 with a 10-0-1 record.

With an uncanny ability to break into the backfield and make tackles, Cunningham helped PHS back into the state championship game with an 8-1-1 record but the Big Reds fell in the title contest to Bluefield by a 19-13 score.

In 1960 the Big Reds became more of a passing team and Cunningham wound up catching 20 passes and scoring five touchdowns. PHS finished 8-2 that year meaning during his three years as a starter, the versatile end helped PHS compile a 26-4-2 record.

Cunningham went on to play at Marshall, where he met his wife of 51 years, Lana. He began teaching after college and returned to Wood County in 1966 where he put in most of his 35-year career in education. His two daughters, Amy Kay Smalley of Kentucky and Joe Ann Shujaat of Cincinnati, both graduated from PHS.

Scott becomes part of only the second father-son duo to make the PHS Hall of Fame as his joins his father, Coach Jimmy Scott, who was inducted in 2012.

The younger Scott, a teammate of hall of fame coach Buddy James, played a variety of positions in junior high (including quarterback) while also wrestling and throwing the shot and discus in track.

In 1953 as a junior he made honorable mention all-state as a guard. Switching to tackle as a senior he was even more effective and earned first team all-state honors, earning a football scholarship to West Virginia University.

Scott played guard and linebacker on the WVU freshman team before deciding to sit out a year to work out and hone his kicking and punting skills in Miami. Those efforts got him a walk-on invitation to Florida State but he wound up enlisting in the U.S. Air Force. During his time at WVU he suited up with some of the most legendary names in NFL football – Sam Huff (NFL Hall of Fame), Chuck Howley (Cowboys Hall of Fame), Bruce Bosley (49ers), Freddy Wyant (Pro quarterback and veteran NFL referee) and Joe Marconi (Bears and Rams).
PHS Frosh Rip Ripley, 44-0
Chace Mathess and J.D. Martin each scored a pair of touchdowns as the Parkersburg freshman team won its second straight mercy-shortened game Wednesday night with a 44-0 victory over visiting Ripley.

Mathess scored twice in the first quarter as PHS took advantage of great field position. A 36-yard interception return by Kyle Moore gave the host team the ball on the Ripley 19 on its second possession and on the first play Mathess went over right guard to the end zone with 5:11 left on the clock. Four plays later Ripley was forced to punt from its own one yard line and Camden Rutherford called for a fair catch and caught the ball on the Viking five after the four yard punt. Two plays later Mathess went over the left side with 2:55 showing in the first period.

Moore added a 55 yard breakaway touchdown after a fumble recovery by Mathess on the Parkersburg 45. Moore carried the ball just three times in the game but gained a 88 yards.
With 33 seconds left before the half PHS quarterback Jacob Bock lobbed a pass to Martin at the five yard line and the ninth grade Big Red tipped the ball, juggled it and then came down with it in a battle with the defender before racing into the end zone to complete a 39 yard play. Gage Fiore's conversion run made it 30-0 at the half despite PHS running just 13 plays to 34 to Ripley.

Second half scores came on a 43 yard pass play to Martin and a one yard run by Eli Ash after Ripley went for it on fourth down from their own three yard line and failed.
C.J. Wade led the defense with 16 tackles while Fiore added 12 stops. Rutherford came up with seven tackles while Mathess had five stops and a fumble recovery and Adam Moore had a fumble recovery.

9th Grade Football
Ripley (0-2)                             0        0        0        0        -        0
Parkersburg (2-0)                   14      16      6        8        -        44
P – Chase Mathess 19 run (Gage Fiore run) 5:11 1st
P – Mathess 1 run (run failed) 2:55 1st
P – Kyle Moore 55 run (Mathess run) 4:19 2nd
P – J.D. Martin 39 pass from Jacob Bock (Fiore run) 0:33 2nd
P – Martin 43 pass from Bock (run failed) 7:43 3rd
P – Eli Ash 1 run (Ash run) 4:27 4th
Team Statistics
First Downs – Ripley 6; PHS 7
Rushing – Ripley 46-87; PHS 24-82
Passing – Ripley 0-3-1; PHS 4-4-0 111
Penalties –Ripley3-20; PHS 5-30
Fumbles – Ripley4-2; PHS 2-1
Punts – Ripley2-10.0; PHS 1-40
Individual Leaders
Rushing – Ripley: Hunter Cesteric 7-35, Cameron Ramsey 16-29, Austin Boggess 9-19. PHS: Kyle Moore 3-88, Chace Mathess 4-15, Gage Fiore 4-8.
Passing – Ripley: Cameron Ramsey 0-3-1. PHS: Jacob Bock 4 of 4 for 111 yards .
Receiving – Ripley: none. PHS: J.D. Martin 3-94, Braedon Mason 1-17.
Defense – PHS: C.J. Wade 16 tackles, Gage Fiore 12 tackles, Camden Rutherford 7 tackles, Chace Mathess 5 tackles and FBR, Adam Moore 3 tackles and FBR, Kyle Moore INT.
Next Game – PHS at Huntington Sept. 15
1916 All-Staters, Jett To Enter Football Hall of Fame
Braden Alleman.................. Claude Crawford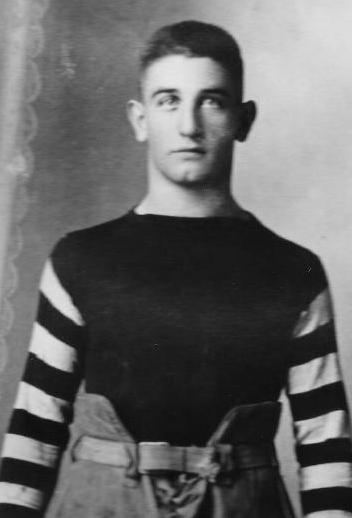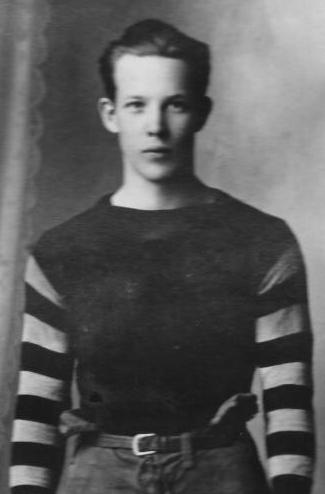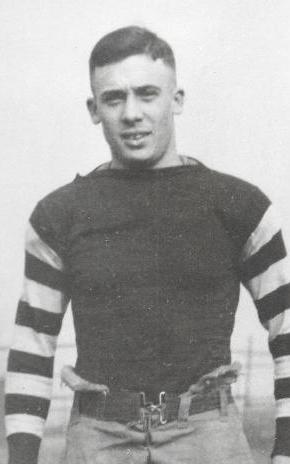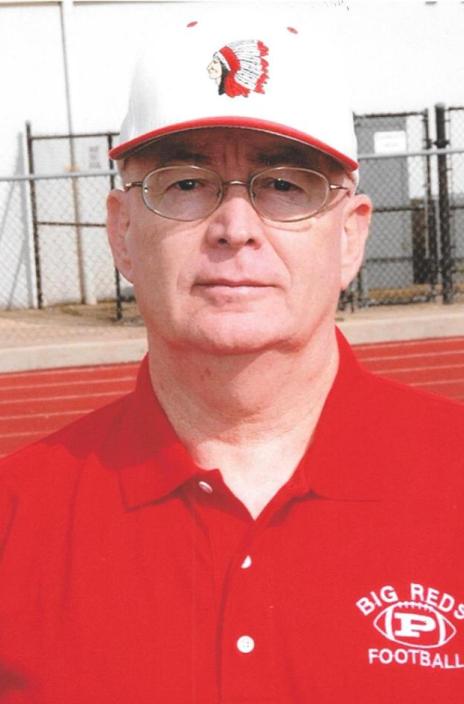 Harlan Devore............... Carroll Jett
One hundred years ago Parkersburg High School placed its first three football players on the All-State squad. Friday night at Stadium Field the Big Reds will honor the memory of  Braden Alleman, Claude Crawford and Harlan Devore by inducting them into the PHS Football Hall of Fame as they recognize their families for being the cornerstone of one of the most successful high school football programs in the United States.

The history of Big Reds football is legendary with 810 wins, 16 state championships, and 173 total first-team all-state selections represented by 142 different young men. It all began 100 years ago, in 1916, with these three all-state performers.

The fourth inductee Friday is, fittingly, PHS football statistician Carroll Jett who is responsible for chronicling the illustrious history of  Big Reds football.  His diligent research coupled with journalistic ability has allowed the Hall of Fame Committee to reach back into time and honor those that have made the PHS program great.

Alleman (1898-1945) was a solid 6-0, 185-pound all-around athlete, was the captain of the 1916 Big Reds.  He was also a two-time all-state basketball player, leading Parkersburg to titles in 1916 and 1917.
Alleman was so talented that he trained with West Virginia University prior to the 1916 season and was starting for the Mountaineers varsity at tackle prior to deciding to return to Parkersburg High to play his senior year and to graduate.

He scored five touchdowns as a senior and ran for two extra points.  As a junior he kicked two field goals and added 12 extra-point kicks.

After college Alleman coached football at Spencer and basketball at Morgantown before entering medical school.  Dr. Alleman practiced medicine in Cincinnati until his death. He and wife Ruth had one child, Dorothy Fessler, who lived in Buckhannon, WV.

Crawford (1898-1968) was the first two-time all-state football player at Parkersburg High School, earning those accolades in 1916 and 1917.  He was also an all-state performer in basketball in 1917. 

The 5-11, 155-pound fullback led the Big Reds in rushing for three straight seasons and scored 28 touchdowns and two extra points in his illustrious career.

In 1917, versus Middlebourne, Crawford scored six touchdowns in a game – a school record that has been matched but not surpassed.  He notched 20 touchdowns that year – the ninth best single season total in PHS history. 
A World War I veteran, Crawford attended Penn and Marietta College.  He and wife Maude owned Citizens Building and Supply in Parkersburg for many years and were the parents of a daughter and two sons.

Devore (1895-1986) was selected as an end on the 1916 all-state squad.  
A tough 5-8, 150-pounder, Devore caught two touchdowns and six extra points in an era before teams threw the ball.  Primarily a bruising blocker, he was a stalwart on both sides of the line of scrimmage for Coach Harry Buland's squad that went 6-1-3 in 1916 with its only loss to the Marietta College Reserves.

He was also a starter on the 1916 and 1917 state champion Big Reds basketball teams.

Devore left PHS before the end of his senior year to enter World War I.  Upon returning from overseas, he attended Mountain State College. While in Parkersburg, Devore worked for the Reps Furniture Company.  He and wife Helen moved to Mt. Lebanon, Pennsylvania in 1938 where he worked as a manufacturer's rep in the furniture business. They were the parents of two children.

Jett began covering the Big Reds in 1969 as a sportswriter for the Parkersburg Sentinel. He later became sports editor of the Sentinel and the Parkersburg News. Chairman of the all-state committee for several years, he covered the Big Reds during their state championship years of 1976 and 1978.

He left the newspaper in 1992 and went to work at the West Virginia Secondary School Activities Commission where he published a magazine entitled "High School Sports: Memories That Last a Lifetime."

He became the official PHS statistician in 1997 and shortly after took over the Big Reds football website. He was presented state championship rings in 1999, 2001, 2006 and 2007. He later started the football Facebook page. In 2009, after a year of research, he revived, updated and expanded the Big Reds Football Factbook, which he currently maintains. His research also enabled him to print a storybook, "Here Come The Big Reds."

A widower who has been a registered basketball and volleyball official for nearly 25 years, he was also an AAU basketball coach for 25 years, winning a national championship in 1999 to go with five state titles. Currently employed by the Wood County Recreation Commission, he has one son, Kevin and with wife Katie there are two grandchildren, Konnor and Kensie.
Extra Points Difference as PHS Jayvee Team Falls, 24-18
Extra points were the difference Monday night at Stadium Field as Hurricane notched a 24-18 junior varsity football victory over PHS despite both teams scoring three touchdowns apiece.
The visiting Redskins converted all three of their two-point tries after touchdowns while PHS failed on all three attempts.
PHS scored first on a 43 yard Jake Johnson interception return and then regained the lead in the third quarter by a 12-8 margin thanks to a one yard run by Jacob Bock. Johnson added another touchdown in the final 2:53 of the game on a one yard run to pull within 24-18 and tried to lead his team for a tying scoring in the final 1:10 only to run out of downs on the Hurricane 16 when his pass in the end zone to Dylan Richards was deflected but nearly caught anyway with 18 seconds remaining.
Johnson ran for 75 yards and passed for 15 yards in two quarters of play while Bock had 44 yards rushing and two passing in two quarters.
The winning TD for Hurricane came on a 65 yard run up the middle by Christian Hill, who finished with 147 yards rushing on 10 carries.
Jacob Woodyard was the leading tackler for the PHS jayvees, now 1-1 with a game Monday at Capital.
Jayvee Football
Hurricane                      8        0        0        16      -        24
Parkersburg (1-1)         6        0        6        6        -        18
P – Jake Johnson 43 interception return (run failed) 3:21 1st
H – Abel Cunningham 17 pass from Austin Womack (Gage Truman run ) 0:00 1st
P – Jacob Bock 1 run (run failed) 7:59 3rd
H – Christian Hill 7 run (Truman run) 8:51` 4th
H – Hill 65 run (Truman run) 6:16 4th
P – Johnson 1 run (run failed) 2:53 4th
Team Statistics
First Downs – Hurricane 10, PHS 11
Rushes-Yards – Hurricane 29-247, PHS 37-195
Passing Yards – Hurricane 34, PHS 17
PC-PA-INT – Hurricane 6-12-1, PHS 4-14-1
Total Plays – Yards – Hurricane 41-281, PHS 51-212
Punts – Hurricane 2-31.5, PHS 2-30
FBL – Hurricane 0-0, PHS 0-0
Penalties – Hurricane 2-15, PHS 3-15
Individual Leaders
Rushing – Hurricane: Christian Hill 10-147, Gage Truman 12-80. PHS: Jake Johnson 9-75, Jacob Bock 7-44, Anthony Craig 7-31, Chace Mathess 7-9, Brandon Braham 3-33.
Passing – Hurricane: Austin Womack 6 of 12 for 34 yards (1 interception). PHS: Johnson 3 of 6 for 15 yards, Bock 1 of 8 for 2 yards (1 interception).
Receiving – Hurricane: Abel Cunningham 3-18. PHS: Dylan Richards 1-10, J.D. Martin 1-5, Anthony Craig 1-2.
Defense – PHS: Jacob Woodyard 7 tackles, Johnson 6 tackles (interception), Braham 6 tackles, Joel Butcher 5 tackles.
Next Game – PHS at Capital Sept. 12.
PHS Frosh Jolt JM 38-8
The freshman football team completed the season-opening sweep of near perfection for Parkersburg High School by defeating visiting John Marshall 38-8 Wednesday evening at Stadium Field.
The varsity team beat St. Albans in a mercy-rule shortened game on Friday while the junior varsity accomplished the same mercy-rule shortened feat on Monday against St. Albans. The freshmen followed suit with the third straight mercy-rule shortened contest as they dominated the Monarch ninth graders.
So heading into the second week of the season, all three PHS football teams are 1-0 with mercy-rule shortened victories under their belts. This has to be a record since this is the first year the 35-point mercy rule has been put into effect in West Virginnia.
Wednesday evening it was Anthony Craig leading the way with a pair of touchdown runs and 93 yards rushing. The PHS frosh had a 228-90 advantage in total yardage. C.J. Wade paced the defense.
Freshman Football
John Marshall 9th         0        0        0        8        -        8
Parkersburg 9th             16      8        14      0        -        38
P – Kyle Moore 37 run (Gage Fiore run) 7:26 1st
P – Braedon Mason 11 pass from Jacob Bock (Fiore pass from Bock) 2:42 1st
P – Anthony Craig 10 run (Bock run) 9:43 2nd
P – Craig 40 run (run failed) 7:02 3rd
P – J.D. Martin 33 interception return (Mason pass from Bock) :03 3rd
JM – Hunter Purcell 1 run (Ethan Gray run) 5:11 4th
Team Statistics
First Downs – JM 6, PHS 12
Rushing – JM 30-90 yards, PHS 27-184 yards
Passing – JM 0-5-1, PHS 5-8-0 44 yards
Punts – JM 3-20.0, PHS 2-33.0
FBL – JM 2-1, PHS 1-1
Penalties – JM 4-20, PHS 6-33
PHS Individual Leaders
Rushing – Anthony Craig 10-93, Kyle Moore 3-50, Jacob Bock 5-21.  Passing – Bock 5 of 8 for 44 yards. Receiving – J.D. Martin 3-25. Defense – C.J. Wade 8 tackles, Fiore 5 tackles, Ethan Lantz 5 tackles, Camden Rutherford 5 tackles, Martin interception, Adam Moore fumble recovery.
Next Game – PHS hosts Ripley Sept. 7 at 6 p.m.
PHS Jayvees Spank St. Albans 40-6
Jake Johnson and Chace Mathess each scored three touchdowns as the Parkersburg junior varsity defeated St. Albans jayvees 40-6 Monday night at Stadium Field in the season opener.
Johnson scored on runs of two, 26 and three yards while gaining 66 yards on seven carries and also completed three of five passes for 37 yards.
Mathess ran for 153 yards on 14 attempts while scoring on runs of 10, 42 and 10 yards.
The Little Red squad had an 18-5 advantage in first downs, rushed for 290 yards on 37 tries and passed for 85 more by hitting six of eight attempts.
Defensively, the PHS squad held St. Albans to five first downs and only 77 yards in total offense (2 of 20 passing with 2 interceptions and 23 rushing attempts).  Cole Hanshaw, Brandon Braham, Ben Barbarito and Jace Turner led the prevent unit with Johnson and Jacob Woodyard coming up with interceptions.
The game, which took two and half hours to play despite using 10 minute quarters and a running clock in the fourth quarter, saw 196 yards in penalties. St. Albans was whistled 10 times for 96 yards while PHS was flagged 14 times for 100 yards. The second PHS scoring drive started on the St. Albans 45 yard line but by the time the home team reached the end zone they had to cover 80 total yards thanks to six penalties.
St. Albans JV                0        0        0        6        -        6
Parkersburg JV            14      14      12      0        -        40
P – Jake Johnson 2 run (run failed) 4:05 1st
P – Johnson 26 run (Cole Hanshaw run) 1:00 1st
P – Chace Mathess 10 run (pass failed) 7:33 2nd
P – Mathess 42 run (Brandon Braham pass from Jacob Bock) 7:18 2nd
P – Johnson 3 run (pass failed) 7:53 3rd
P – Mathess 10 run (pass failed) 5:00 3rd
SA – Caleb Driggs 3 run (pass intercepted by Hanshaw) 5:43 4th
Statistics
First Downs – PHS 18, St. Albans 5
Rushing – PHS 37-290, St. Albans 23-57
Passing – PHS 6 of 8 for 85 yards, St. Albans 2 of 20 (2 intercepted) for 20 yards.
Individual Leaders – PHS rushing: Chace Mathess 14-153, Jake Johnson 7-66, Shane Miller 6-35. PHS passing: Jake Johnson 3 of 5 for 37 yards; Jacob Bock 3 of 3 for 48 yards. PHS receiving: Tyler Moler 2-37, Brandon Braham 2-30, Gage Fiore 1-18. PHS defense: Cole Hanshaw 6 tackles, Brandon Braham 5 tackles, Ben Barbarito 5 tackles and fumble recovery, Jace Turner 5 tackles, Jake Johnson 4 tackles and interception, Jacob Woodyard 3 tackles and interception, Josh Ankrom 4 tackles, Parker Olsen 4 tackles.
Next Game – PHS Jayvees host Hurricane Sept. 5 at 6:30 p.m.
Big Red Legend Rick Phillips Passes Away
From Parkersburg News & Sentinel
A gridiron standout at Parkersburg High School and the West Virginia University Mountaineers died on Wednesday.
Rick Phillips, an offensive lineman who played for the Mountaineers in the 1989 National Championship game, passed away in Cleveland. Phillips, 50, had fought a two-year battle with pancreatitis.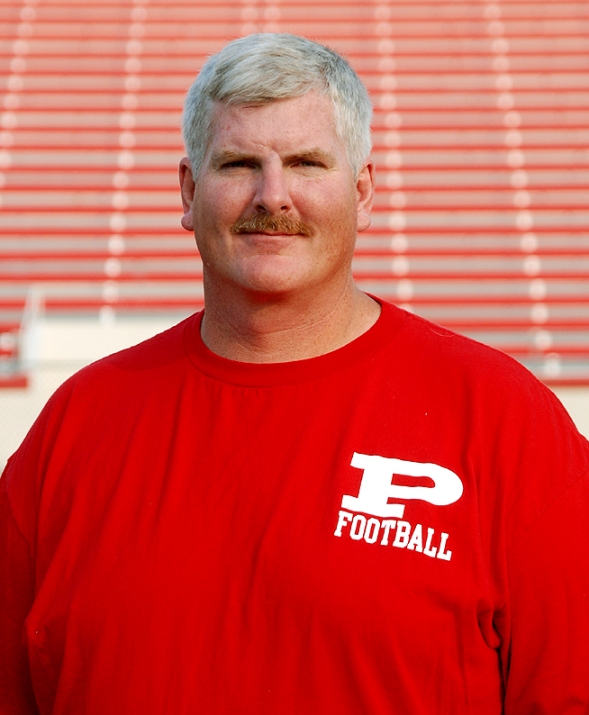 Buddy James, Phillips' coach at Parkersburg High, said Phillips was the greatest football player he ever coached. James was appreciative he and Phillips kept in touch for all these years.

"He was the only football player I ever had that went to college and made All-American," James said.

Phillips won the Hunt Award at Parkersburg High in 1983 before becoming a second-team All-American at West Virginia University.

"Rick Phillips was a tremendous young man and a great football player," former WVU head coach Don Nehlen said. Phillips played for Nehlen during his collegiate career.

Phillips was city manager in St. Marys until his illness forced him to take leave. He was also an assistant coach in 199, 2001 and 2007 at Parkersburg High.

"He was a great man and a great friend to me and my family," said Parkersburg Mayor Jimmy Colombo, who hired Phillips in the building and grounds department during his first term as mayor.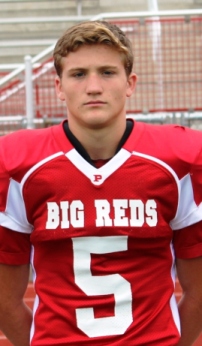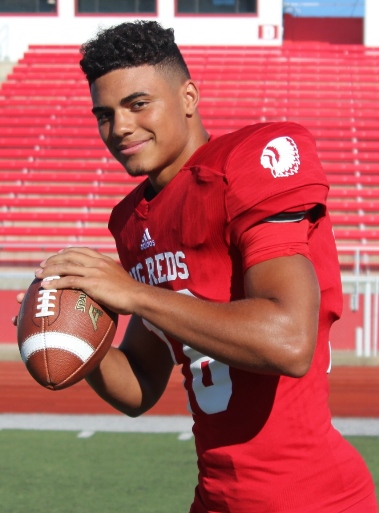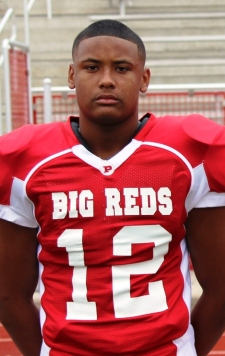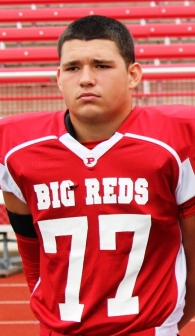 ....Nick Johnson........Brenton Strange....... Easton Martin........ Issiah Gossett
Johnson, Strange, Martin, Gossett Earn Post-Season Honors for MSAC, All-State Teams
Two Parkersburg Big Reds , senior Nick Johnson and freshman Brenton Strange, have earned second team All-Mountain State Athletic Conference honors for the 2015 season.
Two other PHS players were picked as part of the team with junior Easton Martin making honorable mention and senior Issiah Gossett making special honorable mention.
Johnson was also selection special honorable mention all-state and Martin was named honorable mention all-state.
Devin Stapleton of Cabell Midland was MSAC Player of the Year and his coach, Luke Salmons (former Ravenswood and Marshall player) was named Coach of the Year.
The all-conference team was selected by the coaches.
Johnson was selected as a defensive back and that was fitting since he led the Big Reds in numerous defensive categories including most tackles (93) , solo tackles (51), tackles for loss (6), forced fumbles (4) and fumble recoveries (3). He also contributed with two interceptions.
Offensively, Johnson was a return threat with a punt and a kickoff return for a touchdown while averaging 18.4 yards on nine punts and just under 20 yards on 12 kickoffs.
Strange made the second team as a wide receiver where he caught 24 passes for 312 yards and two touchdowns while also rushing 55 times for 249 yards and three scores. On defense he had 56 tackles and an interception from his safety position.
Gossett had 44 tackles on defense from his line position, including leading the team with 10.5 tackles for loss and four sacks.
Martin led the team with 906 all-purpose yards with 59 tackles and six passes broken up. He had 542 yards rushing (8.6 average) with five touchdowns on the ground and caught 27 passes for 364 yards and one score.

Brannon Turner, Nick Johnson, Issiah Gossett, Zach Blosser, Coach Reeves, Easton Martin, Tyler Greathouse, Noah Weaver
2015 Award Winners Announced at Banquet
The 2015 Parkersburg High School Big Red football banquet was held Sunday night at the Grande Pointe Conference Center in Vienna and head coach Don Reeves bid farewell to 19 seniors as well as passing out various awards.
Award winners were:
Carroll Jett Team Award – Noah Weaver
Russ Parsons Defensive Player Award – Issiah Gossett
Ross McHenry Scholar Award - Tyler Greathouse
Ed Forshey Big Red Award – Brannon Turner
Mason Roberts Heart Award – Zach Blosser
Tom Brock Special Teams Award – Nick Johnson
Buddy James Offensive Player Award – Easton Martin
Receiving MaxPreps Awards were: Special Team (Dakoda Sims), Defense (Noah Weaver), Offense (Easton Martin), Overall (Nick Johnson).
Captains Greathouse, Johnson, Turner and Weaver as well as Chiefs Blozzer and Gossett gave brief speeches and the following seniors were recognized: Blosser, Gossett, Greathouse, Johnson, Sims, Turner, Weaver, Joel Carty, Jared Evans, Ethan Farinash, Henry Hickman, Kendell Leary, Andrew Lebo, Jesse McGrew, Chase Minnite, Michael Osborne, Stevie Scholl, Anthony White and Jarrid Winters.
PHS Now In 8th Place In All-Time Win Rankings
The Parkersburg High School football team is now in eighth in the official national high school all-time win rankings.The four victories earned by the 2015 team left the PHS all-time record to 809 victories and moved the locals back to eighth on the all-time list behind the Canton McKinley (Ohio) Bulldogs, who won seven games last season. The official rankings are published by the National Federation of State High School Associations. PHS is 90 victories behind all-time leader Valdosta, which nipped the city of Parkersburg in the ESPN "Titletown" competition a few years ago.
| | | | | |
| --- | --- | --- | --- | --- |
| All-Time High School Football Wins | | | | |
| | | | | |
| School | Total | 2015 | Overall  | 1st Yr |
| | Wins | | Record | |
| 1. Valdosta Wildcats (GA) | 899 | 8-4 | 899-220-34 | 1913 |
| 2. Highlands Bluebirds, Ft Thomas (KY) | 876 | 8-7 | 876-236-26 | 1915 |
| 3. Male Bulldogs, Louisville (KY | 859 | 15-0 | 859-321-49 | 1893 |
| 4. Mayfield Cardinals (KY) | 848 | 16-1 | 848-252-32 | 1919 |
| 5. Washington Tigers, Massillon (OH)  | 841 | 4-7 | 841-263-35 | 1894 |
| 6. Mount Carmel Red Tornadoes (PA) | 833 | 6-6 | 833-315-59 | 1893 |
| 7. McKinley Bulldogs, Canton (OH) | 812 | 7-4 | 812-346-42 | 1894 |
| 8. Parkersburg Big Reds (WV) | 809 | 4-6 | 809-328-40 | 1900 |
| 9. Easton Red Rovers (PA) | 807 | 9-4 | 807-337-54 | 1894 |
| 9. Muskegon Big Reds (MI) | 807 | 9-3 | 807-276-43 | 1895 |
| 11. Summerville Green Wave (SC) | 791 | 4-8 | 791-218-25 | not official |
| 12. Everett Crimson Tide (MA) | 790 | 5-5 | 790-371-79 | 1893 |
| 13. Berwick Bulldogs (PA) | 789 | 9-3 | 789-326-43 | 1888 |
| 13. Highland Park Scots, Dallas (TX) | 789 | 10-2 | 789-252-27 | not official |
| 15. Hampton Crabbers (VA) | 787 | 13-1 | 787-257-43 | 1920 |
| 16. Brockton Boxers (MA) | 783 | 7-4 | 783-372-64 | 1897 |
| 16. Ada Cougars (OK) | 783 | 7-4 | 783-320-24 | not official |
| 18. Lawton Wolverines (OK) | 782 | 8-2 | 782-341-34 | 1902 |
| 19. Central Tigers, Little Rock (AR) | 781 | 3-7 | 781-326-43 | 1907 |
| 20. East St. Louis Flyers (IL) | 780 | 3-6 | 780-233-45 | 1897 |
| 21. Clinton Red Tornadoes (OK) | 777 | 6-6 | 777-274-38 | 1919 |
| 22. Steubenville Big Red (OH) | 776 | 13-1 | 776-316-34 | 1900 |
| 23. Pine Bluff Zebras (AR) | 775 | 13-0 | 775-331-53 | 1901 |
| 24. Dobyns-Bennett Indians, Kingsport (TN)  | 768 | 4-7 | 768-233-28 | 1921 |
| 25. Bakersfield Drillers (CA) | 767 | 5-6 | 767-256-43 | 1897 |
| 26. Paducah Tilghman Blue Tornado (KY) | 766 | 8-4 | 766-318-25 | 1904 |
| 27. Sioux Falls Washington Warriors (SD) | 762 | 11-1 | 762-324-37 | 1899 |
| 28. New Britain Golden Hurricanes (CT) | 759 | 5-5 | 759-335-51 | 1892 |
(Battle of the 'Burg) Documentary Youtube Video
Contribution Information
Commemorative t-shirts and bracelets are available and donations can now be made online here at the football web site by clicking on the PayPal icon under the t-shirt photograph on the left side of the page. Online contributions will be added to the sponor lists if the amount is sufficient.Contributors are reminded that tax deductible checks will be accepted. They should be made out to PHS Stadium Committee.
Sponsors are being sought with 10 levels of donations - Seat Named $200, Bronze $500, Silver $1,000, Gold $2,000 and Platinum $2,500, Team Captain $5,000, Reserved Seat Row $10,000, White $15,000, Team Spirit $20,000, PHS Big Red $50,000. Sponsors will have three years to honor their pledges. Sponsors meeting any of the pledge levels will be listed on a plaque to displayed prominently in the Stadium.
Donations from fans and alumni who are proud of Stadium Field and its storied 93 year history may also be sent to Parkersburg High School in care of Charlotte Potter, Stadium Field Committee, 2101 Dudley Avenue, Parkersburg, WV 26101.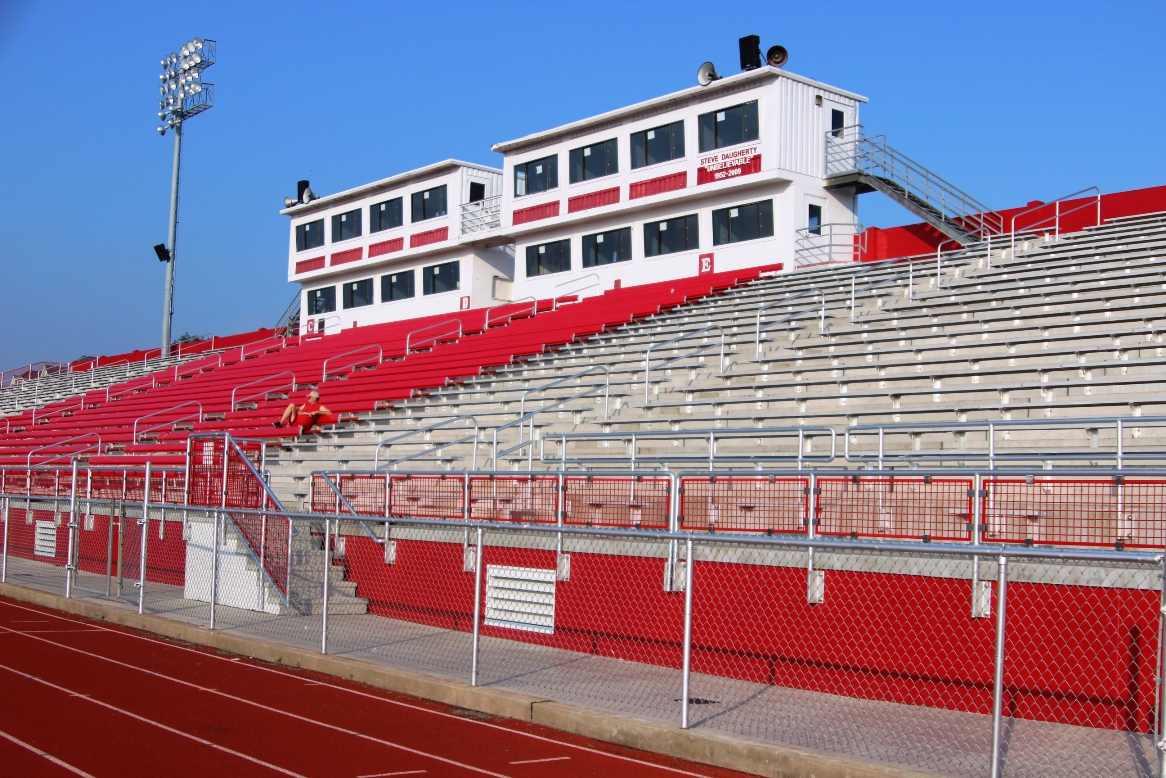 The home side finished product!
History of Stadium Field
In the spring of 1923 a group of men got together to form a stadium committee whose sole intent was to build a stadium for the newly constructed Parkersburg High School.
Those men included John S. Echols, President of the Board of Education, C.M. Martin, Sherman Dils, J.H. Biddle, C.T. Hitshaw, Herbert Smith, John Randolph, and Paul L. Summers. The committee was incorporated on July 14, 1923 and became known as the Parkersburg High School Corporation. The process of forming a corporation was necessary because the bonded indebtedness of the Board of Education was then at the peak permitted by law. Also serving on this committee was Fayette Smoot, H.L. Martin, Edward Doesch, H.R. Debussey and W.O. Holiday. The corporation leased the back campus from the Board of Education. It was impossible, according to the law of the time, for such a corporation to build any structure on land owned by a board of education. Therefore, the board had to turn over the land known as Stadium Field, on a 99-year lease to this corporation. The bonds were then released. The money for the bonds was to be recovered through football games and other activities held at the stadium.
The stadium was the first of its kind (concrete) in West Virginia and must have been the first of its kind to be built for the use of tax-supported institution without the investment of a single tax dollar.
The plans were to build one side of the stadium in 1923 and to build the other side the following year. The end of the U-shaped stadium was to be completed in the third year. When finally, completed it was to seat about 13,000 people. The end or bowl section of the stadium was never completed according to plans. The total cost of construction for the two sides was $104,000.
In just one day after the meeting in which the stadium plan was revealed, a total of $33,000 worth of bonds was sold.
In September of 1923 the first concrete was poured for the West stands of the stadium and on Oct. 4, 1923, the first game in the new stadium was played between the Big Reds of Parkersburg High School and Athens, Ohio. The Big Reds won by a 14-13 score. Ticket prices were 25 cents for student seating, 15 cents for student standing room. For the general public, the price was season ticket was $5 for seats and $4 for standing room.
In 1925 the stadium was officially dedicated. As part of the dedication, a race from Parkersburg to Marietta was held.
The installation of the stadium lights during the fall of 1940 made it possible for football games to be played at night. Until that time, most games were played on Saturday afternoon. The lights were installed by the Parkersburg Junior Chamber of Commerce at a cost of $7,000.75. The electric bill for the use of the lights was $3.25 per hour or about $10 for each game.
The lights were put in for the dual purpose of protecting the health of the players from the intense heat and to increase attendance. Among other reasons cited for the lighting was so that persons who worked Saturday afternoon could see the Big Reds play and so that the Stadium could be used for the purpose of holding other outdoor events such as political rallies or church events. Businessmen also felt that by playing Friday night games, Saturday afternoon business would be bolstered.
The first night game at PHS Stadium was Sept. 6, 1940 with the Big Reds beating Grantsville 50-0.
During the 1984-85 football season part of the stadium stands were closed for safety reasons. On June 13, 1988 it was recommended that both sides of the stands be closed. On June 14 the Board of Education accepted that recommendation.
During the summer of 1988 temporary bleachers were purchased and put up. Remodeling was done with funding help from C.O. Erickson and began in 1992. It was totally completed in 1994 with structural steel and concrete used to repair the stands.
In 1995 PHS qualified for home playoff games. After beating North Marion in the first round, the Big Reds were scheduled to host Wheeling Park. The Patriots protested the playing conditions at Stadium Field (no grass and nothing but mud) and a state inspection committee upheld the protest – moving the game to Tyler Consolidated High School. PHS won that game 28-7 and got to host the semifinal game after much work was done to repair the turf. But Hedgesville won the game 18-0 and the drive to install artificial turf on Stadium Field began in earnest.
The Stadium Renovation committee had its first planning session on Jan. 4, 1996 with more than two dozen members. In almost no time there were plans for an artificial surface to be added to the football field along with an 8-lane Eurotan track surface, new sidewalks, asphalt parking lot and refurbished concession stands.
On Aug. 30, 1996 the first game was played on AstroTurf Xl surface between Parkersburg South and Wheeling Park. On Sept. 6 the Big Reds played host to Hurricane on the new turf.
The cost of the new surface and renovations came to $1.25 million dollars which included $400,000 worth of in-kind services, $400,000 for advertising signs, $250,000 in donations and five bank loans of $400,000.
New light standards were installed in 1998. In 1999 new locker rooms were built in the Mary Lou Hague Memorial Sports and Arts complex at a cost of $536,390. In 2005 the restoration of the concrete stands was done at a cost of $129,356. In 2006 the turf was replaced at a cost of $295,000 with ProGrass artificial surface. In 2009 a new concession stand and restrooms were built on the home side at a cost of $195,000. The track was resurfaced in 2010 at a cost of $75,000 and in 2012 handrails were installed at a cost of $68,090.
In 2013 the home side bleachers were replaced in time for the second home game of the season. New seats were also installed with backs for the reserved seat section. The visiting bleachers still need to be replaced and contributions are still being taken.