2021 Big Red Football Schedule
(all games 7:30 unless indicated)
Aug. 27 – at Huntington (7-47)
Sept. 3 – Spring Valley (10-34)
Sept. 10 – Capital (28-20)
Sept. 17 – Parkersburg South (28-19)
Sept. 24 – at Cabell Midland (6-45)
Oct. 1 – Hurricane (30-42)
Oct. 9 – at South Charleston (21-38)
Oct. 15 – Open
Oct. 22 – at Riverside (31-7)
Oct. 29 – George Washington (24-28)
Nov. 5 – at Musselman (56-52)
-
Jayvees Tie Riverside, 6-6
Parkersburg and Riverside battled to a 6-6 standoff on a very wet Monday night at Stadium Field.
The visitors scored early on a 43 yard interception return but PHS tied things in the second period. Cole Martin had an interception on the visitor 27. A 26 yard pass from Cooper Cancade to Owen Collins took the ball to the one and Andrew Williamson ran it in two plays later with just 18 seconds left in the half.
PHS had a chance to score in the third quarter thanks to 30 and 20 yard completions to Mason Cyran but fumbled the ball away at the Riverside two yard line.
The Big Red jayvees are now 2-3-1 on the year.
Junior Varsity Football
Riverside JV....... 6. 0. 0. 0. -  6
Parkersburg JV.  0. 6. 0. 0. -  6
R - Jase Cook 43 interception return (run failed).
P - Andrew Williamson 3 run (pass failed).
Next game - PHS (2-3-1) at George Washington Monday, Nov. 1.
-
Jayvee Schedule
(all games start 6:00)
Aug. 30 – Huntington (30-20)
Sept. 6 – at Spring Valley (6-52)
Sept. 13 – at Capital (cxld)
Sept. 20 – at Park. South (cxld)
Sept. 27 – Cabell Midland (20-61)
Oct. 4 – at Hurricane (cxld)
Oct. 11 – South Charleston (38-22)
Oct. 18 - St. Marys (12-48)
Oct. 25 – Riverside (6-6 tie)
Nov. 1 – at George Washington (cxld)
-
2020 PHS Varsity Football Schedule
Sept. 4 – at Spring Valley (L 7-42)
Sept. 11 – Wheeling Central (W 38-21)
Sept. 18 – at Marietta (W 34-20)
Sept. 25 – Huntington (W 25-14)
Oct. 2- at Hurricane (L 36-60)
Oct. 9 – South Charleston (cxld)
Oct. 16 – Bluefield (W 29-8)
Oct. 23 – John Marshall (W 54-14)
Oct. 30 – Jefferson (W 37-20)
Nov. 6 – Parkersburg South (cxld)
Nov. 15 - Playoffs: Spring Mills (cxld, COVID)
-
Junior Varsity
Sept. 7- Spring Valley (cxld)
Sept. 14 – Capital (cxld)
Sept. 21 – Marietta (L 14-18)
Sept. 28 – at Huntington (L 14-33)
Oct. 5 – Hurricane (W 28-0)
Oct. 12 – at South Charleston (cxld)
Oct. 19 – Park. South (L 34-44)
Oct. 26 – Bridgeport (L 14-35)
Nov. 2 – George Washington
-
Freshman/JV
Sept. 3 at Morgantown cxld
Sept. 9 at Park. South (L 20-28)
Sept. 16 – Bridgeport (W 26-14)
Sept. 23 – at John Marshall (W 32-26)
Sept. 30 – Cabell Midland (cxld)
Oct. 8 – at Spring Valley (6:00)
Oct. 14 – at Bridgeport (6:00)
Oct. 21 – Park South (cxld)
Oct. 28 – Wheeling Park (cxld)
Awards Presented
Awards for 2019 were presented at the annual football banquet at the Grand Point Convention center with senior Braeden Mason taking home the Most Valuable Player honor.
Offensive Player of the Year was Bryson Singer while the co-defensive Players of the Year were C.J. Wade and Gage Fiore.
Zach Wofe won the Coaches Award while Jacob and Josh Campbell shared the Trust Loyalty and Commitment award. Special awards went to seniors Anthony Craig and Matt Curry as well as junior Deaven Francis. Sam Potts won Newcomer of the year honors while Justin Waybright and Michael Owen were Utility Players of the Year and Jim Shrewsbury won the Heart Award. Jayvee honors went to Jake Barnette and Kyle Hall.
Record-breakers were honored as C.J. Wade tied the record for sacks in a game with four and Bryson Singer and Braeden Mason set a school record for longest touchdown pass with their 91 yard completion. Sam Potts set a record with four interceptions in a single game and Singer became the first player in history to pass for over 1,000 yards and rush for over 1,000 yards.
-
2020 All-MSAC football team
Player of the year: J.J. Roberts, Cabell Midland QB-DB
Coach of the year: Luke Salmons, Cabell Midland
First-team offense
QB -- R.T. Alexander, George Washington, Jr.
RB -- Christian Hill, Hurricane, Sr.; Caden Easterling, Riverside, Sr.; Jakob Caudill, Cabell Midland, Jr.
WR -- Braeden Mason, Parkersburg, Sr.; K.J. Taylor, Capital, Jr.; Alex Mazelon, George Washington, Sr.
TE -- Zach McCoy, Cabell Midland, Sr.
C -- Jake Hutchison, Spring Valley, Sr.
G -- Terrance Pankey, Huntington, Sr.; Romello Taylor, South Charleston, Sr.
T -- Wyatt Milum, Spring Valley, Jr.; Jackson Oxley, Cabell Midland, Sr.
U -- Chance Knox, Capital, Sr.
K -- Zane Porter, Spring Valley, Sr.
First-team defense
DL -- Ian Pomeroy, Woodrow Wilson, Sr.; Bomani Brooks, Hurricane, Sr.; Zeiqui Lawton, South Charleston, Jr.; C.J. Wade, Parkersburg, Sr.
LB -- Brocton Blair, Huntington, Sr.; Logan Spurlock, Capital, Sr.; Luke Christopher, Spring Valley, Sr.; Gage Fiore, Parkersburg, Sr.; Christian Gist, Capital, Jr.
DB -- Kerion Martin, Capital, Sr.; Abel Cunningham, Hurricane, Sr.; Devin Jackson, Huntington, Sr.; David Livingston, Spring Valley, Sr.; Romeo Dunham, South Charleston, Sr.
U -- Brody Brumfield, Spring Valley, Jr.
P -- Joseph Wells, Woodrow Wilson, Sr.
Second-team offense
QB -- Austin Womack, Hurricane, Sr.
RB -- Tay Calloway, Capital, Sr.; Mondrell Dean, South Charleston, Fr.; Hunter Payne, St. Albans, So.
WR -- Brayden McCallister, George Washington, Sr.; Samahji Simon, South Charleston, Sr.; Rodney Toler, St. Albans, Sr.
TE -- Corbin Page, Spring Valley, So.
C -- Zach Dillon, Cabell Midland, Sr.
G -- David Harris, Capital, Jr.; Nemo Roberts, Cabell Midland, So.; Chase Lauerman, Hurricane, Sr.
T -- Maxwell Wentz, Huntington, So.; Austin Chapman, Riverside, Sr.
U -- Bryant Jones, Woodrow Wilson, Sr.
Second-team defense
DL -- Chris Hudson, Capital, Jr.; Andrew Preast, George Washington, Sr.; Zane Brumfield, Spring Valley, Jr.; Malik Johnson, Huntington, Sr.
LB -- Jaxon Holbert, St. Albans, Jr.; Clayton Sharp, Spring Valley, Sr.; Charlie Pierson, Riverside, Sr.; Parker Hardman, Cabell Midland, Sr.; Michael Ray, George Washington, Jr.
DB -- Elijah Williams, George Washington, Sr.; Isaac Isabell, George Washington, Sr.; Sam Potts, Parkersburg, Sr.; Antwon Burnette, Woodrow Wilson, Sr.; Chance Jackson, Huntington, Sr.; Jackson Fetty, Cabell Midland, So.
U -- Tyrone Washington, Hurricane, Jr.
P -- Cameron Grobe, Cabell Midland, Sr.; Michael Hughes, George Washington, Jr.
Special mention
Offense
QB -- Ta' Blackwell, Huntington; Bryson Singer, Parkersburg; Nate Ellis, Spring Valley
K -- Nathan Young, Huntington
WR -- Noah Waynick, Huntington
TE -- Eli Archer, Huntington
C -- Tristan Stiffler, Woodrow Wilson; Garrett Green, Hurricane
Defense
DL -- Cooper Hardman, Cabell Midland; Kam Wells, St. Albans; Anthony Casto, George Washington; Jayson Barnett, South Charleston
DB -- Glen Willis, St. Albans
U -- Tierdin Berry, Cabell Midland; Kristian Hussell, George Washington
P -- Matt Curry, Parkersburg
Honorable mention
Cabell Midland -- Hayden Hass, Palmer Riggio; Capital -- Evan Landers, Amari Brown; George Washington -- Luke Grimm, Benji Adkins; Huntington -- Ke'Shawn Williams, Amari Felder; Hurricane -- Brogan Brown, J.T. James; Parkersburg -- Devan Francis, Justin Waybright; Riverside -- Dalton Mullins, Griffin Canterbury; South Charleston -- Xavier Bausley, Trey Dunn; Spring Valley -- Cole Diamond, Garrett Hall; St. Albans -- Andrew Vickers, Jaimelle Claytor; Woodrow Wilson -- Devan Gauldin, Hezekyiah Creasy
-
2019 PHS Football Schedule
Varsity
8/30 Morgantown (W 27-21)
9/6 at Cabell Midland (L 13-55)
9/13 Woodrow Wilson (W 35-6)
9/20 at Capital (L 13-35)
9/27 Marietta (W 42-21)
10/4 Open
10/11 at George Washington (L 21-34)
10/18 Hurricane (W 42-28)
10/25 Spring Mills (W 27-7)
11/1 Huntington (L 13-44)
11/8 at Parkersburg South (L 14-49)
11/15 at Musselman (L 29-48)
-
Junior Varsity
9/2 at Morgantown (L 8-30)
9/9 Cabell Midland (W 16-13)
9/16 at Woodrow Wilson (T 16-16)
9/23 Capital (L 0-38)
9/28 at Marietta (W 16-12)
10/14 George Washington (L 0-20)
10/21 at Hurricane (L 32-50)
10/28 Park. South (W 18-7)
11/4 at Huntington (cxld)
-
Freshmen
9/4 John Marshall (W 14-12)
9/11 Bridgeport (L 6-35)
9/18 at P. South (W 20-8)
10/2 P. South (W 44-0)
10/10 at Cabell Midland (cxld)
10/16 at Bridgeport (0-42)
10/23 Spring Valley (L 6-42)
10/30 Wheeling Park (L 0-30)
---
Season Recap - What IF and Records Set
The 2021 football season has come to a close for the Parkersburg Big Reds and it will go down as the year they missed making the playoffs by just a little more than a yard.
While it will be remembered as the season of what ifs and injuries and it will also be remembered as a season of more than interesting moments and a lot of names that were entered in the record books.
A 28-24 loss to George Washington in the ninth game of the season happened as the Big Reds failed to score after coming up with a first-and-goal situation from inside the two yard line with less than a minute remaining and that loss knocked the team out of a playoff chance. Had PHS won the GW game and then pulled off their miracle comeback against Musselman the following week the Big Reds would have finished as the 13th ranked team in the state and made a trip to Morgantown to play third-ranked and undefeated University in the first round of the playoffs.
Although it is easy to point to that one series of downs as the crucial point of the season fans will remember the 2021 season as a roller coaster ride with ups and downs thanks mainly to a large number of injuries to key players which began in game one against eventual undefeated and top-ranked Huntington.
The Big Reds lost six games this season, all six to teams which made the playoffs and even beat one team, Parkersburg South, which made the post season. Seven of the teams on their schedule finished ranked in the top 15, four in the top nine and four of them advanced to at least the quarterfinals of the playoffs.
Between injuries, illness and suspensions the Big Reds lost at various times its leading receiver, running back, top tackler, most experienced lineman and other starters. Add to that some nagging injuries which players shook off and continued to perform and you have a season that had the coaches' working overtime just to fill positions on the field.
There were some outstanding individual performances during the season with players like Bryson Singer, David Parsons, Casey Stanley, Logan Hartshorn and Xadrian Snodgrass all putting their names in the record books.
In fact, Singer can now be found 39 times in the updated records and that does not include the fact that he is the only player in PHS history to run and throw for 1,000 yards in a single season (accomplished as a sophomore). Had he not played at least half his senior season as a wide receiver he may have become only the second player in school history to rush for over 1,000 yards three times (John Richards being the only one to accomplish that feat).
Singer's career came to an end with him being the all-time leader in touchdowns accounted for as he scored 38 times and passed for 31 touchdowns to pass Marc Kimes and Matt Lindamood on the list. Lindamood ran for 68 touchdowns while Kimes ran for 15 scores and passed for 52 more for a total of 67.
Singer finished second all-time in total offense with 5,538 yards (2,158 passing and 3,380 rushing) to trail only Kimes with 6,171 (5,317 of it passing). He finished third all-time in rushing with 3,380 yards to trail Lindamood (4,211) and Richards (3,955). He was fourth in career TD passes thrown with 31 despite playing quarterback only sparingly as a senior. He was sixth in career completions with 151, seventh in career passing yards with 2,158 and ninth in career points scored with 228.
A senior season which saw him play multiple positions produced a team-high 803 yards rushing to go with 160 yards passing and 500 yards receiving (on 34 receptions). Singer scored a team-high 16 touchdowns (10 rushing, five receiving and one kickoff return). He had 1,584 all-purpose yards with 40 coming on punt returns, 199 on kickoff returns and 42 on three interception returns.
Sophomore Parsons wound up with 1,340 yards passing (111 of 196 for 57% with 12 touchdowns and six interceptions). He had three games over 240 yards passing including one game with 25 completions and is in the top 10 all-time with 121 completions already for his career.
Another sophomore, Stanley, put his name in the record books six times including a fourth-best ever 84 yard fumble recovery touchdown run. His 44 yard field goal is eighth best all-time while he now has 73 career kicking points for the ninth best total. His 37 kicking points this year (3 of 4 field goals and 28 of 29 extra points) is in the top 20 and his 72 yard interception return also made the list as 16th best mark ever. His 37.5 punting average was the ninth best mark in school history.
Hartshorn put his name in the books with his nine receptions against South Charleston while Snodgrass and his 70 yard touchdown run versus Musselman is the 18th best all-time.
Snodgrass finished as the team's second-leading rusher this year with 391 yards despite missing three games with injuries while Stanley tied for the team-high with three interceptions. Carter King played just four games because of injuries but caught 19 passes for the second best total on the team and four of them went for touchdowns.
Defensively, Kyle Hall led the team with 100 tackles including three sacks and 18 tackles for loss. He also forced three fumbles. Zach Howard had 81 tackles in nine games while Jeffery Jones had 72 including four sacks and 13 behind the line of scrimmage. Gabe Martin (51), Kennedy Jeter (48), Austin Fleming (42), Snodgrass (42), Chris Salyers (40), Singer (37) and Stanley (36) rounded out the top 10 tacklers. Fleming also had four sacks.
Incredible Ending Gives PHS Wild 56-52 Win Over Musselman
INWOOD, WV – An incredible ending to the 2021 football season for the Parkersburg Big Reds.
Just when it seemed the season-long run of bad breaks was about to continue for PHS, David Parsons, Carter King, Bryson Singer, Xadrian Snodgrass and Company pulled off a miracle comeback to defeat Musselman 56-52 in as wild a game as anyone has ever seen.
The back-and-forth game appeared to be going in favor of the home team when Tyler Waddell kicked a 20 yard field goal with 1:27 left in the game to break a 49-49 tie and put the Applemen up by three points.
A 30 yard kickoff return by Singer put the ball in Musselman territory at the 48 but the Big Reds had no time outs left, just 1:19 on the game clock and still had to cover half the field.
An incomplete pass was followed by a 14 yard completion from Parsons to Singer. Another incompletion was followed by an 11 yard connection to Casey Stanley to the 23 yard line, putting the ball within range of Stanley's talented field goal leg.
But the Big Reds weren't through.
A six yard pass to King took it to the 17 yard line and then Parsons dropped back and found King in the left side of the end zone with a perfect pass that the senior receiver caught in stride, dragging both feet down to make sure he was inbounds for the touchdown with 26.6 seconds remaining.
The extra point kick made it a four-point lead but Stanley had to kickoff to the dangerous Applemen who had already returned one kickoff for a touchdown and was averaging over 30 yard per return. Stanley booted a high kick that was fair caught at the Musselman 38 with still 26.6 seconds remaining.
An incomplete pass was followed by a 15 yard pass to dangerous Ray Adames, who had already had two long touchdown plays in the game. But Singer brought him down just inside PHS territory at the 47 setting up time for one more play. Nathan LaLiberte's pass was a high arching toss that Andrew Stalnaker leaped to catch at the PHS 20 and the game was over.
The victory avenged a playoff loss by the Big Reds to the Applemen on the same field just two years ago and gave PHS a final 4-6 record while dropping Musselman to 3-7. Despite the win the Big Reds will apparently not advance to the playoffs, finishing just out of the top 16 spots in the ratings.
The eight touchdown night for the Big Reds was led by Snodgrass and his three touchdowns – two short runs and a 70-yard catch and run. Singer had two big plays, a 58 yard run and a 74 yard kickoff return. Stanley had a 72 yard interception return while Andrew Stalnaker joined King with TD catches as sophomore Parsons threw for three scores while completing 18 of 28 passes for 276 yards with no interceptions.
Singer ran for 133 yards on 14 carries and caught four passes for 92 more, returned two kickoffs for 104 yards and one interception for eight yards for a total of 337 all-purpose yards. That raised his career total to 6,508 yards to break Marc Kimes' record of 6,171.
King finished with six receptions for 42 yards while Andrew Stalnaker caught three for 29, Snodgrass two for 90 and Stanley two for 21. Snodgrass added 37 yards rushing on 15 attempts.
Musselman threw for 399 yards with 25 completions in 40 attempts with six touchdowns and four interceptions. Adames caught six for 106 and Logan Shelton caught five for 103 while Kobe Hayslette caught six for 68 as five different receivers found the end zone. Adames finished with 297 all-purpose yards.
The game started with PHS forcing the first and only punt by Musselman and then the teams traded turnovers before PHS put together a 38-yard drive capped by Snodgrass going over left guard from a yard away with 5:44 on the first quarter clock. PHS then missed its first extra point attempt of the year when the kick was blocked.
Musselman answered with a 31-yard pass and run scoring play with 3:26 on the clock and kicked the PAT to take a 7-6 lead but PHS went back on top on another short run by Snodgrass that was set up by Singer's 65-yard reception. The two-point conversion pass was from Parsons to King.
Musselman tied the game at 14-all on a 10-play, 75-yard drive aided by a PHS face mask penalty but the Big Reds quickly went back on top 21-14 with 6:27 left in the second quarter on a 58-yard run by Singer, who took it up the middle and broke free to reach the end zone. He had to withstand two attempts by a Musselman player to bat the ball out of his hand as he neared the goal line.
The home team tied it again on a five-play, 75-yard drive with five straight pass completions but Singer took advantage of a high bounce on an attempted onside kick to race 74 yards up the right sideline untouched to make it a 28-21 PHS lead with 1:42 left before the half.
The lead stretched to 35-21 as Stanley picked off a Musselman pass and returned it 72 yards up the sideline for a score with 8.8 seconds left before intermission.
The Big Reds' only punt of the game came on the first possession of the second half and the home team immediately went 74 yards on six plays to score on a 43 yard pass, cutting the margin to seven at 35-28.
A 66-yard drive by PHS on the following possession ended with a 19-yard pass to Andrew Stalnaker with the big play being an 11-yard run by Parsons.
The natural turf helped Musselman quickly answer when the PHS defender slipped and fell while covering a receiver and left Logan Shelton wide open for a 23 yard scoring catch with 1:43 left in the third quarter.
Twenty-three seconds later it was back to a 14-point lead at 49-35 when Snodgrass took a pass out of the backfield in the right flat and the senior running back raced 70 yards to the end zone.
But that margin lasted only 20 seconds as Adames returned the ensuing kickoff 79 yards up the sideline to cut the margin to 49-42.
A fumble gave the home team a chance to tie the game at 49-all as the Applemen started from their own 36 and took 10 plays to cover the 64 yards with a 21-yard scoring pass with 6:17 left in the game making it a tie for the third time.
The Big Reds went for it on fourth down at the Musselman 45 with 5:05 left in the game but a pass was broken up and the home team put together a drive which took 3:38 off the clock and moved to a first and goal at the PHS nine yard line.
Stanley broke up a pass attempt and Jeffery Jones and Kennedy Jeter stopped a run try for a yard gain. On third down the Big Reds, led by Matt Stalnaker, stopped a run at the two yard line and Musselman decided to kick the go-ahead field goal with 1:27 remaining.
That set the stage for the last-minute heroics which pulled out the victory and made the four and one-half hour bus trip back more enjoyable.
Parkersburg vs Musselman (Nov 05, 2021 at Inwood, WV)
Score by Quarters 1   2   3    4 - Total
Parkersburg   14 21 14  7 - 56
Musselman       7 14 21 10 - 52
Qtr Time Scoring play
1st 05:44 PHS - Xadrian Snodgrass 1 yd run (Casey Stanley kick blockd), 7-38 2:39
03:26 MUSS - Ray Adames 31 yd pass from Nathan LaLiberte (Tyler Waddell kick), 5-66 2:12
00:49 PHS - Xadrian Snodgrass 2 yd run (Carter King pass from David Parsons), 7-66 2:34
2nd 08:39 MUSS - Kobe Hayslette 7 yd pass from Nathan LaLiberte (Tyler Waddell kick), 10-75 4:04
06:27 PHS - Bryson Singer 58 yd run (Casey Stanley kick), 6-78 2:05
01:55 MUSS - Logan Shelton 24 yd pass from Nathan LaLiberte (Tyler Waddell kick), 5-75 1:54
01:42 PHS - Bryson Singer 74 yd kickoff return (Casey Stanley kick)
00:09 PHS - Casey Stanley 72 yd interception return (Casey Stanley kick)
3rd 07:07 MUSS - Kadin Johnson 43 yd pass from Nathan LaLiberte (Tyler Waddell kick), 6-74 2:27
04:30 PHS - Andrew Stalnaker 19 yd pass from David Parsons (Casey Stanley kick), 8-66 2:32
01:43 MUSS - Logan Shelton 23 yd pass from Nathan LaLiberte (Tyler Waddell kick), 5-28 2:33
01:20 PHS - Xadrian Snodgrass 70 yd pass from David Parsons (Casey Stanley kick), 2-70 0:22
01:00 MUSS - Ray Adames 79 yd kickoff return (Tyler Waddell kick)
4th 06:17 MUSS - Kobe Haines 21 yd pass from Nathan LaLiberte (Tyler Waddell kick), 10-64 4:25
01:27 MUSS - Tyler Waddell 10 yd field goal, 7-53 3:38
00:27 PHS - Carter King 17 yd pass from David Parsons (Casey Stanley kick), 6-48 0:52
.........................................................................PHS          MUSS
FIRST DOWNS                                                 20               28
RUSHES-YARDS (NET)                                 34-170       26-75
PASSING YDS (NET)                                      276             399
Passes Att-Comp-Int                                          28-18-0     40-25-4
TOTAL OFFENSE PLAYS-YARDS              62-446       66-474
Fumble Returns-Yards                                      0-0             0-0
Punt Returns-Yards                                           0-0             0-0
Kickoff Returns-Yards                                      7-144         7-216
Interception Returns-Yards                               4-80           0-0
Punts (Number-Avg)                                         1-30.0        1-29.0
Fumbles-Lost                                                     2-2             1-0
Penalties-Yards                                                  8-96           10-79
Possession Time                                                 21:42         26:18
Third-Down Conversions                                 6 of 10       5 of 11
Fourth-Down Conversions                               0 of 2         2 of 2
Red-Zone Scores-Chances                                4-4             3-3
Sacks By: Number-Yards                                  1-6             1-19
RUSHING: Parkersburg-Bryson Singer 14-133; Xadrian Snodgrass 15-37; David Parsons 5-0. Musselman-Bayden Hartman 7-39; Kobe Hayslette 3-22; James Foy III 2-12; Ray Adames 2-11; Alex Scaggs 5-2; Anthony Cornell 1-1; Nathan LaLiberte 4-1; Logan Shelton 1-minus 5; Kobe Haines 1-minus 8.
PASSING: Parkersburg-David Parsons 18-28-0-276. Musselman-Nathan LaLiberte 23-34-3-375; Bayden Hartman 1-3-0-13; Kobe Hayslette 1-2-0-11; Jacob Miller 0-1-1-0.
RECEIVING: Parkersburg-Carter King 6-42; Bryson Singer 4-92; Andrew Stalnaker 3-29; Xadrian Snodgrass 2-90; Casey Stanley 2-21; Anthony Ice 1-2. Musselman-Ray Adames 6-106; Kobe Hayslette 6-68; Logan Shelton 5-103; Kobe Haines 3-45; Alex Scaggs 3-24; Kadin Johnson 1-43; Jacob Miller 1-10.
INTERCEPTIONS: Parkersburg-Casey Stanley 1-72; Bryson Singer 1-8; Logan Hartshorn 1-0; Andrew Stalnaker 1-0. Musselman-None.
FUMBLES: Parkersburg-Bryson Singer 2-2. Musselman-James Foy III 1-0.
Parkersburg (4-6) vs. Musselman (3-7)
Attendance: 500
Kickoff time: 7:00 • End of Game: 9:59 • Total elapsed time: 2:59
Temperature:34 SACKS (UA-A): Parkersburg-Kennedy Jeter 1-0. Musselman-Jaiden Bunny 1-0.
TACKLES (UA-A): Parkersburg-Kyle Hall 7-3; Casey Stanley 6-0; Austin Fleming 4-1; Logan Hartshorn 3-2; Xadrian Snodgrass 3-2; Kennedy Jeter 2-3; Gabe Martin 3-1; Matt Stalnaker 2-1; Bryson Singer 2-1; Jeffery Jones 0-3; David Hamilton 1-1; Chris Salyers 0-2; Christian West 1-0; Caleb Norman 1-0; Curtis Hayes 0-1; Grant Snyder 0-1.
Big Reds Travel To Musselman Friday
INWOOD, WV – Two teams with identical records and looking to finish the season on a high note will meet here Friday night at 7 o'clock when the Musselman Applemen host the Parkersburg Big Reds.
While both teams sport 3-6 records they have both shown the capability to beat good teams and have suffered their share of tough defeats.
Musselman owns a 56-23 win over Spring Mills, a 35-0 victory over Hedgesville and a 25-17 over a good Wheeling Park squad. The Applemen have lost to Martinsburg 56-14, Jefferson 47-13, Sherando (Va.) 49-43, Morgantown 34-14, Washington 29-27 and fell to undefeated Bridgeport 63-27 last Friday. PHS scrimmaged Bridgeport this year.
Parkersburg has beaten Capital 28-20, Parkersburg South 28-19 and Riverside 31-7 while losing to Huntington 47-7, Spring Valley 34-10, Cabell Midland 45-6, Hurricane 42-30 and last Friday fell to George Washington 28-24 when the Patriots held off a PHS scoring threat from the one yard line in the final seconds. Huntington is undefeated and Midland has lost just one (to Huntington) while Spring Valley has two losses but knocked off Martinsburg for the second year in a row on Friday by a 35-30 score. All six teams that the Big Reds have lost to were ranked in the top 12 and all have winning records with a combined 41-13 mark through last Friday.
Despite being four hours apart, they have met as recently as 2019 when PHS traveled to the eastern panhandle for a first-round playoff game and ran into a human highlight film in Blake Hartman. All the current Lehigh gridder did that night in a 48-29 victory was run for four touchdowns to set a state season scoring record and finish with 300 yards rushing on 26 carries, amass 415 total yards and play outstanding defense – all with a leg injury.
In the Bridgeport loss last week, Musselman threw for 226 yards but gave up over 400 yards rushing with Landon Reppet gaining 260 of them and scoring four touchdowns for the winners.
Musselman quarterback Nathan LaLiberte (6-2, 170 sr.) had 23 completions and three touchdowns against Bridgeport but it wasn't enough. On the year LaLiberte has thrown for 363 yards and five touchdowns while Bayden Hartman (younger brother of Blake) has taken most of the quarterback snaps and completed 51 of 93 pass for 607 yards and five touchdowns with three interceptions. The younger Hartman is a 6-foot, 170 pound junior.
Leading receivers for the Appelman are Ray Adames (6-2, 165 jr.) with 416 yards and three touchdowns through the air, Kobe Hayslette (5-8, 170 sr.) with three TD receptions and Logan Shelton (6-2, 160 so.) with three TD catches. Hayslette has 12 touchdowns overall.
James Foy III, a 5-11, 190 sr., is the leading rusher for Musselman with over 400 yards while Adames is second on the team and has scored 10 touchdowns on the season.
In the Big Reds' loss to GW, sophomore David Parsons completed 19 of 38 passes for 240 yards and three touchdowns to go over the 1,000 yard passing mark for the season. He has completed 55% of his 168 passes for 1,064 yards and nine touchdowns with six interceptions.
Bryson Singer, who caught two of the touchdowns last Friday, now has 30 receptions for 408 yards and five scores to go with 670 yards rushing and nine more touchdowns. The Big Reds have five other receivers with at least 10 receptions with Carter King having three touchdown catches.
Singer has 14 touchdowns total to lead the team with 84 points while Casey Stanley has kicked three of four field goals and all 22 of his extra point attempts to go with two touchdowns scored for a total of 43 points.
Defensively for PHS, Kyle Hall leads the team with 90 tackles, 17 of them for loss and three sacks. Zach Howard had 81 in eight games while Jeffery Jones has 65 including 13 for loss and four sacks. Austin Fleming also has four sacks while Singer and Stanley lead the team with two interceptions.
Big Reds Drop 28-24 Decision To GW
The Parkersburg Big Reds came so close to pulling off a comeback victory over George Washington but in the end wound up dropping a 28-24 heart-breaker at Stadium Field.
Out-playing the visiting Patriots at almost every turn, the Big Reds could not come up with the big play at crucial times and saw their playoff hopes disappear just a yard short of the end zone in the final seconds of the contest.
Trailing 28-17 with less than seven minutes to play PHS had the ball but threw an interception near midfield. However they quickly got the ball back on a Zach Howard fumble recovery at the PHS 47. Two plays later David Parsons threw a 54 yard bomb to Bryson Singer, who out-leaped a defender at the five yard line and shook off a tackler to score and close the gap to 28-14 with 4:56 left in the game.
The Big Reds forced a punt and got the ball back on their own 28 with 2:57 left in the game and proceeded to run off 11 plays and take the ball to the GW two yard line. Two completions of 13 yards each to Carter King and a 14 yard run by Xadrian Snodgrass were the big plays and Singer's 10 yard carry put the ball just two yards away from the go-ahead score with just 51 seconds remaining.
A run up the middle by Snodgrass put the ball on the one but Singer was tripped up for a two yard loss and then stopped for another yard loss back to the four with 18 seconds remaining. On fourth down Parsons' pass attempt to Stanley at the goal line fell incomplete and GW merely had to kneel down to secure the victory.
The Big Reds had twice as many first downs in the game, 26-13, and ran an incredible 85 plays to just 49 for GW. Total offense saw PHS with a 414-256 advantage but two turnovers were costly with one being returned for a touchdown.
Singer scored two touchdowns in the game, catching four passes for 90 yards, and also ran for 74 yards. Snodgrass ran for 73 yards and caught five passes for 37 while King caught seven passes for 66 yards.
Parsons, only a sophomore, threw for 240 yards to go over 1,000 yards for the season as he completed 19 of 38 passes and three touchdowns.
The Big Reds started the game by driving from their own 28 to the GW 28 before settling for a 44-yard field goal by Stanley.
GW answered with a 75-yard drive all on the ground until Brady Adams' fourth down pass to Cameron Reed covered the final 18 yards. The Patriots then got a charity touchdown when Singer was hit while trying to pass and the ball went right into the waiting hands of Layth Ghannam, who took it into the end zone from 18 yards away.
The visitors held PHS on a fourth down play and got the ball back on their 43 on the next to last play of the first quarter and quickly got on the board again thanks to a 43 yard touchdown toss from Adams to Keegan Sack to run the score to 21-3.
The Big Reds closed the gap to 21-10 on a nine-play, 61-yard drive that climaxed with Singer making a 19-yard leaping, in-stride catch in the back of the end zone with 7:23 on the second quarter clock.
An 81-yard, 15-play drive in the third quarter by PHS cut the lead to four points, 21-17, as King made an over-the-shoulder catch in the back of the end zone with 5:12 on the clock.
It appeared as if PHS had taken the lead on the second play of the fourth quarter as Parsons hit Singer in the right corner of the end zone but the official ruled Singer was out of bounds when he caught the ball. Two more incomplete passes forced PHS to give the ball up at the 29.
GW then rambled off a 70 yard drive in eight plays with Matthews running five times for 48 of the yards including the final seven with 6:51 left in the game to make the score 28-17.
George Washington (6-3) 14  7      0        7        -        28
Parkersburg (3-6)              3    7      7        7        -        24
P – Casey Stanley 44 field goal, 8:41 1st
GW – Cameron Reed 18 pass from Brady Adams (Will Morehead kick), 3:29 1st
GW – Layth Channam 18 interception return (Morehead kick) 2:06 1st
GW – Keegan Sack 43 pass from Adams (Morehead kick) 10:21 2nd
P – Bryson Singer 19 pass from David Parsons (Stanley kick) 7:23 2nd
P – Carter King 11 pass from Parsons (Stanley kick) 5:12 3rd
GW – Kyle Matthews 7 run (Morehead kick) 6:51 4th
P – Singer 54 pass from Parsons (Stanley kick) 4:56 4th
GW Looking For QB Prior to Visit With Revitalized Big Reds Friday

A revitalized Big Red football team will close out the home portion of its 2021 season Friday night at 7:30 against an always-tough and always-explosive George Washington squad.
Fresh from an impressive win over a Riverside team which was fresh from knocking off defending state champion South Charleston, Parkersburg's gridders look to keep their winning streak going and playoff hopes alive as they search for their fourth win of the year against a Patriot team which is 5-3 with all three losses coming against the same teams that have beaten the Big Reds – Huntington, South Charleston and Cabell Midland.
George Washington opened its season with wins over St. Albans (49-0), Ashland Ky. Blazer (35-21) and Hurricane (35-14) before losing to Huntington 30-14 and South Charleston 14-13. The Patriots of coach Steve Edwards then beat Riverside 49-0 before losing to Midland 35-7. Last week they held on to win a wild one against Beckley Woodrow Wilson 48-35 but suffered a crucial injury to quarterback Abe Fenwick. 
The Beckley game saw the normally pass-happy GW squad run for 455 yards on 45 carries (after averaging 98 yards per game on the ground prior to that contest). The Patriots threw the ball just nine times against the Flying Eagles and had two 100-yard rushers in Keegan Sack (5-11, 178 fr.) and Hasten Pinkerton (5-10 sr.). Sack picked up 178 yards on 15 carries and scored four times while Pinkerton ran for 158 yards on 12 attempts with one touchdown. George Washington lost four fumbles and was intercepted twice (one returned for a touchdown) by Beckley, which threw for 283 yards on 25 completions in 40 attempts.
The Big Reds lost to Huntington 47-7 in the season opener and fell to Midland 45-6 and South Charleston 38-21.
Last Friday with three starters returning to the lineup after injuries, the Big Reds broke open three big touchdown runs and played solid defense to deflate the Warriors and bring them back to earth after their huge upset win the previous week.
George Washington was led by sophomore quarterback Fenwick (6-2, 175) who has thrown for 1,417 yards and 17 touchdowns while completing 88 of 167 passes with nine interceptions. Fenwick suffered a broken thumb against Beckley and is not expected to play Friday against the Big Reds.
The back-up quarterback for GW, a freshman Noah Vellaithambi, was ruled ineligible last week by the Secondary School Activities Commission because his family pulled him out of school at mid-season and enrolled him at a school in North Carolina only to change their mind and bring him back to GW a week later. Vellaithambi threw two fourth quarter touchdowns in the loss to Huntington. GW may now have to play junior varsity quarterback Easton Pinkerton or untried senior Brady Adams.
The leading receiver for the Patriots is Taran Fitzpatrick (6-4, 180 sr.) with 25 catches for 478 yards and seven touchdowns. Tyshawn Dues (5-10, 160 fr.) has caught 21 passes for 280 yards and four scores while Hayden Hatfield (6-2, 195 jr.) has nine receptions for 157 yards and two touchdowns.
On the ground GW relies on the Matthews brothers, Kyle and Klay for half their yardage. Kyle (6-0, 180 sr.) has 312 yards rushing on 41 carries with four scores and Klay (5-6, 170 jr.) has 176 yards on 28 carries with two touchdowns. Hasten Pinkerton has 315 yards rushing on 48 attempts with two TDs and Sack now has 228 yards on 39 rushes with five scores.
Leading rusher for the Big Reds is senior Bryson Singer with 596 yards on 117 carries with nine touchdowns. His total would be much higher if sack yardage of 132 was not subtracted. At quarterback he has completed 13 of 32 passes for 156 yards with two touchdowns and six interceptions. As a receiver he has caught 26 passes for 318 yards and three touchdowns.
Xadrian Snodgrass has rushed for 276 yards on 50 carries with one touchdown (a 43-yarder against Riverside) despite missing three games with an injury.
Sophomore quarterback David Parsons has completed 74 of 130 passes for 824 yards with six touchdowns and five interceptions.
In addition to Singer the Big Reds have four other receivers with between nine and 14 catches and also have Carter King back and he has caught six passes for 64 yards and two touchdowns despite playing only a game and a half. Anthony Ice has 14 receptions for 148 yards while Logan Hartshorn has 12 for 147, Snodgrass 10 for 73 with one touchdown and Casey Stanley nine for 103 with one score.
Stanley has kicked 19 of 19 extra points and two of three field goals (including a 39-yarder against Riverside) while also averaging 38.1 yards per punt (with three over 50 yards) and 52.2 yards per kickoff with eight touchbacks.
Defensively, Zach Howard's return seemed to spark a superior effort last week. Kyle Hall leads the team with 83 tackles including 15 for loss and three sacks while Howard now has 73 tackles and Jeffrey Jones 59 with 13 for loss and four sacks.
Overall, PHS has won 11 of 24 previous meetings with George Washington. The Big Reds lost their last confrontation with the host Patriots by a 34-21 score in 2019 and the year before PHS won 32-7 at stadium field. In 2014 the Big Reds won the longest game in their history by beating GW 27-24 in a three overtime game that PHS needed to win to keep its playoff hopes alive after a 3-4 start.
Archer, Mozena Enter Hall of Fame
          The final two members of the Parkersburg High School Football Hall of Fame Class of 2021 are from the earlier glory days of the Big Reds.
Clyde Archer was a standout from the mid 1930's and Don Mozena was a star for PHS a decade later in 1945.
Clyde Archer (1917-1949)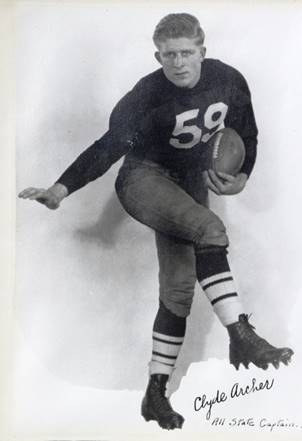 Clyde Archer, tonight's Hall of Fame inductee, was truly an All-American boy.  He was a three-year starter at quarterback at Parkersburg High School.  He was captain of the all-state football team.  He was the leading vote-getter for the prestigious North-South All-Star football game.  He played four years of football at Notre Dame and graduated from that prestigious university in 1940.  He was a World War II hero, earning the Purple Heart while serving in the U.S. Army 101st Infantry that fought at the Battle of the Bulge.
Archer, who grew up on Latrobe Street not far from the PHS campus, was an All-American boy and more.  He packed a lot into a life cut short, in part, because of injuries sustained during the war as he had been shot and captured at the Battle of the Bulge.
In 1935 Archer quarterbacked the Ross McHenry-led Big Reds to an 8-2 record.  He did nearly everything for Parkersburg that year as he scored six touchdowns, kicked three field goals and 18 extra points, had a 70-yard punt against Marietta and threw four touchdown passes against Sistersville.
At 5-10 and 168 pounds, he could run, pass, block, handle all the kicking chores and play linebacker.  He rushed for 520 yards as a senior and threw nine touchdown passes.  He and junior Harold Detwiler were a lethal 1-2 punch, rushing for 1300 yards and 15 touchdowns.
The Big Reds that season scored 237 points and allowed but 45 with five shutouts.  Typical for PHS during the glory years but losses to Charleston and Morgantown prevented another state championship despite Archer being the state's best player.
At Notre Dame, Archer had the full college experience.  He quarterbacked the reserve team, kicked for the varsity, and wrote for the Notre Dame Scholastic newspaper.  He graduated with a degree in journalism and had a sportswriter job lined-up with The Miami Herald at the time of his death.
Archer has two living children, daughter Claudia and son Bill.  Both reside in Florida.
Don Mozena (1927-2001)
In 1945 there were 11 honorees on the West Virginia All-State Football Team.  That is 11 total, meaning every member played on both sides of the ball.  That is all schools in every class.  The 11 best football players in the state.  Period.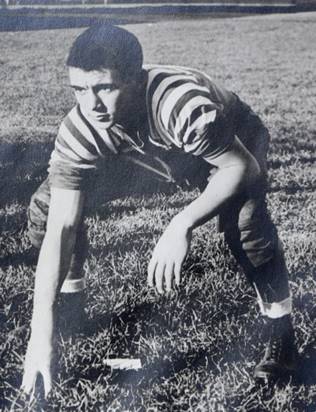 Representing Parkersburg High School on that elite team was 5-10, 175 lb. guard Don Mozena.  Number 40 was steady, efficient and called "the smartest player on the Big Reds team" by coach Jimmy Scott.  He was the best player on what was traditionally one of the best teams in the state.
The Big Reds finished the 1945 season with a 9-1 record, losing only to defending state champion Weir, 33-14, in the next to the last game of the season.  South Charleston was voted 1945 state champions by the sportswriters.
The highlight of that season came in week one as the Big Reds faced visiting Mannington – a team riding a 19-game winning streak.  All Mozena and the Parkersburg defense did was hold Mannington to minus 27 yards of offense in a 40-0 shellacking.  So much for playing with the big boys.
Ten schools represented the entire all-state team, illustrating how much things have changed over the years.  Bluefield, Charleston, Clarksburg Victory, Dunbar, Elkins, Parkersburg, South Charleston, Weirton (2), West Fairmont and Williamson were represented on the all-star team.
Mozena also played second base for the Big Reds baseball team and guard on the basketball team.  Most importantly he finished at the top of his academic class. 
He majored in geology and minored in math at Colgate University.  Mozena started a Big Reds' pipeline to the New York college as fellow PHS Hall-of-Famer Dick Biddle coached there and fellow 2021 inductee John Weber played there.
After graduation he served in the United States Air Force during the Korean War.  His very successful business career included 20 years with Corning Inc. (seven of those years in the International Division).
The Big Red all-stater passed away in 2001 at the age of 73.  He is survived by his wife, Louise, and daughters Carrie and Barbara and son Keith.  Keith grew up in the area and attended Marietta High School.
Big Reds' Big Plays & Solid Defense Produce 31-7 Win Over Riverside 31-7
QUINCY, WV – With its most complete lineup since opening night, the Parkersburg Big Reds were the ones making the big plays and turning in a solid defensive effort as they throttled Riverside 31-7 here Friday night.
With at least three starters returning to the lineup for the first time in weeks, and one for the first time since the first game of the season, the Big Reds were facing a Riverside team which was coming off an upset of a South Charleston team which beat the Big Reds in their last game two weeks ago.
But with a lineup featuring the return of players like Carter King, Zach Howard and Kevin Hancock, the confident PHS squad turned in several big plays while limiting Riverside to no plays from scrimmage longer than 17 yards. The win raised the Big Reds' record to 3-5 and kept alive their playoff hopes. The loss dropped Riverside to 2-6.
Meanwhile PHS was scoring on a 20 yard pass from Bryson Singer to King and Singer also broke loose for touchdown scampers of 66 and 43 yards. Xadrian Snodgrass sped 43 yards for another Big Red touchdown.
Defensively, PHS held Riverside to 178 yards in total offense and kept the Warriors out of the end zone until the final 1:32 of the game. Riverside did not have a play from scrimmage of more than 17 yards and its two biggest plays were a 31 yard punt return and a 40 yard kickoff return.
Singer ran for 136 yards on 17 carries and that included being sacked four times for minus 37 yards. Snodgrass added 65 yards on nine carries. In the air Singer was eight of 17 for 65 yards but threw three interceptions, one a desperation heave and another on a deflection. Ice and King each caught four passes.
Defensively, Singer had two interceptions and took away Riverside's main passing threat, Rocky Gray (who caught three touchdowns in the win over South Charleston). Gray did not catch a pass the entire game. Casey Stanley also had an interception while Austin Fleming and Jeffery Jones had passes batted down as PHS held Riverside quarterback Jake Walker to only four completions in 17 attempts. Kyle Hall, Andrew Stalnaker and Zach Howard were the leading tacklers.
The game started on a sour note for the visitors thanks to an 18-yard holding penalty and two straight quarterback sacks found them in a fourth down and 42 yards to go situation but a 53 yard punt by Stanley helped the situation and then Singer got the ball back on an interception and 31 yard return on Riverside's first attempt to get the ball to its star receiver.
Starting at the Riverside 25, it took just four plays for Singer to find King in the back of the end zone and he made a leaping reception for the touchdown with 5:22 on the first quarter clock.
The Big Reds got the ball back after a punt on their own 25 after a Riverside punt and on the second play of the second quarter Singer ran a quarterback sneak on a third-and-one play and sped 66 yards up the middle for the score with 11:19 left in the first half.
The next two PHS drives were halted by interceptions but late in the second quarter the Big Reds put together an eight-play, 72-yard drive that was capped off with a 43 yard run by Snodgrass, who cut off left tackle and then out-ran the defense to the end zone to make it 21-0 after Stanley's extra point kick.
On the last play of the half, Stanley kicked a 39-yard field goal to make it 24-0. Riverside never got any closer to the PHS goal line than the Big Red 30-yard line in the first half.
After forcing a punt, PHS took just two plays to score in the second half when Singer faked to Snodgrass and kept over the left side, again out-running the Riverside defense for 43 yards and a touchdown to make it 31-0.
The Big Reds got to the Riverside eight yard line midway through the third quarter but a tipped pass was intercepted at the five yard line.
Riverside's score came after a 31 yard punt return by Michael Terrell and a seven-play, 23-yard drive that was helped by a fourth down encroachment penalty against PHS. The Warriors scored on a fourth down quarterback sneak by Walker from the three yard line with less than two minutes to play.
Score by Quarters 1 2 3 4 Total
Parkersburg 7 17 7 0 - 31
Riverside        0   0 0 7 - 7
Qtr Time Scoring play
1st 05:22 PHS - Carter King 20 yd pass from Bryson Singer (Casey Stanley kick), 4-25 1:24
2nd 11:19 PHS - Bryson Singer 66 yd run (Casey Stanley kick), 3-75 0:57
01:36 PHS - Xadrian Snodgrass 43 yd run (Casey Stanley kick), 8-72 3:02
00:00 PHS - Casey Stanley 39 yd field goal, 4--12 0:23
3rd 09:19 PHS - Bryson Singer 43 yd run (Casey Stanley kick), 2-44 0:41
4th 01:32 RIV - Jake Walker 3 yd run (Braylon Hill kick), 7-23 3:43
After Stunning Upset Victory Riverside Hosts PHS Friday
BELLE – Parkersburg figures to have its hands full Friday night when the Big Reds travel to Riverside to meet the Warriors.
Riverside is fresh from probably the biggest upset of the season and possibly in its school history as the Warriors knocked off defending state champion South Charleston by a 22-14 score last Friday for only its second win of the season against five losses.
Meanwhile, the Big Reds are also 2-5 and coming off a bye week after a 38-21 loss to the same South Charleston team.
Riverside coach Alex Daugherty said of the South Charleston game, "This win is huge. We'll tell the players they can play with anyone. This just shows that we can play with the best, if we allow ourselves. Until somebody dethrones them, they are the defending state champions."
Coming off a 49-0 loss to George Washington, Riverside rallied from a two-touchdown deficit to score 22 unanswered points to stun the eighth ranked Black Eagles. The Warriors scored the winning touchdown with 4:46 left in the game on Jake Walker's third touchdown pass of the night to senior Roger Gray, who was playing his first game after missing all season with a broken arm. Gray (6-1, 160 sr.) caught four passes in the game, three of them for touchdowns.
Walker, a 6-1, 170 junior who completed eight of 14 passes for 137 yards in the game, clinched the victory with a defensive interception in the end zone with just over two minutes to play. Andrew Baria (5-11, 185 jr.) rushed for 101 yards on 27 carries for Riverside.
For the season, Walker has completed 65 of 141 passes for 715 yards with five touchdowns and six interceptions. Baria has rushed for 605 yards on 120 carries with four touchdowns while Walker adds 145 yards on 66 attempts with four scores. Brock Jeffries is the leading receiver with 14 catches for 233 yards and two touchdowns.
The Warriors opened the season with four straight losses, falling to Beckley Woodrow Wilson 39-12, Cabell Midland 56-0, Spring Valley 63-26 and Capital 42-22 before taking a bye week and then beating St. Albans 22-7 before losing to GW.
In Parkersburg's loss to South Charleston, the Big Reds blew several scoring opportunities and fell behind 21-0 in the first 8:35 of the game. Sophomore David Parsons threw for two touchdowns, completing 25 of 38 passes for 246 yards with Logan Hartshorn catching nine passes for 86 yards while Bryson Singer and Xadrian Snodgrass each caught a scoring pass. The other Big Red touchdown came when tackle Jeffery Jones moved into the backfield and bulled over from the one yard line with 9:28 left in the game to make it a two possession contest.
For the year Singer leads the team with 10 touchdowns, 460 yards rushing and 319 yards receiving (on 25 receptions). Snodgrass has gained 211 yards on 41 rushes while Hartshorn has caught 12 passes for 147 yards. Parsons has completed 57.5% of his passes (73 of 127) for 825 yards with six touchdowns and five interceptions. Casey Stanley has kicked 15 extra points, one field and scored two touchdowns. Kyle Hall is now the team's leading tackler with 67 stops, including 11 for loss while Jones and Austin Fleming have four sacks each.
The Big Reds hold a 17-5 edge in the series with the Warriors. The teams last met in 2017 when PHS won 44-30 to extend their winning streak versus Riverside to 12 games.
Road-Weary Big Reds Fall To  Eagles
SOUTH CHARLESTON – Big plays by the opposition continued to haunt the Parkersburg Big Reds here Saturday afternoon in a game rescheduled from Friday night as 8th ranked South Charleston posted a 38-21 victory.
With just a little over 12 hours of turn-around time from a game that was scheduled to be played Friday night but was re-set for 1 p.m. Saturday, the Big Reds found they could not contain the speed of the Black Eagles, who turned in eight plays of over 20 yards and rolled up 553 yards in total offense on just 56 plays (nearly 10 yards per play) to post their fifth win in six games.
The game was re-scheduled late Friday because of lightning delay and the kickoff for such a short span of time was because South Charleston had a homecoming dance scheduled for Saturday night and did not want to play on Monday because the Eagles have a game next Friday (PHS is open next Friday).
The 2-5 Big Reds started slowly, falling behind 21-0 in the first quarter but rallied to make the game close despite two lost fumbles and four dropped passes (one in the end zone).
PHS finished with 334 yards on 63 plays and got touchdowns from Xadrian Snodgrass, Bryson Singer and Jeffery Jones. Sophomore quarterback David Parsons threw for 246 yards (25 of 38) with five different receivers catching between three and nine passes. Logan Hartshorn caught nine passes for 86 yards while Singer and Casey Stanley caught five passes each, Snodgrass four and Andrew Stalnaker three.
South Charleston took the opening kickoff and drove 58 yards in eight plays to score on a 10-yard run by Mondrell Dean with 8:44 left in the first quarter. A 20-yard pass from Trey Dunn to Wayne Harris was the big play on the drive. Dunn finished with 20 completions in 27 attempts for 353 yards and two touchdowns with Harris catching eight for 94 yards.
The Big Reds fumbled the ball away on their second offensive play and it took the home team just two plays to find the end zone again. A 39 yard pass to Harris took the ball to the one yard line and from there Dunn took it in for the score to make it 14-0 after the PAT kick with 3:58 gone in the game.
PHS had a three-and-out on its second offensive possession and Stanley punted the ball to the Eagles' four yard line but that didn't stop South Charleston from putting together a 96-yard drive to make it 21-0 with 2:59 remaining in the first quarter. Dean scored from 40 yards away when he took the handoff, shook off a tackler at the line of scrimmage, stopped, changed directions and was virtually untouched the rest of the way.
The Big Red offense finally got untracked and put together an 11-play, 61 yard drive which saw Snodgrass take a shovel pass in the middle and went in to score with 10:31 on the second quarter clock. The scoring play came on a fourth-and-two play from the 15 yard line. Stanley's kick made it 21-7.
A couple of dropped passes cut short Parkersburg's next possession at the South Charleston 29 and the Eagles quickly turned things around with plays of 36, 13 and 22 yards for a touchdown on a pass from Dunn to Chris McCorkle which ran the score to 28-7.
PHS moved the ball to the South Charleston 24 on its next series but lost a fumble at that point with 2:08 left before halftime.
The Big Reds took the third quarter kickoff and drove 59 yards in 11 plays to make it 28-14 on Parsons' pass in the right corner of the end zone to Singer for the touchdown with 8:33 on the clock.
A couple of bad breaks enabled South Charleston to halt the PHS momentum. First came a pass interference penalty call where the two plays collided on a ball that was well overthrown but wound up giving the Eagles a 15-yard first down and then a 45 yard touchdown pass to Tylik Tinsley on a badly thrown ball which was tipped by at least two different PHS defenders but landed in the hands of the Eagle receiver who ran into the end zone from 20 yards away.
The Big Reds closed the gap to 35-21 on a 64-yard drive that was highlighted by receptions of 17 and 12 yards to Hartshorn to take the ball to the one yard line. Senior tackle Jeffery Jones moved into the backfield to block but after one play he was handed the ball and scored the touchdown with 9:28 left in the game.
A 68-yard pass to a wide-open Dean in the middle of the field after coming out the backfield set up South Charleston's final score, a 31 yard field goal with 8:27 left in the game.
PHS got the ball back and drove from its own 20 to the South Charleston eight but three straight incomplete passes ended the threat. The third pass was dropped in the end zone when it appeared the bright sunshine caused the receiver to lose the ball.
The Eagles were able to run out the final 6:03 off the clock with three first downs including a fourth down rush from its own 35 and a 23 yard run by Delviccio Dyess.
#8 Parkersburg vs #18 South Charleston
(Oct 08, 2021 at South Charleston)
Score by Quarters   1      2     3       4       -    Total
Parkersburg       0      7      7      7      -       21
South Charleston 21     7      7      3      -       38
Qtr Time Scoring play
1st 08:44 SC - Mondrell Dean 10 yd run (Chase Edwards kick), 8-58 3:16
08:02 SC - Trey Dunn 1 yd run (Chase Edwards kick), 2-40 0:23
03:25 SC - Mondrell Dean 40 yd run (Chase Edwards kick), 7-96 2:53
2nd 10:31 PHS - Xadrian Snodgrass 15 yd pass from David Parsons (Casey Stanley kick), 11-61 4:48
04:25 SC - Chris McCorkle 22 yd pass from Trey Dunn (Chase Edwards kick), 4-71 0:44
3rd 08:33 PHS - Bryson Singer 8 yd pass from David Parsons (Casey Stanley kick), 11-59 3:22
05:19 SC - Tylik Tinsley 45 yd pass from Trey Dunn (Chase Edwards kick), 6-68 3:09
4th 09:28 PHS - Jeffery Jones 1 yd run (Casey Stanley kick), 11-64 4:10
08:27 SC - Chase Edwards 31 yd field goal, 5-70 0:59

Hurricane Big Plays Beat PHS 42-30
Game Statistics / Game Photos
In a game of big plays, Hurricane found a way to make the last two big ones and wound up beating Parkersburg 42-30 on Big Reds' homecoming night at Stadium Field.
After PHS had taken a 30-27 lead with 3:59 left in the third quarter on a great second effort touchdown run by Bryson Singer, the Big Reds got a break with a fumble recovery by Alex Deem on the Hurricane 45 yard line. But two plays later PHS returned the favor with a lost fumble of its own that Hurricane's Brogan Brown returned 65 yards for a touchdown with 2:17 on the clock.
A nifty two-point conversion pass gave the Redskins a 35-30 lead and after swapping fumbles, PHS was forced to punt and Hurricane started from its own 20 with 9:57 left in the game. Three plays later Ismael Borrero made the game's biggest play with a scrambling 56 yard touchdown run to put the visitors up 42-30 after the extra point kick.
The next PHS possession ended with an interception at the Hurricane 38 and although the Big Reds got the ball back on a fumble recovery and return of 30 yards to the PHS 32 by Andrew Stalnaker it was too little, too late as PHS was able to pick up just one first down before turning the ball over on downs with 12 seconds left to play.
Singer finished with three touchdowns, two rushing and one receiving, while running for 148 yards on 23 carries and making four receptions for another 44 yards. He joined Xadrian Snodgrass to give the Big Reds two 100-yard rushers in the game. Snodgrass, returning after an extended absence due to an injury, ran for 103 yards on 22 carries and caught four passes for 29 yards.
Hurricane, now 3-3 while PHS falls to 2-4, had three rushers with between 65 and 81 yards including Borrero with 72 on six carries and two scores. Borrero, who threw for seven touchdowns last year against PHS, completed 10 of 12 passes for 236 yards and two scores and had three completions to three different receivers that totaled between 43 and 55 yards. In all the Redskins had four plays of over 40 yards and finished with 498 yards on 41 plays.
PHS had 400 yards in total offense and ran 80 plays while controlling the ball for nearly 11 minutes more than Hurricane. The Big Reds lost another standout to injury when Zach Howard left the game early in the second quarter after already racking up four solo and one assisted tackle.
Hurricane scored first on a 43-yard pass to J.T. James with 2:36 left in the first quarter but the Big Reds took the lead early in the second when Singer scored on a two yard run to cap a 10-play, 72-yard drive and Casey Stanley's extra point put PHS up 7-6.
A 45-yard pass to Heath Montgomery set up Hurricane's second touchdown, a 19-yard pass to Lucas Rippetoe. The two-point conversion pass to Rippetoe made it 14-7 Hurricane.
The Big Reds then drove to the Redskins five yard line for a first and goal but a six-yard loss forced a 27 yard field goal try that was short.
A 55-yard pass and run play to Brown set up Hurricane's third TD, a 16 yard run by Borrero. The PAT made it 21-7 with 4:37 left in the half.
The Big Reds were able to answer with a fourth down eight yard touchdown pass from David Parsons to Singer with 44 seconds left before the half. On the extra point try, holder Singer had to toss the ball back to Stanley, who passed to Snodgrass for the two-point conversion and a 21-15 score.
Stanley gave PHS the lead just 21 seconds later when he scooped up a Hurricane fumble and raced 84 yards for a touchdown and then kicked the extra point to make it 22-21 in favor of the Big Reds at the half.
A 45-yard run by Nasjaih Jones of Hurricane put the visitors up 27-22 midway through the third quarter but Singer gave the Big Reds the lead back when he went 17 yards to score by breaking one tackle and diving for the pylon. He set up his TD run with a 45 yard run on the first play from scrimmage following Jones' touchdown. PHS went for two points after that run and Parsons found Austin Fleming in the back of the end zone for a 30-27 lead with just less than four minutes to play in the quarter.
Hurricane vs Parkersburg (Oct. 1, 2021 at Parkersburg)
Score by Quarters        1       2      3       4 -     Total
Hurricane                      6      15     14     7 -     42
Parkersburg                   0      22     8      0 -     30

Qtr Time Scoring play
1st 02:36 HURR - J.T. James 43 yd pass from Ismael Borrero (Troy Conley kick failed), 6-64 2:38
2nd 11:27 PHS - Bryson Singer 2 yd run (Casey Stanley kick), 10-72 3:05
10:05 HURR - Lucas Rippetoe 19 yd pass from Ismael Borrero (Lucas Rippetoe pass from Ismael Borrero), 4
04:37 HURR - Ismael Borrero 16 yd run (Troy Conley kick), 4-80 1:28
00:44 PHS - Bryson Singer 8 yd pass from David Parsons (X. Snodgrass pass from Casey Stanley), 9-67 3:4
00:06 PHS - Casey Stanley 84 yd fumble recovery (Casey Stanley kick)
3rd 05:59 HURR - Nasjaih Jones 45 yd run (Troy Conley kick failed), 4-70 1:54
03:59 PHS - Bryson Singer 17 yd run (Austin Fleming pass from David Parsons), 5-76 2:05
02:17 HURR - Brogan Brown 63 yd fumble recovery (Chase Hager pass from Ismael Borrero)
4th 07:46 HURR - Ismael Borrero 56 yd run (Troy Conley kick), 3-80 2:11

Ward, Hackett Will Enter PHS Football Hall of Fame Friday
Matt Ward, a one-year Big Red with a Big Red background, and kicking specialist Brad Hackette will be inducted into the PHS Football Hall of Fame Friday night at Stadium Field prior to the Big Reds' game against Hurricane.
Ward made the most of his one year as a Big Red.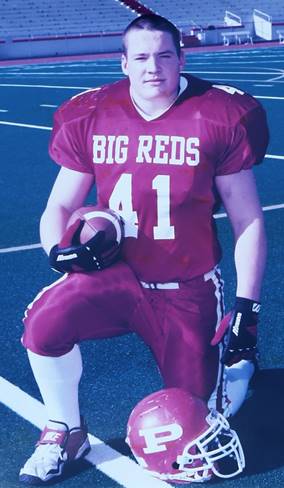 Although he grew up in Parkersburg, Ward moved away with his family in the seventh grade and didn't return until before his senior year.  When he showed up for practice in August of 1997, it was an early Christmas present for coach Marshall Burdette and the entire Parkersburg football community.
The 1997 edition of the Big Reds was loaded with skill athletes, namely a few guys you might have heard of like Eric Grimm, Nick Swisher and Babe Davis.  What PHS needed, and what the newcomer Ward provided, was a physical "bring your lunch pail to work every day" mentality.
At 5-10 and 210 lbs., Ward quickly assumed the role of defensive leader on a team which very much focused on offense.  That 1997 PHS team outscored opponents 413-146 on its way to an 11-3 record and a spot in the state championship game.  The Big Reds lost that title game to North Marion, 16-6, on a frigid Saturday in early December, but the foundation was laid for perhaps the most successful five-year run in Parkersburg history.
From 1997 through 2001, Parkersburg went 61-8, winning titles in 1999 and 2001 and losing in the championship game in 1997 and 2000.  The 1998 team, if you'll remember, went 12-1 with nine shutouts, losing only to a guy named JR House in front of the biggest crowd in Stadium Field history.
Ward was the leading tackler on the 1997 defense that posted shutout wins over Logan, Parkersburg South, South Charleston and Greenbrier East.   The '97 Big Reds also had the unusual distinction of beating Capital in back-to-back weeks, 21-14 in the last week of the regular season and 19-10 in the first round of the playoffs.  For his work, Ward was named first-team all-state linebacker and finished runner-up for defensive player of the year honors in West Virginia.
After a highly successful one-year Parkersburg High career, Ward went on to play football at Glenville State College.  He is now in law enforcement in North Carolina.
He is supported tonight by his father Jim Mike Ward (a former assistant coach under Buddy James and longtime pastor in the area), mother Carolyn (a former teacher and cheerleader coach at PHS), as well as daughter Ragan Ward.
Kicking and punting were childhood passions of this week's Hall of Fame inductee Brad Hackett.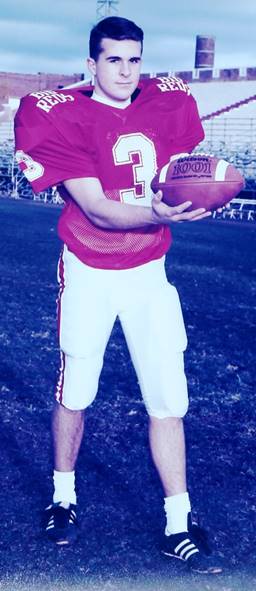 He perfected those kicking skills learned at an early age through the Vienna pee wee football ranks and Jackson Junior High before landing at Parkersburg High.  Here Hackett blossomed into a first-team all-state punter before walking-on at West Virginia University where he earned two letters and went to three bowl games as a kicker.
The Parkersburg record book is filled with Hackett's name.  The 6-0, 165-pounder converted an amazing 39 consecutive extra points during the 1991-92 seasons.  He is third in school history with 12 career field goals.  Hackett's eight field goals in 1992 place him second in school history for field goals in a season.  Equally impressive is the fact he was the Big Reds' second leading scorer in 1992 with 58 points (fellow Hall of Famer Brad Johnson was the top scorer with 60).  That is a lot of points without the benefit of scoring a touchdown.
His single game highlight also came in 1992 when he kicked two field goals and six extra points in a 48-0 thrashing of Parkersburg South.
Hackett was recruited by the U.S. Military Academy at West Point but decided to pursue his lifelong dream of becoming a Mountaineer when coach Don Nehlen invited him to walk-on.  Early in his college career he backed-up All-American punter Todd Sauerbrun.  Later at WVU he earned the nickname "Pooch" for his high aerial hang time on kick-offs.  Hackett participated in the Sugar Bowl, Carquest Bowl and Gator Bowl as a member of the Mountaineers.
Hackett is supported by his dad Robert – a member of the 1961 Big Reds football team and mother Kathleen – Brad's number one fan.  Older brother Brian was a member of Parkersburg's first soccer team in 1988 and a two-year starter.
Methodical Midland Hands PHS 45-6 loss
......... ONA – Cabell Midland's methodical ground game produced six touchdowns and 420 yards as the Knights handed injury-riddled Parkersburg a 45-6 setback here Friday night in a Mountain State Athletic Conference contest.
Chandler Schmidt scored four times, including a halfback option pass reception on one of only two passes attempted by the home team. Schmidt scored on runs of 13, nine and five yards and had the 20-yard TD catch from Alex Smith to lead the way as the Knights beat the Big Reds for the ninth straight time.
Jackson Fetty added one TD run and 150 yards rushing on 17 carries for the winners, now 4-1 after a loss two weeks ago to Huntington. Mason Moran added a TD and 87 yards on 11 carries and quarterback Ryan Wolfe rushed for 43 yards on five carries and completed his only pass attempt for eight yards.
The Big Reds, now 2-3 with a home game next week against Hurricane, wound up with minus 24 yards on the ground thanks mainly to a 22-yard sack and a couple of fumbles. In the air, sophomore David Parsons was 11 of 18 for 131 yards and one touchdown with one interception. Bryson Singer had the touchdown on a 10 yard diving catch and wound up with six receptions for 82 yards on the night while Anthony Ice caught four passes for 36 yards.
Midland won the coin toss, elected to receive and Smith made that the correct move with a 58 yard kickoff return. Four running plays later Fetty scored from the three with just 1:36 gone in the game. Olivia Charles kicked the first of her six extra points and the route had begun.
The Knights scored on a 10-play, 73 yard drive on their next possession and got a fumble recovery after that on the Big Red 26 to set up their third score. A 70-yard drive follow for touchdown number four and with no time left on the clock in the second quarter Charles kicked a 20-yard field goal to make it 31-0 at the half.
The Big Reds showed signs of life to start the second half as they drove from their 37 to the Midland 13 for a first down but a 22-yard sack was followed by an interception in the end zone (and 35 yard return) to end the scoring chance.
A 67-yard drive by Midland produced another TD by Schmidt with 2:05 left in the third quarter.
Parsons and Singer hooked up to get PHS on the board on the final play of the third period, a 10-yard pass over the middle that came on a diving reception. Setting up the score was a 39 yard pass-catch-and-run by Singer. The Big Reds had to try for two points after that score because of an injury to outstanding kicker Casey Stanley.
Midland put the game into mercy-rule status by going 63 yards on seven plays after the PHS score. Schmidt's final touchdown came on a five yard run with 7:40 on the clock.
#15 Parkersburg vs #8 Cabell Midland (Sep 24, 2021 at Ona)
Score by Quarters                  1     2   3   4   Total
Parkersburg                 0     0  6  0 - 6
Cabell Midland           14   17  7  7 - 45
Qtr Time Scoring play
1st 10:24 CM - Jackson Fetty 3 yd run (Olivia Charles kick), 4-32 1:36
04:04 CM - Mason Moran 6 yd run (Olivia Charles kick), 10-73 5:14
2nd 11:09 CM - Chandler Schmidt 13 yd run (Olivia Charles kick), 4-26 1:58
04:59 CM - Schmidt 20 yd pass from Alex Smith (Olivia Charles kick), 9-70 4:46
00:00 CM - Olivia Charles 20 yd field goal, 10-37 3:20
3rd 02:05 CM - Schmidt 9 yd run (Olivia Charles kick), 8-67 5:09
00:00 PHS - Bryson Singer 10 yd pass from David Parsons (David Parsons rush failed), 6-66 1:55
4th 07:40 CM - Schmidt 5 yd run (Olivia Charles kick), 7-63 4:20
Big Reds Hold On To Win Wild One Over Patriots, 28-19
There have been some wild games in the 54 history of the Parkersburg South and Parkersburg High football games but the 2021 version must go down as one of the wildest as the Big Reds held on to post a 28-19 victory over the visiting Patriots before a crowd of 4,000 fans.
Each team took turns blowing scoring opportunities from the beginning to the end but not until Austin Fleming grabbed an onside kick attempt with 15 seconds remaining and returned it 43 yards for a touchdown was the game outcome finally settled.
Call it nerves or opportunistic defenses or just plain offensive mistakes but the game had plenty of twists and turns with fans holding their breaths during the fourth quarter and especially over the last two minutes.
Starting the fourth quarter the Big Reds held what appeared to be a comfortable 21-6 lead but a short punt gave South the ball on the PHS 38 and the visitors ran off 11 plays, taking five minutes to cover that short distance, finally scoring on a fourth down pass from Robert Shockey to Cyrus Traugh. The extra point kick made it 21-13 with seven minutes left in the game.
A penalty and three plays later and PHS had to punt with Traugh returning the kick 29 yards to the South 45. Using the short passing game, South moved to a first down at the PHS 11 but a one yard completion followed by two runs put the ball on the three with a fourth down coming up. Shockey tried to keep but the Big Red line held firm and PHS took over on the three with just 2:12 remaining.
Three runs resulted in the unimaginable for PHS as a fumble gave South the ball on the PHS 20 with 35 seconds left.
Two plays later Shockey scrambled left and then cut back to score untouched and give the Patriots a chance to tie the game with 19 seconds remaining. But the center snap on the two-point conversion try rolled back to Shockey, who was pressured by Fleming and tried to lateral to his left but the play was covered by the Big Reds who maintained a 21-19 lead.
The first onside kick attempt was whistled for a penalty for something called a pop-up kick and the second attempt was snatched out of the air by Fleming who took it all the way to the end zone with 12 seconds left and Casey Stanley's PAT kick made it 28-19.
The kick return was covered at the South nine as the game ended.
South, now 2-2, had a 23-12 margin in first downs and a 386-253 margin in total yards as Shockey threw for 182 yards and two touchdowns while running for 128 yards and another touchdown. Traugh had both scoring receptions while catching 11 passes for 106 yards and rushing nine times for 39 yards.
Fleming, filling in on offense as the running back, was the leading rusher for PHS with 78 yards on nine carries and one of the most incredible second-effort touchdown runs seen in quite a while. Singer picked up 61 yards on 18 tries and had a touchdown. David Parsons threw for 112 yards one touchdown, to Andrew Stalnaker who caught two passes for 45 yards. Anthony Ice had three catches for 41 yards.
South fumbled on its first offensive play of the game and that led to a short punt which gave PHS the ball just 23 yards from the Patriot goal line. But a fourth down play at the two was stopped by South for a seven yard loss and the Patriots got the ball back.
But South had to punt and PHS started from its own 38. A 22-yard pass to Singer and a four-yard penalty gave the Big Reds the ball at the South four for a first and goal. On second down Singer tried to go around left end but was hit and lost the ball which hit the goal line pylon, giving the ball to South and ending the second straight PHS scoring threat inside the five yard line.
The Patriots drove 73 yards in 17 plays, using 5:50 off the clock but came away empty when Shockey's fourth down pass from the seven was broken up by Logan Hartshorn.
The Big Reds finally broke the scoring drought with a four-play, 47-yard drive that saw Parsons hit a streaking Andrew Stalnaker from 33 yards away with 4:40 left in the first half.
South gave PHS another opportunity two minutes later when the Patriots tried to run the ball on a fourth-and-one from their own 39 and Zach Howard and Kennedy Jeter came up with the stop.
Two plays later Fleming scored from 28 yards away on a run up the middle that saw him break four tackles and refused to be brought down before crossing the goal line. Stanley's kick made it 14-0 with 2:10 left in the half.
Putting together a pro-like two-minute drill, South answered that touchdown with a nine-play, 80-yard drive that took just 1:50. Shockey hit a wide-open Traugh in the right corner of the end zone for the final 13 yard with just 12 seconds on the clock. The kick attempt failed and the score was 14-6 at the break.
A fumble punt return helped set up Parkersburg's third score as Chris Salyers recovered on the South 19 yard line and after a four-yard run, Singer went up the middle for the final 15 stripes and a 21-6 lead.
South appeared to be ready to retaliate for that touchdown as the Patriots drove 64 yards in 10 plays but Stanley stepped in front of a Shockey pass intended for Traugh at the Big Red four yard line and returned it to the Big Red 23.
That set up a fourth quarter which went back and forth and put everyone on the edge of their seats until Fleming's kickoff return.
Score by Quarters   1      2     3       4       -      Total
Parkersburg South 0    6      0      13    -       19
Parkersburg          0      14    7      7      -      28
Qtr Time Scoring play
2nd 04:40 PHS – Andrew Stalnaker 33 yd pass from David Parsons (Casey Stanley kick), 4-47 1:19
02:10 PHS - Austin Fleming 28 yd run (Casey Stanley kick), 2-37 0:16
00:12 SP - Cyrus Traugh 13 yd pass from Robert Shockey (Wade Smith rush fumbld), 9-80 1:50
3rd 06:09 PHS - Bryson Singer 15 yd run (Casey Stanley kick), 2-19 0:26
4th 07:01 SP - Cyrus Traugh 3 yd pass from Robert Shockey (Wade Smith kick), 11-37 4:59
00:19 SP - Robert Shockey 20 yd run (Robert Shockey rush fumbld), 2-20 0:16
00:12 PHS - Austin Fleming 43 yd kickoff return (Casey Stanley kick)
..........................................PS               PHS
FIRST DOWNS                    23               12
RUSHES-YARDS (NET)    48-204       33-141
PASSING YDS (NET)         182             112
Passes Att-Comp-Int             30-21-1     14-8-0
TOTAL OFFENSE PLAYS-YDS 78-386 47-253
Fumble Returns-Yards         0-0             0-0
Punt Returns-Yards              2-28           0-0
Kickoff Returns-Yards         3-40           3-46
Interception Returns-Yards 0-0               1-19
Punts (Number-Avg)            4-22.5        4-34.2
Fumbles-Lost                         2-1              3-3
Penalties-Yards                     10-92         9-68
Possession Time                    28:34         19:23
Third-Down Conversions    5 of 15       0 of 9
Fourth-Down Conversions 3 of 6         1 of 3
Red-Zone Scores-Chances   3-6              1-3
Sacks By: Number-Yards     1-15           1-1
RUSHING: Parkersburg South-Robert Shockey 24-128; Cyrus Traugh 9-39; Aiden Cooke 14-36; Eli Bartley 1-1. Parkersburg-Austin Fleming 9-78; Bryson Singer 18-61; Logan Hartshorn 2-6; David Parsons 4-minus 4.
PASSING: Parkersburg South-Robert Shockey 21-30-1-182. Parkersburg-David Parsons 8-14-0-112.
RECEIVING: Parkersburg South-Cyrus Traugh 11-106; Triston Walker 5-41; Gage Wright 3-28; Aiden Cooke 1-8; Braden Whipkey 1-minus 1. Parkersburg-Anthony Ice 3-41; A. Stalnaker 2-45; Bryson Singer 2-27; Casey Stanley 1-minus 1.
INTERCEPTIONS: Parkersburg South-None. Parkersburg-Casey Stanley 1-19.
FUMBLES: Parkersburg South-Tyson Maze 1-1; Robert Shockey 1-0. Parkersburg-Bryson Singer 2-2; Austin Fleming 1-1.
Parkersburg South (2-2) vs. Parkersburg (2-2)
Date: Sep 17, 2021 • Site: Parkersburg • Stadium: Stadium Field
Attendance: 4000
Kickoff time: 7:30 • End of Game: 1019 • Total elapsed time: 2:49
South, PHS Resume Football Rivalry After Year of Waiting
After a year of waiting because of COVID, Parkersburg High and Parkersburg South will resume their city football rivalry Friday night at 7:30 at Stadium Field.
When last year's contest was called off because of COVID issues, it meant the two teams would not be meeting on the field for the first time since 1966. The first game was played in 1967. South's Nathan Tanner will be coaching only his second rivalry game.
While PHS holds a commanding 37-16 lead in the series that does not mean the rivalry has not heated up recently. Since the turn of the century each team has won 10 times in the rivalry with South claiming victory in the last meeting on the field in 2019 by a 49-14 score (the second largest margin of victory ever for South). Big Red coach Mike Byus has a 2-1 record in the series.
This year's meeting figures to be a dogfight despite injuries to several key PHS players. Both teams played Capital on virtually even terms with South winning 29-28 thanks to a missed two-point conversion attempt by the Cougars. Capital had not practiced at all for the week prior to the game due to their school being closed for in-classroom learning. Meanwhile, PHS won 28-20 over Capital last week but had to survive a late scare with a pass breakup in the end zone with under three minutes remaining that would have given the Cougars a chance to tie the game with a successful two-point try. However, PHS also blew two scoring chances with lost fumbles but got four rushing touchdowns and over 200 yards on the ground from Bryson Singer.
South is coming off a 61-13 win over visiting Beckley Woodrow Wilson in which sophomore quarterback Robert Shockey completed 11 of 18 passes for 229 yards and three touchdowns while rushing for 110 yards and two more scores.
In between the Capital and Beckley games, South dropped a 62-33 decision at University (which is 3-0 with three blowout victories). Parkersburg's other games were losses at Huntington (3-0 including big 21-17 win over rival Cabell Midland last week) and Spring Valley (2-1 with only loss to Midland).
While PHS relies heavily on senior Singer and his multitude of varied talents, South is led by two sophomores who also happen to be champion wrestlers, Shockey and Gage Wright, and junior speedster, Cyrus Traugh, who has been putting up incredible numbers.
Singer, who plays quarterback, tailback, wide receiver and defensive back, has rushed for 238 yards on 49 carries including 68 yards in losses (mostly as a quarterback). He has passed for 36 yards and a touchdown while catching eight passes himself from David Parsons for 104 yards. Parsons, a sophomore, has completed 18 of 28 passes for 196 yards with one touchdown and three interceptions.
The second-leading rusher and pass receiver for PHS are both out with injuries. Xadrian Snodgrass has 70 yards on the ground in two games while Carter King had three catches for 32 yards and a touchdown in one game. Logan Hartshorn and Austin Fleming proved capable running the ball last week while Casey Stanley and Anthony Ice have become primary receivers.
South's offense is paced by Shockey, a 6-foot, 180 pounder who has rushed for 298 yards (6.1 average per carry) and four touchdowns. Shockey also happens to be a national champion wrestler who was state runner-up a year ago in West Virginia as a freshman. Shockey has completed 64 percent of his passes (41 of 64) for 588 yards, six touchdowns and been intercepted three times.
The Patriots' leading scorer and receiver is junior Cyrus Traugh (6-1, 165) with six touchdowns and a whopping 31 receptions for 395 yards and three scores. Traugh has three rushing touchdowns while averaging 9.3 yards per attempt and has two interceptions on defense.
Aiden Cooke (5-11, 190 jr.) is the team's second-leading rusher with 253 yards on 46 carries with three touchdowns while Wright is the number two receiver with six catches for 84 yards.
Wright (5-10, 160) was a state champion wrestler a year ago as a freshman, and is by far the leading tackler on the South defense with 33 stops. He has 4.5 tackles for loss, four sacks, an interception and two fumble recoveries. Braeden Hamilton (5-10, 165 jr.) is second in tackles with 23 and Turner Garretson (5-11, 185 soph.) is third with 22 stops.
Linebacker Zach Howard leads the PHS defense with 32 tackles and a fumble recovery. He also has two pass breakups. Kyle Hall and Jeffery Jones have 28 and 23 tackles respectively while Austin Fleming has five tackles for loss including four sacks and an interception. A key area PHS is looking to improve on defense is turnovers. The Big Reds have just two takeaways while turning the ball over 11 times themselves.                                
4 TD Night By Singer Lifts PHS Over Capital, 28-20
Bryson Singer scored all four touchdowns and helped thwart Capital's comeback attempt with a pass breakup in the end zone as the senior standout led Parkersburg to a 28-20 win over the visiting Cougars Friday night at Stadium Field.
The senior captain started the game at quarterback but quickly switched to tailback and raced for 206 yards on 32 carries while scoring all the Big Red touchdowns. He also caught two passes for 46 yards to account for 252 of his team's 327 total yards.
And with less than three minutes left in the game and Capital trying to come back from the eight-point deficit but facing a fourth and eight situation at the PHS 10 yard line it was Singer who helped break up a pass attempt in the end zone to give the Big Reds the ball back. Singer then iced the victory by running for first downs of 17 and 54 yards in the final 90 seconds of the game.
The win ended a two-game losing streak for PHS and stopped an eight-game losing streak at the hands of the Cougars, who fell to 0-3 on the season including a 29-28 loss to Parkersburg South, a team which will cross the Little Kanawha River next Friday to meet the Big Reds in their annual showdown at Stadium Field.
The Big Red defense, playing without starters Xadrian Snodgrass, Kevin Hancock and Carter King among others, was able to hold the Capital big play offense in check for most of the night, allowing only a 19 yard long run, a 42 yard long reception and a 28 yard kickoff return. Kyle Hall, Zach Howard and Jeffery Jones led the PHS prevent unit.
Capital's offense was led by quarterback Jacqai Long who completed 14 of 25 passes for 188 yards, two touchdowns and was sacked twice while rushing for 47 yards on 15 attempts with 21 yards in losses. Shawn James, the Cougars' breakaway standout was limited to 42 yards rushing on nine carries and caught four passes for 34 yards and one touchdown.
James started the game by falling down at the three yard line after receiving the opening kickoff on the goal line. Capital was forced to punt and PHS started its first series just 24 yards from the Cougar goal line. The home team ran three plays to the 14 but Singer had the ball stripped on the 25 and the visitors recovered to end the early threat.
Capital then moved 72 yards to score but had to settle for a field goal after getting a first and goal at the Big Red three yard line. Brayden Scott's kick was good from 20 yards away to put the Cougars on the board first after a seven minute, 16-play drive.
The Big Reds answered with a 74-yard, 11-play drive that was capped by Singer's four yard run behind some great blocking, particularly by Curtis Hayes. Casey Stanley's kick made it 7-3 with 9:44 left in the half.
Capital went on top 10-7 thanks to a 42-yard pass to Elijah McDaniel and then an eight yard toss to James with 4:21 left in the second period.
A 46-yard pass and run play by Singer helped set up the next Parkersburg score, a two-yard run with 51 seconds left before intermission. Stanley's kick made it 14-10.
Again Capital took the lead on a 13 yard pass to Brayden Slack just 1:44 into the second half. That was set up by a Big Red fumble at the PHS 33 and it took the visitors five plays to reach the end zone and go up 17-14.
It took just 3:08 for PHS to regain the lead 21-17 on a 36 yard TD run by Singer who broke a tackle at the 20 and raced up the sidelines for the six points.
Capital answered but only with a 32 yard field goal by Scott to keep PHS in the lead 21-20 with 2:55 left in the third quarter.
A Stanley punt put the Cougars in the hole on their own 12 yard line and Capital's answering kick gave PHS the ball on the 40 yard line of the visitors and set up a three-minute drive that was capped by Singer's fourth TD run over right guard with 6:46 left in the game. The extra point kick made it 28-20 and set up the last ditch effort by the visitors.
Capital started its last drive from the 33 and moved all the way to the Big Red 10 behind the passing of Long but two runs were stopped by Hall and teammates and an incomplete pass in between set up the last attempt in the end zone that Singer was there to get a hand on for the break-up.

Score by Quarters 1 2 3 4 - Total
Capital........ 3 7 10 0 - 20
Parkersburg 0 14 7 7 - 28
Qtr Time Scoring Play V-H
1st 01:58 CAPITAL - Brayden Scott 20 yd field goal, 16-72 6:55 3 - 0
2nd 09:44 PHS - Bryson Singer 4 yd run (Casey Stanley kick), 11-74 3:56 3 - 7
04:21 CAPITAL - Shawn James 8 yd pass from Jacqai Long (Brayden Scott kick), 4-61 1:40 10 - 7
00:51 PHS - Bryson Singer 2 yd run (Casey Stanley kick), 9-66 3:21 10 - 14
3rd 10:16 CAPITAL - Brayden Slack 13 yd pass from Jacqai Long (Brayden Scott kick), 5-33 1:06 17 - 14
07:10 PHS - Bryson Singer 36 yd run (Casey Stanley kick), 8-67 2:59 17 - 21
02:55 CAPITAL - Brayden Scott 32 yd field goal, 9-43 4:06 20 - 21
4th 06:46 PHS - Bryson Singer 7 yd run (Casey Stanley kick), 6-40 2:50 20 - 28
Kickoff time: 7:30 • End of Game: 10:13 • Total elapsed time: 2:43
Big Reds Fall To Spring Valley
Game Statistics / Game Photos
Injuries and turnovers made things tough for Parkersburg's Big Reds tonight as dropped a 34-10 decision to visiting Spring Valley.
While Spring Valley used a balanced attack to grind out 480 yards on 66 plays, PHS lost two two-way starters early in the game, turned the ball over four times (three interceptions and a fumble) and could muster just 203 yards on 38 plays as they dropped their second game in a row.
The Big Reds started the game off with a good drive that resulted in a 35 yard field goal by Casey Stanley with just under four minutes elapsed. A 30-yard run by Xadrian Snodgrass was the big play on the drive as the senior running back was hit at the line but spun out and raced up the left sideline to the Spring Valley 21. Two more Snodgrass carries moved the ball to a first and goal at the six yard line but a false start penalty was followed by a one yard game, an incomplete pass and a sack.
PHS lost Kevin Hancock on that first series with an ankle injury and would lose Snodgrass with an ankle injury in the middle of the second quarter.
The Big Reds forced a punt on the next series but three plays later Ty Bartrum of the Timberwolves intercepted a pass and returned it 34 yards for the go-ahead score with 1:51 left in the first quarter.
PHS could have answered on the ensuing offensive effort but Bryson Singer threw a long pass to a receiver who had no defender within 20 yards but turned the wrong way and could not make the catch on what would have been an easy touchdown. That was followed by two more false start penalties and a punt.
The visitors made it 13-3 on their next possession thanks to a 48 yard pass from Dalton Fouch to Ben Turner and Fouch would follow that up with a 28 yard pass to Bartrum that pushed the score to 19-3.
With just 1:07 left before the half, PHS hit the end zone on a David Parsons 41 yard pass and run play to Stanley, who caught the ball on the sideline, side-stepped a defender and raced untouched for the touchdown to make it 19-10 at the half after he kicked the extra point.
Spring Valley started the second half with a 65-yard, nine play drive that was capped by Bartrum's three-yard run. A 27 yard pass to Bartrum was the big play.
PHS took the kickoff and drove to the Spring Valley nine yard line in an effort to close the gap but Parsons was intercepted in the end zone by Bartrum. Another Big Red threat in the fourth quarter was also thwarted by an interception in the end zone while the visitors got a break earlier in the final stanza when they recovered a PHS fumble on the Big Red 11 yard line.
Jace Caldwell led the winners with 107 yards on 15 carries while Fouch completed 11 of 17 passes for 193 yards with Bartrum catching four for 85. The Timberwolves had no turnovers and piled up 26 first downs.
Snodgrass had 66 yards rushing on seven carries for PHS despite playing less than half the game while sophomore Parsons was eight of 12 passing for 116 yards and two interceptions. Singer caught five passes for 50 yards.
Zach Howard and Austin Fleming (2 sacks) paced the PHS defense.
Spring Valley vs Parkersburg (Sept 3, 2021 at Parkersburg)
Score by Quarters   1 2 3 4 - Total
Spring Valley         7 12 8 7 - 34
Parkersburg          3  7  0 0 - 10
Qtr Time Scoring play
1st 07:59 PHS - Casey Stanley 35 yd field goal, 10-49 4:01
01:51 SV - Ty Bartrum 34 yd interception return (Landon Mosser kick)
2nd 10:35 SV - Ben Turner 48 yd pass from Dalton Fouch (Landon Mosser kick failed), 4-67 1:55
03:17 SV - Ty Bartrum 28 yd pass from Dalton Fouch (Landon Mosser kick failed), 11-77 6:27
01:07 PHS - Casey Stanley 41 yd pass from David Parsons (Casey Stanley kick), 6-59 2:02
3rd 06:51 SV - Ty Bartrum 3 yd run (Ty Bartrum rush), 9-65 4:59
4th 07:17 SV - Jace Caldwell 9 yd run (Crosby Short kick), 2-11 0:54
Huntington Plays Take Away/Keep Away In 47-7 Win Over PHS
HUNTINGTON - Huntington's Highlanders played Take Away/Keep Away from Parkersburg here Friday night at Bob Sang Stadium in posting a 47-7 season-opening win over the Big Reds.
The home team took advantage of five PHS turnovers and ran twice as many plays and had twice the amount of possession time as the visitors en route to their impressive win. Huntington ran 70 plays for 469 yards while PHS managed just 109 yards on 32 plays and were hurt by three interceptions and two lost fumbles.The hosts also had 27:40 time of possession to just 14:37 for PHS in a game which featured the running clock mercy rule in the fourth quarter.
Taking just 33 seconds to score to begin the game, the Big Reds looked like they were on their way to a great first game showing but after that quick score it was all Highlanders as Gavin Lochow scored twice and threw for two more touchdowns while running for 81 yards and passing for 136 more. The home team had 322 yards rushing.
Parkersburg got a 49 yard kickoff returning by Anthony Ice to start the game and two plays later Bryson Singer found Carter King from 24 yards away for a touchdown with just over half a minute elapsed in the game. Casey Stanley added the point after kick.
But Huntington put six touchdowns and two field goals on the board to avenge last year's 25-14 loss at Parkersburg.
The Big Reds finished with just 51 yards rushing as Singer had 37 total on 10 attempts while completing three of six passes for 36 yards with two interceptions and also caught one pass for eight yards. David Parsons was five of eight passing for 22 yards one one score. King caught three passes for 32 yards but was injured in the second quarter and did not play the rest of the game.
Parkersburg vs Huntington (Aug 27, 2021 at Huntington)
Score by Quarters 1  2  3  4 - Total
Parkersburg                 7  0  0  0 - 7
Huntington                  7 14 23 3 - 47
Qtr Time Scoring play
1st 11:27 PHS - Carter King 24 yd pass from Bryson Singer (Casey Stanley kick), 2-34 0:33
06:44 HUNT - Naykin Harrell 1 yd pass from Gavin Lochow (Johnny Aya-Ay kick), 9-80 4:43
2nd 08:42 HUNT - Gavin Lochow 3 yd run (Johnny Aya-Ay kick), 10-84 5:01
04:30 HUNT - Gavin Lochow 6 yd run (Johnny Aya-Ay kick), 6-47 2:27
3rd 05:53 HUNT - Johnny Aya-Ay 27 yd field goal, 10-37 0:12
05:07 HUNT - Curtis Jones 7 yd run (Johnny Aya-Ay kick), 3-25 0:36
02:02 HUNT - Amari Felder 4 yd run (Johnny Aya-Ay kick), 6-27 1:58
01:37 HUNT - Amari Felder 5 yd pass from Gavin Lochow (Johnny Aya-Ay kick failed), 1-5 0:16
4th 09:03 HUNT - Johnny Aya-Ay 34 yd field goal, 7-21 3:45
Bryson Singer "Mr. Versatile"
By Rick ryan. Charleston Gazette
So, just how versatile is Parkersburg senior Bryson Singer?
Well, consider that he led the Mountain State Athletic Conference in rushing last season with 1,235 yards ... as a quarterback. Oh, and he also caught an 85-yard touchdown pass against Jefferson.
Yes, the 6-foot-3, 210-pound senior might be one of the most multi-faceted players in West Virginia, and Big Reds coach Mike Byus seems determined to find out just how many positions Singer can play this season.
"He's very versatile,'' Byus said. "We're going to play him everywhere, provided he's healthy. Bryson's going to play defense, Bryson's going to play different positions offensively. You don't actually have to put him at running back because when he's a quarterback, he's basically a running back from the quarterback position.''
Singer averaged better than 154 rushing yards per game as a junior and also threw for 687 yards and 11 touchdowns as Parkersburg went 6-2 and earned the No. 8 seed for the Class AAA playoffs. However, due to Wood County's COVID-19 status that week, the Big Reds weren't able to play their first-round game against Spring Mills and their season ended that way.
It's not like Singer suddenly turned into a Swiss army knife a year ago. Even as a sophomore, he flashed his all-around skills, rushing for 1,342 yards and seven TDs and passing for 1,311 yards and 16 scores. That's 241 yards of total offense per game.
But Byus appears more intent on using Singer all over the field this season, especially since promising sophomore David Parsons figures to get some run at quarterback.
"I've been hearing, 'Put him at running back,' but you know teams set their defenses to running backs,'' Byus said. "They don't necessarily count on the quarterback to run, but now with him they do at this point. Having him there as a dual threat [at quarterback], it's just different than sticking him at running back. And he's a heck of a receiver -- great hands.
"He can play outside linebacker and can play inside linebacker, actually, if we wanted him to. He can play safety -- strong or free. He's just so versatile, and talented in a lot of different areas. We took him to several camps and he played corner some since he's long and rangy. He covered everybody they threw at him just because of his length.''
Big Reds track coach Rod O'Donnell had the same experience with Singer competing on his squad, which won the AAA state title in June -- Singer can do so many things that O'Donnell wasn't sure exactly which events Singer should enter.
"I think that's been part of the recruiting process as well,'' Byus said of college football programs taking a look at Singer. "They're not sure where they want to use him, so I think it's actually slowed down the recruiting a little bit.
"And we haven't been able to train him in about a month now with some nagging injuries, like his hamstring. We're just hoping he gets healthy so we can utilize the 100% Bryson Singer. A healthy Bryson Singer will really help us a bunch, I can tell you that.''
Moving Singer around, and not relying on him to take every snap at quarterback, will allow Byus to employ him more on defense. Typically, Byus doesn't like to use his starting QB on defense, a move followed by many Class AAA coaches. Last year, Singer had 13 total tackles and one interception in eight games.
"We don't normally do that,'' Byus said. "Maybe in spots. This year, we've got a young man [Parsons] who does a great job swinging it around, so that's why we're going to use Bryson some at wideout, and we'll utilize his talents in different ways and see how that progresses.''
Strength Up Front Could Be Key For 2021 Big Red Football Squad Success
By Joe Brocato, WV Metronews
PARKERSBURG, W.Va. — Parkersburg was one of four Mountain State Athletic Conference teams to earn a top-eight seed in the 2020 Class AAA playoffs. After a 6-2 regular season, the Big Reds were unable to take the field in the postseason after the COVID metrics map became an opponent they couldn't defeat.
"We all felt bad, especially for the seniors," said Parkersburg head coach Mike Byus. "You fight your tail off to get a home playoff game and you don't get to play it. We only played eight games last year but we could have played all ten. We didn't have any issues until that one week."
There are many reasons for excitement around Stadium Field this season and Byus says it all starts up front with a group of starting big guys that recently won the MSAC lineman challenge.
"We're extremely strong up front. It is the strongest bunch we have had collectively on both sides of the ball up front. We are pleased with the progress there."
The PHS line will go to work in front of their third-year starting quarterback Bryson Singer. In eight games last fall, Singer was the team's leading passer and rusher. He accounted for 2,007 yards of offense and 28 touchdowns. Quarterback may not be the only position Singer occupies on offense.
"You may see him everywhere. He is very athletic. He is tall. He is lean and he is powerful when he runs the football. He can catch the football like a champ. He throws a good ball, especially the deep ball. But he is a heck of a safety because he is long and rangy and it is hard to get a ball over him."
Singer welcomes the return of his top receiver. Carter King reeled in 18 passes for 280 yards and 8 touchdowns last fall.
"He is quick and fast and very knowledgeable about what we are doing. We have some guys who have been in our system long enough to know the base stuff. So as we start to expand, we have some young kids who are probably going to end up playing there who are pretty good."
Parkersburg's schedule features six playoff teams, including the No. 1 (Cabell Midland), No. 2 (South Charleston), No. 3 (Musselman) and No. 7 (Spring Valley) seeds in last year's postseason.
"If we were playing any average football teams, I think these kids would win ten games. If we had any average teams on our schedule, we do not. Let's just talk about the first four — we go to Huntington, Spring Valley comes here, Capital comes here and we go to Cabell Midland. Anybody want to play that schedule?"
Big Reds Face Rugged 2021 Football Schedule; South Switch
Another rugged schedule has been revealed for the 2021 Parkersburg Big Red football team.
The addition of a road trip to eastern panhandle power Musselman has completed the 10-game schedule. That plus the moving of arch-rival game with Parkersburg South to mid-season makes for an interesting slate of games as the Big Reds try to pick up where COVID canceled the 2020 season.
The 2020 season featured a 6-2 record, three straight wins to end the regular season (which also including the canceling of the Parkersburg South game) and an eighth place finish in the final Class AAA ratings. That eighth place finish would have given PHS a home playoff game against Spring Mills had the virus not wiped out the Big Reds' hope of continuing to play.
PHS returns, among others, all-stater Bryson Singer, who has rushed for over 1,000 yards in each of the last two seasons and has passed for two yards shy of 2,000.
The complete 2021 schedule is as follows:
2021 Parkersburg Big Red Football Schedule
Aug. 27 – at Huntington
Sept. 3 – Spring Valley
Sept. 10 – Capital
Sept. 17 – Parkersburg South
Sept. 24 – at Cabell Midland
Oct. 1 – Hurricane
Oct. 8 – at South Charleston
Oct. 15 – Open
Oct. 22 – at Riverside
Oct. 29 – George Washington
Nov. 5 – at Musselman
Playoff Game With Spring Mills Cancelled Due To County Orange Color Code
Big Reds Hope To Host Spring Mills Sunday If County COVID Color Rating Comes Down By Saturday
The Parkersburg Big Red football team needs help from all of Wood County if it is to participate in the 2020 Class AAA playoffs.
Given a second chance to participate in the Class AAA football playoffs thanks to a policy change by the West Virginia Secondary School Activities Commission the Parkersburg Big Reds were not only to be allowed to play but play at home – if Wood County can lower its COVID-19percent of positivity rate to below 5.0. It currently stands at 5.10.
The 6-2 Big Reds finished the regular season ranked eighth in the final ratings but Wood County is currently coded orange in the state COVID color map and must drop to the next lower level, gold, by next Saturday's 5 p.m. official map.
If that happens the Big Reds will play host to Spring Mills at 1:30 p.m. Sunday afternoon at Stadium Field. Springs Mills (5-2) finished ninth in the ratings. If the Wood County rating does not come down, PHS will forfeit the game and Spring Mills will advance to the quarterfinals. Berkeley County where Spring Mills is located was orange last week but dropped to gold on Saturday, meaning they can play for sure in the first round.
Spring Mills played the Big Reds last year for the first time in school history and PHS came away a 27-7 winner at Stadium Field. Sam Potts was the standout of that game with four interceptions, including one returned for a touchdown. Bryson Singer ran for 119 yards and one score but Spring Mills was missing its star player, leading rusher and passer, Keon Padmore-Johnson, who sat out the season with an injury.
This year Padmore-Johnson is back for his senior campaign and has been lighting up the stat sheets with incredible numbers. The 5-foot-10, 165 pounder has completed 94 of 130 passes for 1,732 yards with 23 touchdowns and just one interception to lead the entire eastern panhandle. He is the third-leading rusher in that area with 907 yards on just 80 carries (11.3 average) and 10 touchdowns.
It will mark the third time this year the Big Reds have played a team averaging over 40 points per game as the Cardinals are putting up 44 points per contest despite losing to Frankfort (21-20) and cross-town rival Martinsburg (82-27). Four times they have scored more than 50 points in wins over Washington (55-42), Hampshire (55-7), Jefferson (52-28) and Hedgesville (56-0) while traveling four hours to beat Ripley 43-14 on Oct. 16 in their last game.
Last year's Spring Mills quarterback, Chase Henson, is now a 5-10, 195 pound senior running back with 308 yards rushing on 73 carries (4.2 average) with seven touchdowns. Henson has also caught 22 passes for 303 yards and eight scores while Jake McCarren (5-9, 165 sr.) has 29 catches for 518 yards and seven touchdowns. Jameer Hunter has been the big play man for the Cardinals, averaging a whopping 34.9 yards per catch on his 16 receptions, six of which have wound up in the end zone.
Defensively for Spring Mills, Henson is the leading tackler from his linebacker spot with 80 stops while 160 pound sophomore Sam Stotler is second with 48 and Koz Jackson has 46. Bernard Newman leads the team with three interceptions.
Singer will be trying for his second win over the Cardinals. The 6-foot-3 junior has rushed for 1,235 yards (despite losing 151 on sacks) for a 7.8 average per carry and 14 touchdowns. He has also caught an 85 yards scoring pass. He has passed for 687 yards and 13 scores with eight of them going to Carter King, who has caught 18 passes for 280 yards. The Martin twins, Jordan and Julian, have each caught two TD passes.
Xadrian Snodgrass and Justin Waybright are both averaging 4.8 yards per carry and Snodgrass has four rushing touchdowns.
Defensively, Waybright has 13 sacks and six fumble recoveries to go with 45 tackles while fellow end Austin Fleming has five sacks and seven passes batted down to go with an identical 45 stops. Casey Mahoney leads the team with 75 tackles while Zach Howard is second with 56 tackles and Carter Mills has 46 stops and four interceptions. Keenan Curry has 42 tackles and has returned two interceptions for touchdowns.
While two of the last three PHS opponents had both been scoring over 40 points per game, the Big Reds held Bluefield to one long scoring pass and John Marshall to one long scoring pass and a defensive touchdown. Two weeks ago against first-time ever opponent Jefferson, PHS gave up three scores.
Big Reds Make Playoffs With WVSSAC Policy Change
A last-minute change in the West Virginia Secondary School Activities Commission football playoff policy will enable the Parkersburg Big Red football team to be in the playoff picture regardless of the COVID color of Wood County on Nov. 7.
Basically, the Big Reds are assured a spot in the playoffs but must get their color down from its current orange status to gold or better by Nov. 14 in order to play a game on Nov. 15 at 1:30 p.m. If Wood County is orange on red on Nov. 14 the Big Reds would have to forfeit.
Currently it appears PHS will be seeded eighth in the final Class AAA ratings and that means a home game against the ninth ranked team, which appears to be Spring Mills. The final ratings will be announced Sunday and playoff meetings will be held that day to determine final sites, dates and times.
The WVSSAC has announced that football teams from orange and red counties will be included in the playoff field. The top 16 teams will be entered into the brackets. Previously, it was announced that teams from orange and red counties on the state's COVID metrics map would be excluded and the brackets would be backfilled with teams starting at No. 17 and so on.
To be clear to play however, counties must enter the green, yellow or gold category before game time. To accommodate teams that may still be in an orange or red county on this week's Saturday 5 p.m. map release, a Sunday option has been introduced. Sunday games would kickoff at 1:30 p.m. If a team's home county is still unable to enter a green, yellow or gold category, they will be forfeited and their opponent will receive automatic entry into the next round.
On Friday's daily COVID map, seven of the top sixteen teams in Class AAA would be ineligible under the previous policy.
For more information on the WVSSAC announcement, cut and paste the link below to your web browser:
https://wvmetronews.com/2020/11/06/orange-and-red-county-teams-now-allowed-entry-into-football-playoff-brackets/
South Game Canceled
Friday's game with Parkersburg South has been canceled.
South head coach Nathan Tanner sent a Twitter urgent message to his team about positive COVID test and that the school nurse said the entire team would have to be quarantined 14 days.
The cancelation has been confirmed by Big Red athletic director Chris Way.
PHS will probably not be able to find a replacement on such short notice although Williamstown is available and will have to hope it is able to participate in the post season playoffs depending on county color coding Saturday evening and WVSAAC or Gov. Jim Justice ruling on teams in certain counties being allowed to play.This would affect PHS and Williamstown.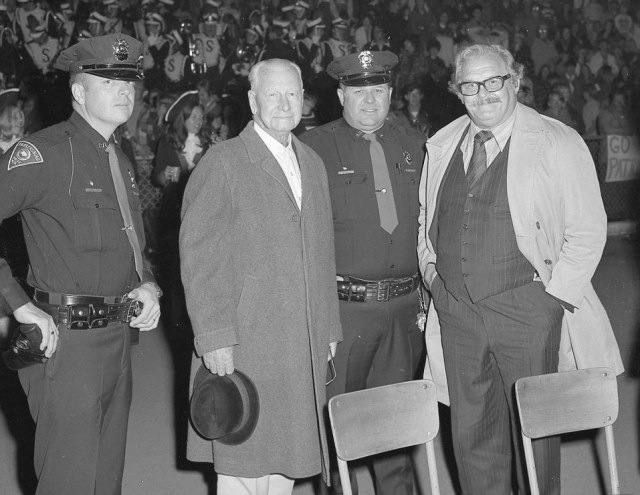 Big Red greats Greasy Neale & Piggy Barnes prior to 1971 South Game
PHS Can Now Claim 17th State Title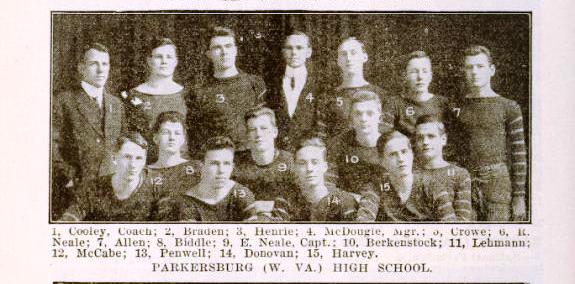 Parkersburg High School has added a 17th state football championship – without playing a game.
While it was well know that the 1911 PHS team went undefeated there was no state championship playoff or even a declaration of a state champion with supporting evidence – until now.
Thanks to supporting evidence from Spalding's 1911 Official Foot Ball Guide (also titled the Official National Collegiate Athletic Association Football Guide), the PHS team can now lay claim to the West Virginia State Championship Football Title for that season.
On page 251 of the very detailed and complete book, PHS is declared undisputed state champion for that year. The book was found in the University of Michigan library. The book featured scores and rundowns on virtually every college and high school team in the country as well as All-American and All-Conference teams.
The following is the excerpt from page 251 of the book concerning PHS football.
"Parkersburg (W.Va.) High School – The team annexed the undisputed title of state championship during the season of 1911. The eleven completed its schedule of ten games, defeating every opponent by decisive scores. Only once during the season was Parkersburg's goal line crossed. The strongest contenders for championship honors from each section of the state were defeated by the high school team, as well as two claimants for the Ohio state championship."
There is even a Parkersburg team picture on page 276 of the book along with a team picture of the high school team from Sistersville.
The football season of 1911 was the last year that touchdowns counted five points and only three downs were allowed to make 10 yards for a first down. It was the same year Jim Thorpe, Pop Warner and the Carlisle Indians upset mighty Harvard on Thorpe's three field goals. Considered one of the greatest college football upsets of all time.
Parkersburg was coached by B.B. Cooley and led by legendary Earle "Greasy" Neale, who dropkicked three field goals, 16 extra points and caught seven touchdown passes from quarterback Glenn Allen, who went on to play at West Virginia University.
They beat their Alumni 3-0, then traveled to New Martinsville to win 11-0 despite a hidden ball under the jersey trick by the home team. Then came a 24-0 win over Company A of the National Guard, a 17-0 win over Athens followed by successive victories over arch-rival Marietta by scores of 5-0 and then 6-0. The only points allowed during the entire season came in a 12-8 win over northern panhandle power Wheeling. That was followed by a 9-0 triumph over Charleston, a 6-0 victory over Athens and a 45-0 win over Clarksburg WI.
Other key players in 1911 for PHS, which did not officially become the Big Reds until 1915, were Dutch Lehman, Don Berkenstock, Harold Harvey, Charles Penwell and Raymond "Dutch" Neale (Greasy's brother).
PHS 10th In All-Time Win Rankings
All-Time High School Football Wins
Rank
Wins
School
State
Years, Record
1
936
Valdosta
GA
(1913-2020, 936-240-34)
2
914
Louisville Male
KY
(1893-2020, 914-332-49)
3
909
Massillon Washington
OH
(1894-2020, 909-294-36)
4
907
Mayfield
KY
(1919-2020, 907-260-32)
5
906
Fort Thomas Highlands
KY
(1915-2020, 906-251-26)
6
868
Mount Carmel
PA
(1893-2020, 868-333-59)
6
868
Muskegon
MI
(1895-2020, 868-282-43)
8
858
Easton
PA
(1894-2020, 858-366-54)
9
851
Canton McKinley
OH
(1894-2020, 851-361-42)
10
838
Parkersburg
WV
(1900-2020, 838-335-33)
11
834
Everett
MA
(1893-2020, 834-377-79)
12
827
Steubenville
OH
(1900-2020, 827-325-36)
13
826
Berwick
PA
(1888-2020, 826-347-43)
(Battle of the 'Burg) Documentary Youtube Video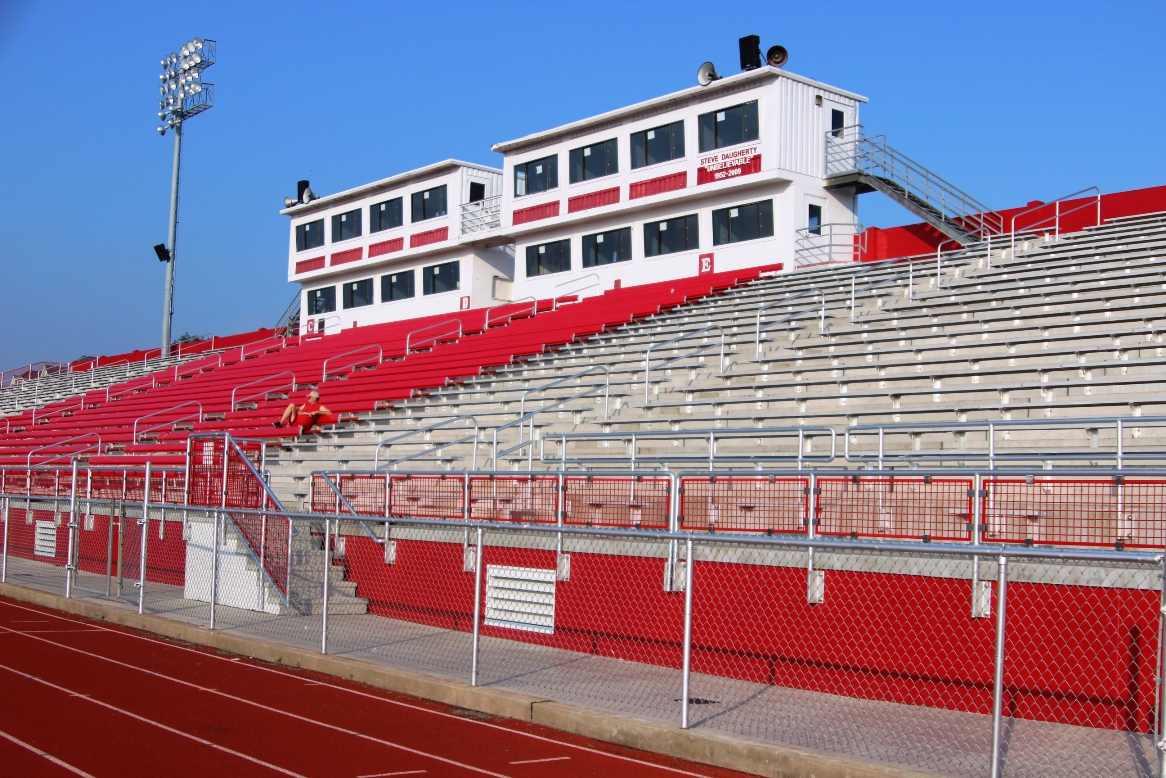 The home side finished product!
History of Stadium Field
In the spring of 1923 a group of men got together to form a stadium committee whose sole intent was to build a stadium for the newly constructed Parkersburg High School.
Those men included John S. Echols, President of the Board of Education, C.M. Martin, Sherman Dils, J.H. Biddle, C.T. Hitshaw, Herbert Smith, John Randolph, and Paul L. Summers. The committee was incorporated on July 14, 1923 and became known as the Parkersburg High School Corporation. The process of forming a corporation was necessary because the bonded indebtedness of the Board of Education was then at the peak permitted by law. Also serving on this committee was Fayette Smoot, H.L. Martin, Edward Doesch, H.R. Debussey and W.O. Holiday. The corporation leased the back campus from the Board of Education. It was impossible, according to the law of the time, for such a corporation to build any structure on land owned by a board of education. Therefore, the board had to turn over the land known as Stadium Field, on a 99-year lease to this corporation. The bonds were then released. The money for the bonds was to be recovered through football games and other activities held at the stadium.
The stadium was the first of its kind (concrete) in West Virginia and must have been the first of its kind to be built for the use of tax-supported institution without the investment of a single tax dollar.
The plans were to build one side of the stadium in 1923 and to build the other side the following year. The end of the U-shaped stadium was to be completed in the third year. When finally, completed it was to seat about 13,000 people. The end or bowl section of the stadium was never completed according to plans. The total cost of construction for the two sides was $104,000.
In just one day after the meeting in which the stadium plan was revealed, a total of $33,000 worth of bonds was sold.
In September of 1923 the first concrete was poured for the West stands of the stadium and on Oct. 4, 1923, the first game in the new stadium was played between the Big Reds of Parkersburg High School and Athens, Ohio. The Big Reds won by a 14-13 score. Ticket prices were 25 cents for student seating, 15 cents for student standing room. For the general public, the price was season ticket was $5 for seats and $4 for standing room.
In 1925 the stadium was officially dedicated. As part of the dedication, a race from Parkersburg to Marietta was held.
The installation of the stadium lights during the fall of 1940 made it possible for football games to be played at night. Until that time, most games were played on Saturday afternoon. The lights were installed by the Parkersburg Junior Chamber of Commerce at a cost of $7,000.75. The electric bill for the use of the lights was $3.25 per hour or about $10 for each game.
The lights were put in for the dual purpose of protecting the health of the players from the intense heat and to increase attendance. Among other reasons cited for the lighting was so that persons who worked Saturday afternoon could see the Big Reds play and so that the Stadium could be used for the purpose of holding other outdoor events such as political rallies or church events. Businessmen also felt that by playing Friday night games, Saturday afternoon business would be bolstered.
The first night game at PHS Stadium was Sept. 6, 1940 with the Big Reds beating Grantsville 50-0.
During the 1984-85 football season part of the stadium stands were closed for safety reasons. On June 13, 1988 it was recommended that both sides of the stands be closed. On June 14 the Board of Education accepted that recommendation.
During the summer of 1988 temporary bleachers were purchased and put up. Remodeling was done with funding help from C.O. Erickson and began in 1992. It was totally completed in 1994 with structural steel and concrete used to repair the stands.
In 1995 PHS qualified for home playoff games. After beating North Marion in the first round, the Big Reds were scheduled to host Wheeling Park. The Patriots protested the playing conditions at Stadium Field (no grass and nothing but mud) and a state inspection committee upheld the protest – moving the game to Tyler Consolidated High School. PHS won that game 28-7 and got to host the semifinal game after much work was done to repair the turf. But Hedgesville won the game 18-0 and the drive to install artificial turf on Stadium Field began in earnest.
The Stadium Renovation committee had its first planning session on Jan. 4, 1996 with more than two dozen members. In almost no time there were plans for an artificial surface to be added to the football field along with an 8-lane Eurotan track surface, new sidewalks, asphalt parking lot and refurbished concession stands.
On Aug. 30, 1996 the first game was played on AstroTurf Xl surface between Parkersburg South and Wheeling Park. On Sept. 6 the Big Reds played host to Hurricane on the new turf.
The cost of the new surface and renovations came to $1.25 million dollars which included $400,000 worth of in-kind services, $400,000 for advertising signs, $250,000 in donations and five bank loans of $400,000.
New light standards were installed in 1998. In 1999 new locker rooms were built in the Mary Lou Hague Memorial Sports and Arts complex at a cost of $536,390. In 2005 the restoration of the concrete stands was done at a cost of $129,356. In 2006 the turf was replaced at a cost of $295,000 with ProGrass artificial surface. In 2009 a new concession stand and restrooms were built on the home side at a cost of $195,000. The track was resurfaced in 2010 at a cost of $75,000 and in 2012 handrails were installed at a cost of $68,090.
In 2013 the home side bleachers were replaced in time for the second home game of the season. New seats were also installed with backs for the reserved seat section. The visiting bleachers still need to be replaced and contributions are still being taken.
Work was to begin in August, 2018, to replace the turf surface on the Stadium with work completed Aug. 26. The running track was also to be replaced but the surface was not to be finished until the fall of 2019.