Big Reds Defense Shines In 41-22 Win at Warren
In becoming just the eighth high school football team in the country to reach 800 victories, the Parkersburg Big Reds did it the way they had done it so many times before - with defense.
Over the 100-plus years of PHS football history that has seen the school become among the nation's elite grid programs, defense has been at the front of that winning tradition and championship teams. Against the host Warren Warriors the Big Reds went back to their roots as they pulled off a 41-22 victory that was not as close as the final score indicated.
Using an aggressive defense led by end Max Chefren, the Big Reds completely bottled up the Warren offense. With 8 minutes left in the game and holding a 35-2 lead, the PHS defense had held the home team to just two first downs and minus (that's right minus) 35 yards in total offense.
They had sacked the Warren quarterback five times (three of them by Chefren, who also had a fumble recovery touchdown and a pass batted down to go with his team-leading tackle total). There were 13 tackles for loss, six quarterback hurries, and an interception return for a touchdown.
The only points allowed by the first defensive unit came with 5:47 left in the game when it took Warren to five plays to score following a fumble return to the PHS two yard line. Warren did not get out of the negative yardage category until the final minute when it put together a 65 yard scoring driving against the PHS second unit.
Meanwhile, Jordan Colebank scored two touchdowns for the Big Reds, one on a 51 yard pass from Dan Fox on just the second offensive play of the game for PHS. His other TD came on a 69 yard interception return in the third quarter.
Fox, moved to a wingback spot this year, was the leading rusher for the Big Reds with 82 yards on seven yards and a touchdown while Noah Weaver, filling in for the injured Corey Burdette, ran for 60 yards on 17 carries and also had a touchdown. The other PHS touchdown came when Josh Trembly hit Austin Life for a 31 yard catch-and-run play in the fourth quarter.
PHS finished with 160 yards on the ground and 125 through the air (completing six of 10 passes). The visitors had 16 first downs while Warren finished with six chain movers (4 of them late in the game). Warren completed six of 13 passes for 43 yards and wound up with two net yards rushing on 27 attempts.
Life finished with three catches for 39 yards while Chase Shank was the second-leading tackler on defense.
While Colebank got behind the Warren secondary for an easy 51 yard TD reception just 2:42 into the contest, the second PHS score came after a tremendous catch from Brannon Turner, who went high in the air to take the ball away from a would-be defender for a 33 yard completion that was the big play on an 8-play, 62 yard drive mid-way through the second quarter.
Then the PHS defense showed off its scoring punch with Chefren picking up a fumble after a bad pitch and going 22 yards for a touchdown with 6:08 left in the first half to make it 21-2.
The Big Reds added another score just two minutes before intermission when Fox went around left end for 27 yards to set up Weaver's six yard run over the right side.
The second half saw the Big Red offense play ball control by running 10 more plays than Warren (23-13) and got another defensive score in the third quarter on Colebank's pick-six to run the score to 35-2 with 8:03 left in the third quarter.
That put a new Ohio high school football rule into effect as the clock now runs continuously with a 30 point lead.
But Warren got two scores in the span of less that two minutes in the middle of the fourth quarter to make the game interesting. The first came on a fumble return of 45 yards and the second came on a fumble on the ensuing kickoff which was ran to the two yard line and then punched in although it took five plays to do so against a fired-up PHS prevent unit.
The final PHS TD came on an 80 yard drive that took nine plays and ate 4:13 off the clock. Big runs of 14 and 20 yards by Fox and Trembly set up Life's TD catch with 1:34 on the clock to end Warren's comeback hopes.
Warren's last score came with 54 seconds left in the contest.
Score by Quarters           1        2       3        4       Total
Parkersburg Big Reds        7        21      7        6        41
Warren Warriors                2        0        0        20      22
Qtr Time Scoring play
1st 09:18 PHS - Jordan Colebank 51 yd pass from Dan Fox (Josh Roney kick), 2-52 0:41
05:45 WARREN - Tanner Huck, safety
2nd 07:12 PHS - Dan Fox 5 yd run (Josh Roney kick), 8-62 3:22
06:08 PHS - Max Chefren 22 yd fumble recovery (Josh Roney kick)
02:09 PHS - Noah Weaver 6 yd run (Josh Roney kick), 5-51 1:58
3rd 08:03 PHS - Jordan Colebank 69 yd interception return (Josh Roney kick)
4th 07:39 WARREN - Michael Smith 45 yd fumble recovery (Robert Fish kick)
05:47 WARREN - Jared Isner 1 yd run (Robert Fish kick), 4-2 1:42
01:34 PHS - Austin Life 31 yd pass from Josh Trembly (Chase Minnite kick blocked), 9-80 4:13
00:54 WARREN - Jared Isner 24 yd run (Robert Fish kick failed), 4-65 0:40
..............................................................PHS                 WARREN
FIRST DOWNS                                    16                    6
RUSHES-YARDS (NET)                       41-160            27-2
PASSING YDS (NET)                          125                  43
Passes Att-Comp-Int                             10-6-0              13-6-1
TOTAL OFFENSE PLAYS-YARDS.. 51-285              40-45
Fumble Returns-Yards                           1-22                 1-45
Punt Returns-Yards                               0-0                   0-0
Kickoff Returns-Yards                            1-0                   7-95
Interception Returns-Yards                    1-69                 0-0
Punts (Number-Avg)                             2-15.0              6-35.7
Fumbles-Lost                                        3-2                   1-1
Penalties-Yards............                         8-55                 4-33
Possession Time                                   25:39               22:21
Third-Down Conversions                       6 of 9               0 of 9
Fourth-Down Conversions                     2 of 2               0 of 1
Red-Zone Scores-Chances                    2-2                   1-1
Sacks By: Number-Yards                       5-53                 2-14
RUSHING: Big Reds-Dan Fox 7-82; Noah Weaver 17-60; Chase Shank 9-22; Josh Trembly 8-minus 4. Warriors-Jared Isner 10-50; Jake Davis 1-15; Seth Balderson 1-5; Tanner Huck 2-4; Mark McDermott 1-3; Derrick Carey 3-2; Andrew Henthorn 9-minus 77.
PASSING: Big Reds-Josh Trembly 5-9-0-74; Dan Fox 1-1-0-51. Warriors-Andrew Henthorn 6-12-1-43; Bryce Gandee 0-1-0-0.
RECEIVING: Big Reds-Austin Life 3-39; Jordan Colebank 1-51; Brannon Turner 1-33; Chase Shank 1-2. Warriors-Jared Isner 3-25; Derrick Carey 1-9; Cole Wigal 1-8; Andy Farnsworth 1-1.
INTERCEPTIONS: Big Reds-Jordan Colebank 1-69. Warriors-None.
FUMBLES: Big Reds-Chase Shank 2-1; Rylan Hamilton 1-1. Warriors-Andrew Henthorn 1-1.
SACKS (UA-A): Big Reds-Max Chefren 3-0; Austin Griffith 1-0. Warriors-Colin Welch 2-0.
UNOFFICIAL TACKLES (UA-A): Big Reds-Max Chefren 5-5; Chase Shank 2-4; Tyler Greathouse 0-6; Nick Johnson 3-1; Jordan Colebank 2-1; Austin Brown 1-3; Charley Conley 1-2; Zach Carroll 2-0; Austin Griffith 1-1; Josh Trembly 0-2; Cory Woodford 1-0; Alex Lott 1-0; Dan Fox 2-1; Zavian Peacock 1-0; Austin Life 0-1;Noah Weaver 1-0; Jesse McGrew 0-1; Easton Martin 0-1; G. Nesselrode 0-1.
Snyder Passes PHS JVs Over Warren, 26-6
Karson Snyder, playing his first ever game at quarterback, led the Big Red jayvees to a 26-6 win over visiting Warren by throwing for 196 yards and two touchdowns while also leading the team in rushing.
Snyder completed eight of 10 passes and ran the ball 14 times for 38 yards in his first endeavor as a signal caller. Easton Martin caught four of the passes for 111 yards and a 45 yard touchdown while Rylan Hamilton caught a 50 yard TD bomb from Snyder. Jarrid Winters and Graham Nesselrode had touchdown runs for PHS in their jayvee opener.
Defensively, PHS did not allow a score as Warren's only points came on a punt return. Led by Kendall Leary's 10 tackles, the Big Reds gave up just two first downs and only 27 yards in total offense to the Warriors.
A 41 yard pass from Snyder to Martin set up the game's first TD, a 19 yard run up the middle by Winters early in the second quarter.
Warren answered with the punt return TD by Alex Mills to cut the lead to 7-6 but Snyder found Hamilton on the next offensive play by PHS for a 50 yard TD play. On the ensuing kickoff, Dakoda Sims recovered a fumble and three plays later Snyder and Martin hooked up again, this time for a touchdown that made it 19-6 at the half.
PHS fumbled away two scoring chances in the second half before finally reaching the end zone again on Nesselrode's 13 yard run with just under two minutes left to play.
Warren Local JV           0        6        0        0        -         6       
Parkersburg JV             0        19      0        7        -         26
P – Jarrid Winters 19 run (Chase Minnite kick) 7:43 2nd
W – Alex Mills 50 punt return (pass failed) 1:53 2nd
P – Rylan Hamilton 50 pass from Karson Snyder (kick failed) 1:38 2nd
P – Easton Martin 45 pass from Snyder (run failed) 0:39 2nd
P – Graham Nesselrode 13 run (Minnite kick) 1:54 4th
Team Statistics
First Downs – Warren 2, PHS 14; Rushes-Yardage – Warren 19-7, PHS 37-93; Passing Yardage – Warren 20, PHS 196; PC-PC-INT – Warren 3-12-0, PHS 8-10-0; Punts-Average – Warren 5-27.6, PHS 3-34.7;  Fumbles-Lost – Warren 4-2, PHS 3-3; Penalties-Yardage – Warren 4-24, PHS 7-60.
Individual Leaders
Rushing -  Warren: Bryce Gandee 3-7, Tanner Wriston 6-14, Jake Davis 6-(-11), Alex Mills 2-1; PHS: Jarrid Winters 7-25, Easton Martin 2-22, Karson Snyder 14-38, Zach Blosser 5-(-1), Graham Nesselrode 8-17, Zavian Peacock 1-(-2), Rylan Hamilton 1-11.
Passing – Warren: Gandee 3-12-0 20; PHS: Snyder 8-10-0 196.
Receiving – Warren: Bishop Ford 1-14, Michael Smith 1-4, Mills 1-2; PHS: Blosser 3-35, Martin 4-111, Hamilton 1-50.
Tackle Leaders – PHS: Kendall Leary 10 (2 sacks), Davey McNemar 6 (2 PBU, 1 FBR), Nesselrode 5 (1 PBU), Henry Hickman 5, Ethan Farinash 5, Issiah Gossett 5, Dakoda Sims (1 FBR), Peacock 4 (1 PBU), Jesse McGrew 4, Roger Wright 4, Max Turner 4.
PHS Comes Out on Top in MSAC Grid-O-Rama Game
Technically, Parkersburg's Big Reds won the war in their Mountain State Athletic Conference Grid-O-Rama meeting with Spring Valley, coming out on the high side of a 17-10 score on the scoreboard at Charleston's Laidley Field.
But the battle between first units, which only lasted for a half, was not to the liking of the Big Red coaching staff as the team made several crucial mistakes and failed to score in five possessions while giving up two long passes to the Timberwolves, one for a touchdown and another which set up a field goal.
Playing without two starters, including leading rusher Corey Burdette (who is expected back in the lineup when the team opens its season for real next Friday at Warren), there were bright spots for the Big Reds, both offensively and defensively.
Max Chefren had four tackles, caused a fumble and had a quarterback hurry to lead the defense while Josh Trembly had three tackles and two passes broken up. Chase Shank, Ethan Airhart, Ben McFarland and Zach Carroll also stood out on the prevent unit which gave up six first downs and 70 yards on 16 rushes in two quarters of play. But Spring Valley did complete six of 11 passes for 161 yards (145 of them on two plays, one an 88 yard touchdown). Dan Fox did have an interception for PHS.
Offensively, PHS moved the ball from its 26 to the Spring Valley 12 on its first possession but a fumble forced a field goal try from the 31 which failed due to a bad snap from center.
The Big Reds also moved the ball well on their last three possessions of the first half but lost the ball on an interception after getting inside the 20 on one occasion and threw another interception in the end zone on the final drive of the second quarter.
PHS finished with nine first downs, 45 yards rushing on 17 carries and Trembly completed 10 of 18 passes for 106 yards. Shank was the leading rusher with four carries for 20 yards. Fox caught five passes for 50 yards, Austin Life had two receptions for 18 yards, Stephen Dailey grabbed two passes for 21 yards and Jordan Colebank caught one for 17 yards.
And the play of the second unit must have brought a smile to the faces of the coaches as the Big Reds looked like a throwback version of the PHS teams of yesteryear. The second unit ran 29 offensive plays (just one of them a pass) to a mere 12 plays for Spring Valley. The Big Reds amassed 154 yards on the ground while holding their opponent to only 15 yards rushing and just one first down. Rylan Hamilton had 111 yards rushing on just six carries against the SV second team and scored once on a 50 yard run. Graham Nesselrode ran eight times for 24 yards (including a one yard TD) and caught a pass from Airhart for 10 more yards. Karson Snyder had an interception and Zavian Peacock caused a fumble.
First Scrimmage Shows PHS On Right Track [Pictures]
The 2014 Parkersburg Big Reds football team got off on the right foot in their preparation for the upcoming season by making a good showing in a scrimmage against visiting Winfield.
In a scrimmage which was run under three different types of situations, the Big Reds found the end zone seven times while allowing just one score (and that was under a goal line offense situation).
Whether running, blocking, passing, receiving or defense, the Big Reds appeared to be on the right track in preparation for the upcoming campaign.
The scrimmage was set up with teams taking turns, first running 10 plays for two series each and then down-and-distance for two series, then junior varsity for two series, then varsity for two series each in a goal line (or red zone) situation.
First team offense for PHS scored twice in each of the first four series while its defense shut out Winfield. The PHS junior varsity or second unit scored twice in its two attempts while again holding the visitors out of the end zone.
When the teams took turns trying to score from first the 10 and then the five yard line, PHS wasted little time on its three possessions, scoring three touchdowns on just five plays while Winfield scored once on a 18 yard run on fourth down by Isaac Withrow.
The Big Reds' offensive line did not appear to miss returning starter Ben McFarland who sat out the scrimmage with an injury as Jon Null, Isaac Edman, Charley Conley, Austin Brown and Chris Carroll and tight end Austin Life all performed well.
Returning fullback Corey Burdette ran for 103 yards on 15 carries and scored four times, including a pass reception TD. Dan Fox and Chase Shank contributed 36 yards rushing and 24 receiving with one touchdown as quarterback Josh Trembly completed five of eight passes for 74 yards and two scores. Stephen Dailey caught two passes for 43 yards including a great diving grab.
The second unit spread the wealth between six runners and two quarterbacks as Nathan Airhart and Zach Carroll combined to complete four of six passes for 120 yards and one touchdown. Zach Blosser had a rushing TD for PHS.
The combined PHS passing game for the day was nine of 14 for 194 yards and three scores. On the ground the Big Reds ran the ball 41 times and gained 204 yards.
Defensively, where there has been a lot of concern, PHS came through with flying colors. Winfield ran the ball 48 times and netted just 64 yards. Nineteen times PHS stopped the General for minus yardage or no gain. The visitors completed three of nine passes for 45 yards but only one pass was caught after the first two plays of the scrimmage. The Big Reds had four quarterback sacks, as Shank and Austin Griffith had 1.5 each and Issiah Gossett one.
Thirty Big Reds were credited with tackles as Shank led the way with seven while Burdette and Tyler Greathouse had five each and the duo of Griffith and Max Chefren were in on four stops apiece. Gossett had three tackles and a pass batted down for the second defensive unit.
The remaining scrimmage for PHS is on Saturday, Aug. 23, at 9:30 a.m. PHS will take on Spring Valley in the Mountain State Athletic Conference Grid-O-Rama at Charleston's Laidley Field.
Optimistic Big Reds 'Eye' Big Improvement in 2014
With their five leading tacklers returning on defense and some offensive skill to go with it the 2014 Parkersburg Big Reds are looking forward to the start of the season and hope to pick up where they left off last year.
This year's Big Red squad will be trying to continue the two game winning streak that they ended the 2013 season with and a third straight win would be number 800 in the history of Parkersburg High School.
That would make PHS only the eighth team in the history of high school football in this country to reach that plateau. And although they only finished 4-6 overall a year ago they were three points from a 6-4 season that would have put them in the playoffs.
A core of solid returning players, mixed with some young talent from a successful freshman team that became the junior varsity team late in the year, had the PHS coaching staff looking forward to the 2014 season despite a murderous MSAC schedule that includes five of the top Class AAA teams in the entire state.
The Big Reds must play conference powerhouses Cabell Midland, Capital, South Charleston, Huntington and George Washington in addition to long-time rivals Beckley and Riverside. Their non-conference foes are rivals Marietta and Parkersburg South and their home opener is on the road at Warren Local.
Head coach Don Reeves starts his fifth season with expectations to improve on a defense that allowed 33.5 points per game a year ago. Those expectations rest on the shoulders of Chase Shank, Austin Brown, Max Chefren, Josh Trembly, Austin Life and other returning defenders.
Shank led the team with 105 tackles, including 9.5 for loss and three sacks. Brown and Chefren chipped in with over 60 tackles each while Trembly and Life both had over 50 stops. Brown, Chefren and Life all had over 11 tackles for loss with Chefren and Life getting five sacks each.
Dan Fox returns to the secondary after intercepting three passes a year ago. He will be joined by seniors Cory Woodford, Trembly and Shank, juniors Nick Johnson, Jarrid Winters, Alex Lott and Terrance Tate (a transfer from Huntington High) and sophomore Easton Martin.
All three linebackers are back as Life and Brown are once again joined by Corey Burdette, who missed four games with an injury. Other linebackers are sophomore Tyler Lawrentz, who was impressive in frosh and jayvee games, as well as juniors John Staten and Noah Weaver.
Up front, Charley Conley returns and the 260 pounder is stronger and quicker after a successful season on the wrestling mats over the winter. Juniors Tyler Greathouse (215 pounds) and Kendell Leary (192) along with seniors Jon Null (6-5, 240) and Chefren (212) and sophomore Isaac Edman are the top candidates at end.
Offensively, PHS must replace two-year starting quarterback Aaron Roberts and state sprint champion Chandler Hamilton, the team's leading rusher.
Trembly inherits the quarterback slot, a position he filled in admirably a year ago by passing for three touchdowns and completing half his passes. Two years ago he was a 1,000 yard passer for Wirt County High School.
Burdette returns to be the primary running back after bulling his way for 369 yards in just parts of six games while Shank and Fox will be the primary wingbacks. Shank ran for 320 yards and scored three times while Fox averaged 10 yards per carry. Both were sprinters on the state championship track team last spring.
Fox has been the team's leading receiver for two straight years and has 46 receptions (8 for touchdowns) for his career. Stephen Dailey (10 catches) and Austin Life (3 TD receptions) give Trembly two more quality receivers to throw to along with some fine young ends.
Josh Roney is back to do the place-kicking after hitting two field goals and 23 of 30 extra points. A replacement must be found for all-state punter Kyle Foster with Fox and back-up quarterback Ethan Airhart the top candidates.
Up front, Conley has been moved to center and Ben McFarland (6-5, 240), who became a rare freshman starter a year ago, has switched to guard. Tackle hopefuls include seniors Null and Chris Carroll (6-7, 310) along with sophomores Tyler White (265) and Owen Webb (225).
In addition to the 61 upperclassmen on the varsity roster there are 30 freshmen under the guidance of veteran coach Dan Fiedorczyk.
All-State Punter Foster Headed For Akron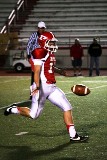 Kyle Foster has decided to cast his college kicking lot with the University of Akron.
After making second-team all-state as a junior and becoming the second best punter in the history of Parkersburg High School, senior Kyle Foster has been named to the first team of the Class AAA all-state football team selected by the West Virginia Sports Writers Association.
Foster averaged 39.7 yards per punt this year, fifth best single season mark in school history. Of his 42 kicks, 11 were inside the 20 yard line and three were touchbacks. Six were fair caught and his longest was 59 yards.
During his three year career as punter, Foster kicked the ball 98 times and put 28 of them inside the opponents 20 yard line with a 62 long boot. His career average was 39.7 yards, second all-time to the legendary "Feets" Barnum, who went on to kick in the NFL. In single-season average, Barnum ranks one-two-four with Foster ranking third (41.3 as a junior) and fifth (39.7 as a senior).
Junior Dan Fox, who scored seven touchdowns and led the team in receiving, interceptions and kickoff returns, was named to the honorable mention list.
Foster Makes All-MSAC; Shank On 2nd Team
Kyle Foster earned first team honors and Chase Shank second team accolades on the 2014 All-Mt. State Athletic Conference football team selected in voting done by the league coaches.
Dan Fox was special honorable mention and Aaron Roberts honorable mention on the team representing the strongest conference in the state.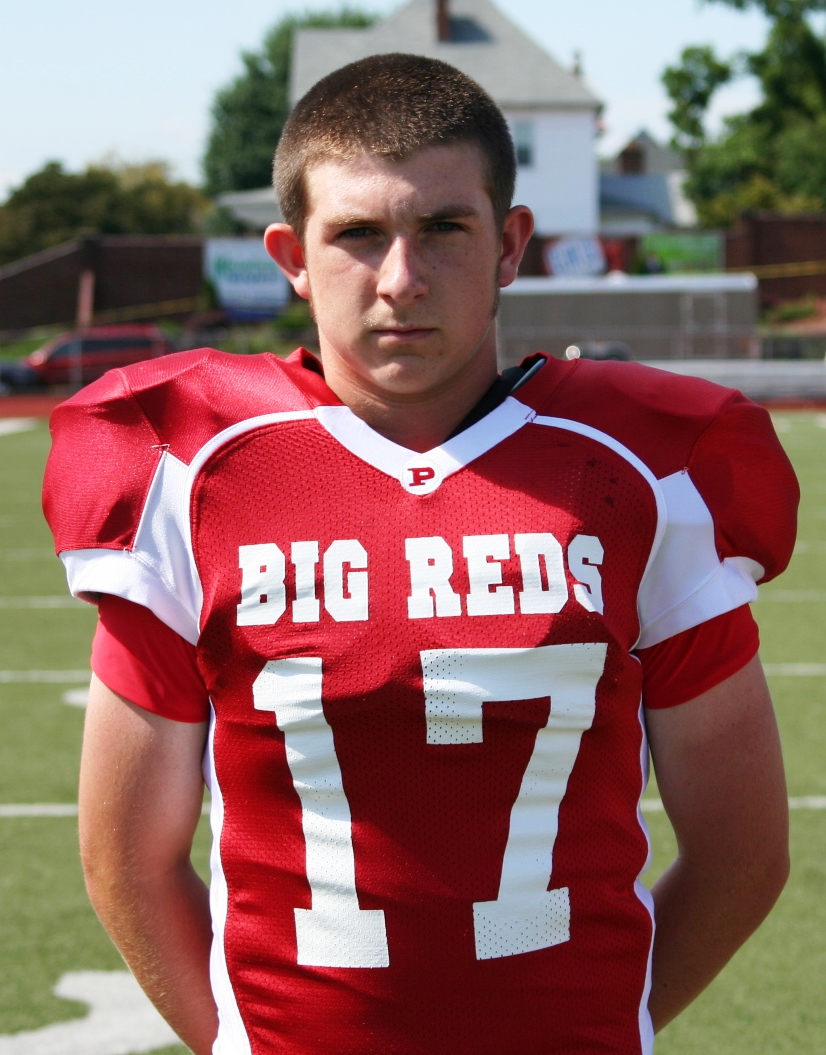 Foster averaged 39.7 yards per punt this year, fifth best in school history. Of his 42 kicks, 11 were inside the 20 yard line and three were touchbacks. Six were fair caught and his longest was 59 yards.
During his three year career as punter, Foster kicked the ball 98 times and put 28 of them inside the opponents 20 yard line with a 62 long boot. His career average was 39.7 yards, second all-time to the legendary "Feets" Barnum, who went on to kick in the NFL. In single-season average, Barnum ranks one-two-four with Foster ranking third (41.3 as a junior) and fifth (39.7 as a senior).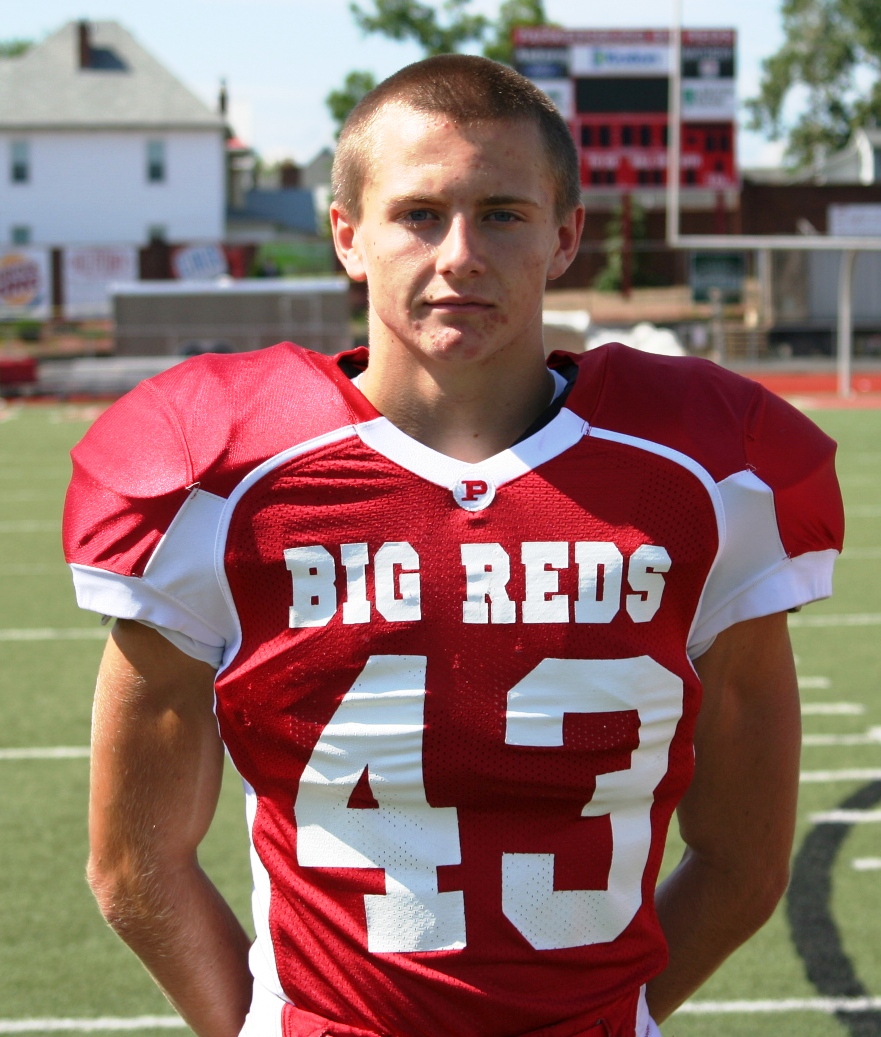 Shank, a junior linebacker, was the leading tackler on the Big Reds this year - by a wide margin. He had 105 total stops, 39 more than the second best total. He had 9.5 tackles for loss and three sacks. He was also fifth in all-purpose yards on offense, and scored three touchdowns and was the team's fourth-leading rusher.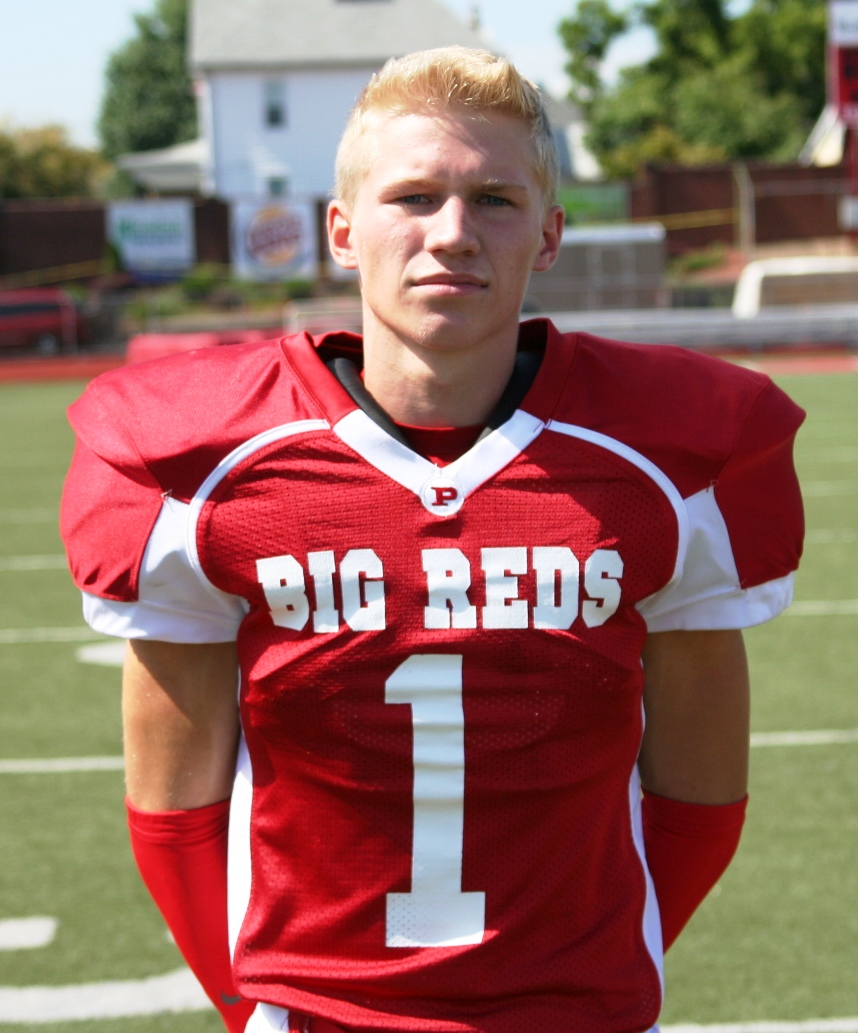 Fox, also a junior who missed two and a half games with injuries, led the squad in all-purpose yards with 734 and was the second-leading scorer with seven touchdowns. He caught 17 passes for an average of 19.4 yards per receptions and led the team with three interceptions and a 25 yard average on 14 kickoff returns.
Roberts led the team in passing, scoring and total offense as a two-year quarterback who nearly became only the fourth in PHS history to throw for 1,000 yards two years in a row.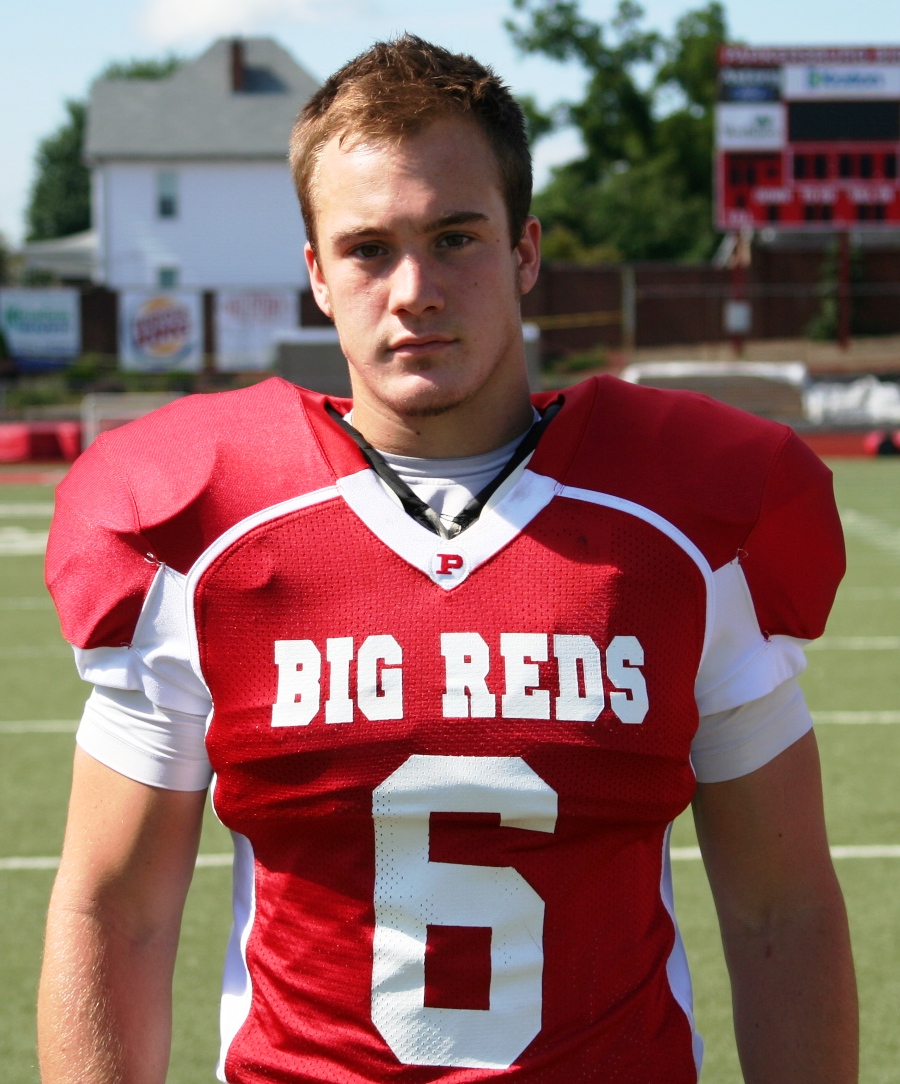 Marc Kimes, Eric Ranson and Alex Ash being the others.
Roberts threw for 1,121 yards as a junior and 974 this year. He scored eight touchdowns and a two-point conversion while amassing 1,329 yards in total offense. He threw for 10 touchdowns with eight interceptions.
Banquet Honors Players
The annual Parkersburg Big Red football banquet was held Dec. 15 at Ohio Valley University and special awards were presented.
Head coach Don Reeves said goodbye to 15 seniors but also handed out 13 letters to returning underclassmen.
Special Awards presented included:
Ross McHenry Scholar Award - Josh Trembly
Ed Forshey Big Red of the Year Award - Thomas Martin
Mason Roberts Heart Award - Dylan Thomas
Tom Brock Special Teams Player Award - Kyle Foster
Buddy James Offensive Player of the Year - Aaron Roberts
Russ Parsons Defensive Player of the Year - Chase Shank
Carroll Jett Team Worker of the Year Award - Josh Trembly
(Battle of the 'Burg) Documentary Youtube Video
Contribution Information
Commemorative t-shirts and bracelets are available and donations can now be made online here at the football web site by clicking on the PayPal icon under the t-shirt photograph on the left side of the page. Online contributions will be added to the sponor lists if the amount is sufficient.Contributors are reminded that tax deductible checks will be accepted. They should be made out to PHS Stadium Committee.
Sponsors are being sought with 10 levels of donations - Seat Named $200, Bronze $500, Silver $1,000, Gold $2,000 and Platinum $2,500, Team Captain $5,000, Reserved Seat Row $10,000, White $15,000, Team Spirit $20,000, PHS Big Red $50,000. Sponsors will have three years to honor their pledges. Sponsors meeting any of the pledge levels will be listed on a plaque to displayed prominently in the Stadium.
Donations from fans and alumni who are proud of Stadium Field and its storied 93 year history may also be sent to Parkersburg High School in care of Charlotte Potter, Stadium Field Committee, 2101 Dudley Avenue, Parkersburg, WV 26101.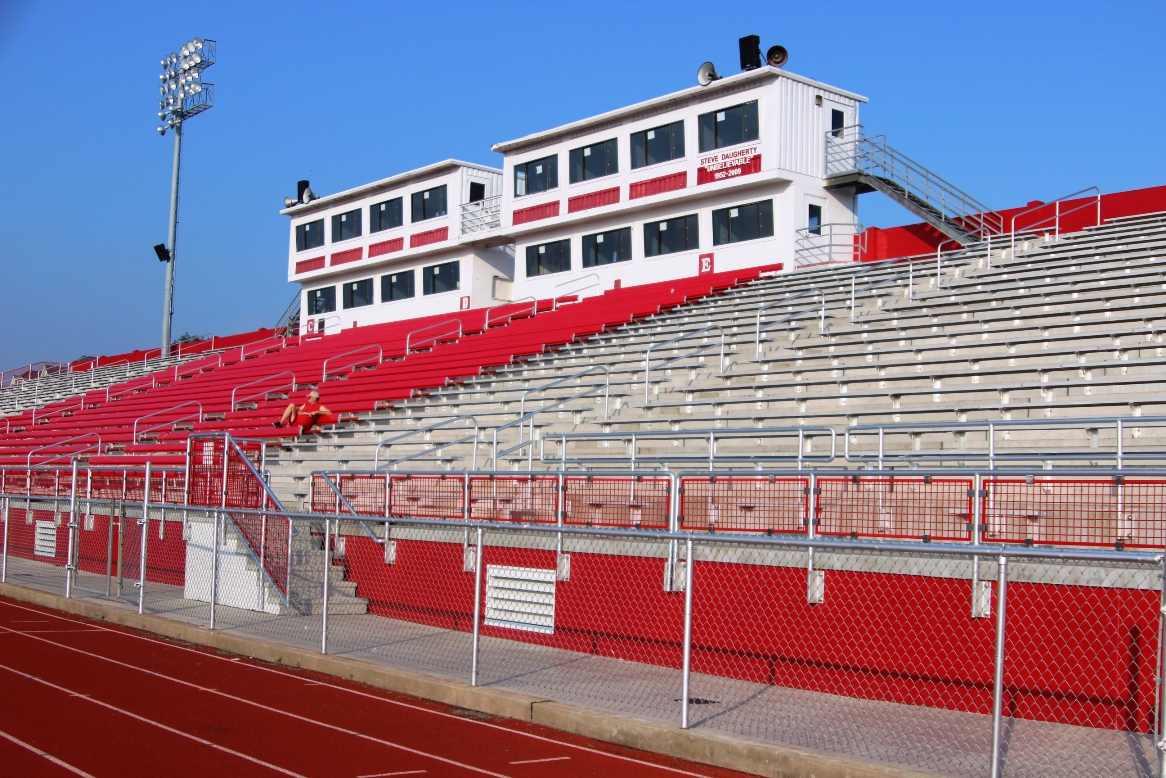 The home side finished product!
History of Stadium Field
In the spring of 1923 a group of men got together to form a stadium committee whose sole intent was to build a stadium for the newly constructed Parkersburg High School.
Those men included John S. Echols, President of the Board of Education, C.M. Martin, Sherman Dils, J.H. Biddle, C.T. Hitshaw, Herbert Smith, John Randolph, and Paul L. Summers. The committee was incorporated on July 14, 1923 and became known as the Parkersburg High School Corporation. The process of forming a corporation was necessary because the bonded indebtedness of the Board of Education was then at the peak permitted by law. Also serving on this committee was Fayette Smoot, H.L. Martin, Edward Doesch, H.R. Debussey and W.O. Holiday. The corporation leased the back campus from the Board of Education. It was impossible, according to the law of the time, for such a corporation to build any structure on land owned by a board of education. Therefore, the board had to turn over the land known as Stadium Field, on a 99-year lease to this corporation. The bonds were then released. The money for the bonds was to be recovered through football games and other activities held at the stadium.
The stadium was the first of its kind (concrete) in West Virginia and must have been the first of its kind to be built for the use of tax-supported institution without the investment of a single tax dollar.
The plans were to build one side of the stadium in 1923 and to build the other side the following year. The end of the U-shaped stadium was to be completed in the third year. When finally, completed it was to seat about 13,000 people. The end or bowl section of the stadium was never completed according to plans. The total cost of construction for the two sides was $104,000.
In just one day after the meeting in which the stadium plan was revealed, a total of $33,000 worth of bonds was sold.
In September of 1923 the first concrete was poured for the West stands of the stadium and on Oct. 4, 1923, the first game in the new stadium was played between the Big Reds of Parkersburg High School and Athens, Ohio. The Big Reds won by a 14-13 score. Ticket prices were 25 cents for student seating, 15 cents for student standing room. For the general public, the price was season ticket was $5 for seats and $4 for standing room.
In 1925 the stadium was officially dedicated. As part of the dedication, a race from Parkersburg to Marietta was held.
The installation of the stadium lights during the fall of 1940 made it possible for football games to be played at night. Until that time, most games were played on Saturday afternoon. The lights were installed by the Parkersburg Junior Chamber of Commerce at a cost of $7,000.75. The electric bill for the use of the lights was $3.25 per hour or about $10 for each game.
The lights were put in for the dual purpose of protecting the health of the players from the intense heat and to increase attendance. Among other reasons cited for the lighting was so that persons who worked Saturday afternoon could see the Big Reds play and so that the Stadium could be used for the purpose of holding other outdoor events such as political rallies or church events. Businessmen also felt that by playing Friday night games, Saturday afternoon business would be bolstered.
The first night game at PHS Stadium was Sept. 6, 1940 with the Big Reds beating Grantsville 50-0.
During the 1984-85 football season part of the stadium stands were closed for safety reasons. On June 13, 1988 it was recommended that both sides of the stands be closed. On June 14 the Board of Education accepted that recommendation.
During the summer of 1988 temporary bleachers were purchased and put up. Remodeling was done with funding help from C.O. Erickson and began in 1992. It was totally completed in 1994 with structural steel and concrete used to repair the stands.
In 1995 PHS qualified for home playoff games. After beating North Marion in the first round, the Big Reds were scheduled to host Wheeling Park. The Patriots protested the playing conditions at Stadium Field (no grass and nothing but mud) and a state inspection committee upheld the protest – moving the game to Tyler Consolidated High School. PHS won that game 28-7 and got to host the semifinal game after much work was done to repair the turf. But Hedgesville won the game 18-0 and the drive to install artificial turf on Stadium Field began in earnest.
The Stadium Renovation committee had its first planning session on Jan. 4, 1996 with more than two dozen members. In almost no time there were plans for an artificial surface to be added to the football field along with an 8-lane Eurotan track surface, new sidewalks, asphalt parking lot and refurbished concession stands.
On Aug. 30, 1996 the first game was played on AstroTurf Xl surface between Parkersburg South and Wheeling Park. On Sept. 6 the Big Reds played host to Hurricane on the new turf.
The cost of the new surface and renovations came to $1.25 million dollars which included $400,000 worth of in-kind services, $400,000 for advertising signs, $250,000 in donations and five bank loans of $400,000.
New light standards were installed in 1998. In 1999 new locker rooms were built in the Mary Lou Hague Memorial Sports and Arts complex at a cost of $536,390. In 2005 the restoration of the concrete stands was done at a cost of $129,356. In 2006 the turf was replaced at a cost of $295,000 with ProGrass artificial surface. In 2009 a new concession stand and restrooms were built on the home side at a cost of $195,000. The track was resurfaced in 2010 at a cost of $75,000 and in 2012 handrails were installed at a cost of $68,090.
In 2013 the home side bleachers were replaced in time for the second home game of the season. New seats were also installed with backs for the reserved seat section. The visiting bleachers still need to be replaced and contributions are still being taken.
All-Time High School Football Wins

Rank

School

2013 Record

Wins

Overall Record

First Year

1

Valdosta Wildcats (GA)

6-5

882

882-213-34

1913

2

Highlands Bluebirds, Ft. Thomas (KY)

13-2

855

855-215-26

1915

3

Male Bulldogs, Louisville (KY)

12-2

833

834-319-49

1893

4

Washington Tigers, Massillon (OH)

9-3

830

830-252-35

1894

5

Mount Carmel Red Tornadoes, (PA)

7-4

820

820-305-59

1893

6

Mayfield Cardinals (KY)

14-1

819

819-206-32

1919

7

McKinley Bulldogs, Canton (OH)

9-2

802

802-334-42

1894

8

Parkersburg Big Reds (WV)

4-6

799

799-317-40

1900

9

Easton Red Rovers (PA)

11-3

786

786-331-54

1894

10

Muskegon Big Reds (MI)

12-2

785

785-271-43

1895

11

Summerville Green Wave (SC)

11-3

779

779-205-25

12

Everett Crimson Tide (MA)

8-3

776

776-365-79

1893

13

Central Tigers, Little Rock (AR)

7-5

773

773-314-43

1907

13

Clinton Red Tornadoes (OK)

8-4

773

773-265-37

15

East St. Louis Flyers (IL)

9-4

771

771-222-45

1897

15

Berwick Bulldogs (PA)

14-1

771

771-320-43

1888

17

Highland Park Scots, Dallas (TX)

13-2

769

769-248-27

17

Brockton Boxers (MA)

5-6

769

769-364-64

1897

19

Hampton Crabbers (VA)

7-5

767

767-252-43

1920

20

Ada Cougars (OK)

7-4

766

766-312-24

21

Lawton Wolverines (OK)

11-1

763

763-337-34

1902

22

Pine Bluff Zebras (AR)

9-4-1

759

759-330-53

23

Dobyns-Bennett Indians, Kingsport (TN)

6-5

755

755-223-28

24

Steubenville Big Red (OH)

9-5

753

753-312-34